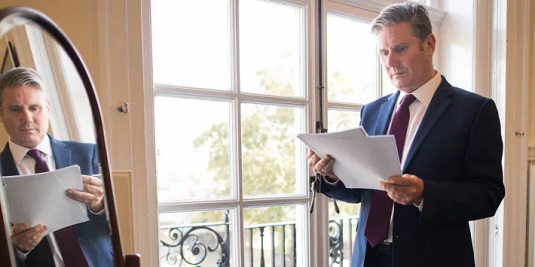 Chatting to a stats guy at a meeting down Stoke Council's Civic Centre many years ago, we got round to the subject of consultants. This was always a hot button topic for the local authority. There seemed an unerring coincidence between the appointment of new executive-level officers and the consultation firms who were subsequently contracted in to do some work. And this was in the thick of the government's swingeing cuts to local government where hiring consultants was always politically problematic. To cut the story short, said stats guys said all one group did for a £15k job were tap him up for some figures in the Council's database and re-present them in a PowerPoint to the chief officers. Nice work if you can get it.
Interesting then when news
filtered out
about Labour's decision to hire management consultants to oversee 'Organise to Win 2024', a review of party structures and what organisation steps it will take to, well, win the 2024 general election. A bit strange for the self-styled election winning specialists to put one of their core competencies out to tender, but perhaps not when politics is
just managerialism
to these people. As for the consultants themselves, Q5 bill themselves as a "nimble" business who offer bespoke solutions for the challenges facing business. Or, as they put it, they are "award-winning experts in organisation change" and try hooking in potential customers with "deep in the Q5 DNA, was the assurance that each project would bring change that really sticks." As an example of their wares,
this report
on the "connective organisation" - what business has to look like in the 2020s to survive and thrive - is freely available. Call me a miserable old grumble, but there doesn't appear anything in here that post-Fordist and Italian autonomist writers weren't scribbling about in the 1980s and early 90s. I suppose yesterday's insights can look profound with a few zippy slides and the heavy deployment of management speak, particularly among Labour Party tops ignorant of the most elementary social theory.
Let's strip away the bullshit and call Q5 what they are: restructure specialists. And, readers might be interested to learn, their resume lists them as previously working with the Home Office at some unspecified point in time. Were they called in to ease the passage of cuts to that department? It certainly wasn't for helping Priti Patel develop a sensitive ear to the needs of the "stakeholders". And so what are they for? What possibly can their review of the Labour Party tell the leadership that neither the critical
No Holding Back
nor the soft soapy
Labour Together
reports were able to?
It's difficult to say, because the remit of the Organise to Win review is not public. We can only piece it together from clues, such as Labour's job advert for
Executive Director - Elections and Field Delivery
. This is interesting because not only does this job require "Leadership of Field and elections centric function" (what language is this?) but also responsibility for "delivering the transformation programme needed to win the 2024 General Election (Organise to Win 2024)." Additional to the usual gubbins about "strategic direction" and "building an organising culture", we learn the focus of O2W (as it is officially christened) is the implementation of the review, "focusing on how data is used and communicated across the organisation to deliver the operational objectives." Is that it? Seriously? Party full-timers, MPs bag carriers, and constituency officials were getting this sort of stuff fed to them 10 years ago. Why reinvent the wheel when most of these people are still in the party, still tilt more to the right (and so from Keir Starmer's perspective, are "safe"), and have actual campaigning experience? Or even the Labour leader could take a chance and speak to current and ex-Momentum cadre, who know a thing or two about using data to aid campaigning. Doesn't the party already possess the wit, knowledge, and resource to do this itself?
Which begs the question. Why? It might be tempting to search for some sort of family link or cronyism to provide an explanation for why the Labour leadership, or the "Senior Leadership Team" as they now style themselves, are wasting yet more members' money, but this is not it. The "SLT" are approaching the institutional disadvantages Labour suffers
vis a vis
the Tories'
considerable advantages
as a
managerial
as opposed to a political problem. Knowing David Evans's circulation in the strategy and comms universe, and Keir Starmer's previous life as the boss of the Crown Prosecution Service, the preference for organisational solutions would appear natural to them. Labour
is
a severely dysfunctional outfit in which senior employees have a habit of going
off-piste if they don't like the leader
. It is also a largely voluntary organisation peopled by, well, people who happen to have minds of their own. And as we saw in 2019
and
2017, the actual party organisation of the election was a complete mess with little strategic allocation of resources, if not actual sabotage. Why a gunslinging firm of hip consultants are attractive to Keir and chums is how they can propose recommendations independently of political pressure and without factional interference. Save the factional interference and preconceptions of the SLT, of course. There won't be any challenges to hierarchical thinking here.
The second is the messaging Q5's hire sends out to the consultation community. One of the ways New Labour were able to, for a time, bind some sections of capital to their fate was by building on John Major's marketisation of public service provision and use the Treasury's largesse to buy loyalty through juicy procurement and public-private partnership contracts. A practice the Tories have happily carried on, gifting us, among other things, the disasters of
test and trace
and the
meagre food parcels
. Getting the consultants in to effectively determine the vote-catching function of the Labour Party signals to the market that under a Keir Starmer government, there will still be plenty of opportunities for them. Perhaps it might encourage some to play nice and sign a few round robin letters when the time comes. As with Keir's courting of the media, it's about sending a business as usual message.
The obvious problem is you can't solve political problems by organisational means. Improving on a data-driven infrastructure is a must for any modern party, but if "campaigning" is defined in narrow, voter ID terms designed for data collection, it
woefully falls short
. If the eventual O2W recommendations are imposed, which they will be, in a top down fashion, it will surely alienate members, turn activists off, and canvassing teams will be stretched. Just like the old times. And even worse if this comes bound up with a managerial as opposed to a political vision, and one in which the left are considered a matter of no consequence, this is going to cause
serious problems
and put torpedoes in the water pointing at Labour's electoral hopes.
Relying on management consultants shows yet again the way Labour under Keir Starmer is heading. And that direction is away from the interests of our movement, of working people and their families, and most problematic
for him
, in a direction progressively further from victory.
Image Credit