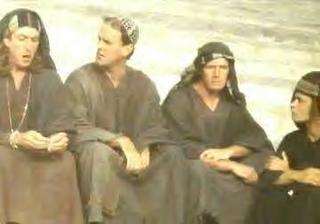 It was with wry amusement when I read in this morning's Telegraph that "senior figures" in the Labour Party (all anonymous, of course) are working through the possibility of usurping the front bench and laying legal claim to the party's name and assets should Citizen Smith fail in his leadership bid. The paper says that they plan to set up their own alternative shadow cabinet to challenge the Tories and, via parliamentary chicanery, get the Speaker to designate them the official opposition.
Colour me sceptical. Advocates of this shadow shadow cabinet were all over the media last Autumn and Winter saying they were going to do this, and it didn't happen. Far from offering a credible opposition to the Tories over and above the 'official' shadcab's efforts, they instead took the easy route and spent most of the last year moaning to the media. An approach unlikely to win them many friends among long-standing members practiced at shutting up in the name of party unity. And if indeed they have been offering proper opposition, from outside the Westminster echo chamber there was no sign whatsoever it cut through.
The second part is, of course, the legal challenge. At least no Labour MP publicly backed Mike Foster's challenge against Jeremy's right to be on ballot paper

without

PLP nominations. But a few would have smarted as an entirely sensible judgement affirming the clear rules about procedures was handed down. By that token, how do they suppose a legal challenge to acquire the party's property and name would succeed? Saying, for argument's sake, you have the majority of MPs in your corner and Bercow extends you the title of official opposition. From a legal point of view, which would in all likelihood affirm party rules as they stand because they already have done so, shenanigans in Parliament

can

not entitle them to the rest of the party. It doesn't stand up, and quite rightly so.
The most telling thing about the perennial Jez oppositionists in the PLP is not so much their politics but a lack of sense on how to do politics. This isn't because they're especially thick, though you might suggest they lack imagination. They came into politics and acquired their seats during a quiescent period where politics was an elite sport. The masses had to be consulted every so often, and an occasional manifestation of extra parliamentary pressure flattered and/or patronised, but the game as it played out in Labour was marked by an absence of mass involvement. That has now changed utterly, and many MPs find themselves out of sorts, bewildered, and frightened. This, ultimately, is why the coup failed. Like the plotters who tried to topple Erdogan and the villains from the Hatton Garden heist, all of whom proceeded as if it was the 1980s, when the rebellion was launched it was from entirely within the parliamentary game. They had not used the previous nine months to recruit an army of "moderate" new members that would give them a base in the wider party. And nor did they even try and consult with general secretaries of the affiliated trade unions. Without them, Jeremy would have been toast. With theirs and members' backing, he was never going to resign.
And so it will prove with this splittist wheeze. It doesn't matter if they carry 100 MPs out of the party. Without the unions, the money and social ballast that brings, without the members who are no longer satisfied with just being leafleting and door knocking fodder, and most crucially without a social base in wider society, there is nothing at all going for them. The facts are Jeremy won last year, and he will win again this year. The members, rightly, have the final say. The MPs have a duty and are expected by the party to try and make it work. Jeremy might not be competent (of which more another time), but those who machinate against him have hardly convinced as capable sets of hands.