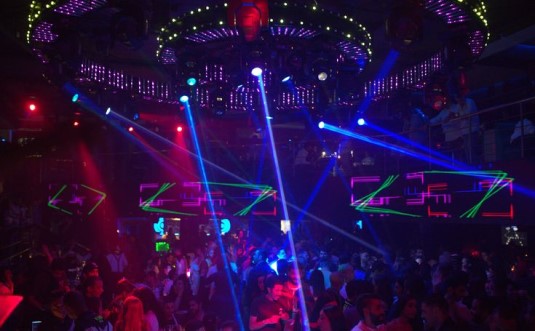 Whether it's hands in the air or dance floor stomping, this end of year review of 2022's hottest dance tunes is sure to have your jam. If beats and bleeps aren't your thing, or you've spent the last 12 months away from matters musical, your essential background listening is last year's list. Can you discern any hooks or features that might define this decade in dance yet?

As per tradition, 10 tracks have been selected for your aural fix but some always narrowly miss out. So let's extend them the courtesy of the spotlight. Our first is Nezuko by 2011 tune of the year winner, Shogun. It's a tight little number with lovely piano and manages the euphoric-melancholia clash with aplomb. Still hanging around trance town, we move to its techy suburbs with Will Atkinson and Stimulation. I can't decide if it's here because I like it or because it's an accomplished mess. A veritable Prometheus of a dance record, Will has crammed in so many nods, flourishes, and hat tips to other songs and genres, including his own exceptional Rush, that I can't make head nor tail of it. We'll chalk Stimulation up as note worthy and leave it at that. Finally, because all good things come in threes, we hop down the tracks to take in some future pop. Sweden's Ashbury Heights feat. Madil Hardis put out an if-goths-did-Eurovision ditty with A Cut in a Place. And what an exceptionally crafted cut. Your soundtrack to heavy eyeliner application.

How can the top 10 better this? Behold:

10. Young Parisians and Katherine Amy, Rediscover (Norman Doray Remix)



Good to see Solarstone still chucking them out the door, but it required Norman Doray to rediscover (groan) this sleepy affair as an adrenaline-pushing dance floor danger. Nothing here is wasted as a proper banger emerges fresh and ready for business from its heavily threaded progressive chrysalis. "I want to know you again", sings Katherine Amy. A commandment that will compel you to hit the replay button repeatedly.

9. LF System, Afraid to Feel



It's not the eight weeks at number one that lands LF System on this list, nor the ubiquity of their track. It's, simply put, down to the genius on display. Afraid feels retro in a way that is impossible to describe. Does it have something to do with the beats? The uncomplicated vocal recalling house divas of 20 years past? Or the switch up and dialled down changeability of the tempo? It's one of those that struggles for words, and reaches for the language of vibes. Simply put: it's summer in your headphones.

8. Final Request, Fallen Enemies



Once this hoodlum of a tune kicks in this melodic house scally, which is definitely not trance, will empty your pockets and nick your car. The slow build and barely-can-be-arsed vocal works as a paean to thug life anomie. But the weight of the tune sets its shoulder against the boulder of nihilism and continues pushing against the lyrical grain until we crest into something life-affirming and borderline transcendent. Exceptional work.

7. Kosh & Baker presents Taïko, Gate 1



The first of our uncloseted trance tunes, it breaks from 2022's boring pack of predicted and predictable genre bedfellows to try something new. The build is standard fare but when the nucleus of the song breaks in, its syncopated melodic core points to paths beyond the done-to-death liturgies of by-the-book trance music. Whether others will step where Kosh & Baker did not fear to tread we cannot say, but what we can is that Gate 1 opens up new pastures for others to canter into.

6. LP Giobbi and Bklava, Sinner



The blog is in danger of owing more to melody than Marxism if this carries on. A femme house monster that got a lot of mainstream airplay, there's another unpinnable retro angle to proceedings. Sinner could encompass a trinity: a hymn to empowerment, the perfect foil for a break up, and a nose thumbing at friendships turned sour. What runs the risk of becoming this year's theme, the duelling between high powered vocal and high powered chime ensured Sinner was the summer anthem to be seen (and heard) listening to.

5. Kryder, Wish



Having only just missed out on last year's list with the Balearic callback, Girlfriend, Kryder has jumped from beach party bopping to ethereal, Winter-inflected trance. The nods to gardenstate's output with its soaring, echoing melody and breakbeat backing once again point to the genre's future if it can wean itself off the 90s euphoria formula. Wish is where I wish more artists would go and explore. Snow boards and skis are optional.

4. Kudus, Liften



What's a Liften? No idea, but this progressive number smacks you in the face right out of the door. Demonstrating that tuneful creativity is partying in the house and techno scenes while struggling on life support elsewhere, I love anything that runs with tortured, wriggling sonics. Especially when it's racing across an uplifting soundscape that threatens to catapult our hero into orbit. Simply sublime.

3. Purple Disco Machine, Sophie and the Giants, In the Dark



Were you shuffling to this on an East Berlin dance floor in 1983? No, because In the Dark only came out in January. But its vibe evokes a kitsch remix of the GDR without the Stasi and a lot more neon. And that's without even watching the video. Another collab between the two show synth-inflected muziks doesn't have to be cringe, melding together 80s nu disco and left pop perfectly.

2. Bicep and Clara La San, Water



Ever wondered what it's like to be inside a dying computer? Me neither, but this seminal deepchill cut (with joyful characteristics) makes it sound appealing. Bicep have hovered around the edges of my awareness for ages, but it took until November for them to plant something list-worthy. It's clean, unfussy, and mercilessly wields chip tune sounds to masterful ends. A true classic sure to spend a lot of time in the old tape player.

1. System F, Adagio for Strings



Since Ferry Corsten unleashed his remix of William Orbit's Samuel Barber rework, there have been about 200 remixes of Adagio for Strings in the last 23 years. And of them, only Tiesto's 2005 stadium filler has brought something new to the table. When the 1999 original was and is arguably the greatest trance song ever produced, diminished returns are guaranteed. It therefore says something about the man that Ferry simply released his remix of his remix without any fanfare about a month ago, and did the impossible by improving on his most inspired moment. Hats off to this legend. He's smashed it yet again.

And that was the top 10 of the year. I'm sure I'll find more top tunes from 2022 as the decade wears on, or come to appreciate others I've dismissed. As the critics of rational choice theory have it we can never have perfect information. What were your top tunes of the year?