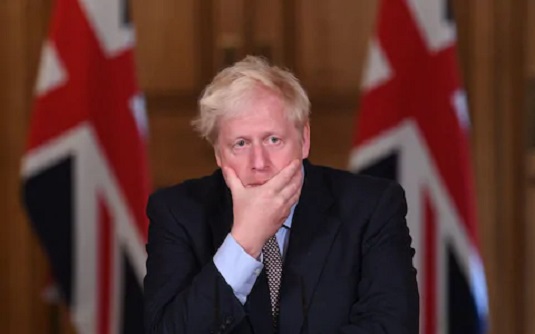 Another national lockdown is due to begin 00:00 hours Thursday morning and stretch to 2nd December. Seems very sensible. While a fortnight too late,
just like last time
, I suppose better late than never. But that's before looking at the detail. Unlike March and April, the new rules are significantly less restrictive. But does less restrictive mean less effective?
At Johnson's press conference, he said pubs and restaurants are to close though takeaway services are allowed to continue. Non-essential retail will close, and no more mixing of households. International travel is banned and domestic travel is discouraged, with exemptions for work. It's okay to go out and exercise and head into places of worship for prayers. And then there are the huge gaping holes in the scheme. Construction and manufacturing shall remain open, and ditto for schools, colleges, universities and courts. If the aim is to quickly drive the R number down so Boris Johnson can save Christmas, on these terms it's doomed to failure. The first lockdown, as late as it was, did depress infection because it was comprehensive. This half-arsed effort continues to expose millions of people by keeping the schools open and insisting in-person teaching be delivered in further and higher education.
Incompetence was certainly on display at the Prime Minister's presentation, but these pitiful measures fall short not because of cluelessness, but
thanks to interests
. That teachers and academic staff tend not to vote for the Tories is not lost on Number 10, but more pressing for the government is a two-fold class problematic. Keeping pupils in schools is essential for maintaining a "work ready" population. The welcome extension of the furlough scheme, originally due for the axe tonight, doesn't mean suspending the DWP's sanctions regime. For Johnson and friends, the schools staying open mean the usual sticks of their punitive social security scheme carries on operating. And for universities? It's as grubby as
landlords and speculators
. Rather than use monies shovelled to Serco or to the banks instead of keeping universities going in the absence of rental and ancillery services income, the Tories would rather bail out key sections of their property-owning base. And if students and academic staff die or are maimed by long Covid, ho hum.
The press conference ran nearly two hours late. According to
one hack stenographer
it was because Johnson was prepping furiously for this afternoon's announcement. Definitely nothing to do with persistent rumours dishy Rishi had threatened to throw his job if another comprehensive lockdown was imposed. Still, why has the government procrastinated and unnecessarily condemned thousands to an early death
again
? When (apparent) incompetence is persistent and ingrained, you've got to start looking to something endemic. Too many accidents don't lend themselves to accidental explanations. As with higher education, the Tories are caught in the headlights of
competing priorities
. They have to balance the health of their favoured sectors of capital with the wellbeing of class relations in general, but in their first and last instance this is achieved by the preservation of the Conservative Party itself. Core to this project, as we saw in the government's
shabby treatment of Manchester
and, this last week, the
holiday hunger farce
is preserving the coherence of governmental authority. This is their most precious commodity, and depends on avoiding too many U-turns lest it disintegrate. The problem the government had in setting their face against another national lockdown (and trying to make political capital out of Keir Starmer's sensible support for one), was when the necessity of the R numbers bit. Their precious authority compromised Labour's call was publicly proved the right one.
Again, why? Rising infections were an inevitability, the projections were there for all to see. Why try flying in the face of epidemiological realities? Stupidity? Parties (and for that matter, capital) do
make mistakes
, and as with incomptence stupidity, when it's ingrained, persistent,
and collective
must have a root too. And in Johnson's case, it's the short termism of running a campaigning government. As May lived from
crisis to crisis
, and Dave and Osborne from headline to headline, Johnson carries on this ignoble tradition. Everything is framed by owning the libs and exciting the base. Strategy gives way for reacting to today's skirmish, and promises made are not investments for the future but holding operations to kick the can of current difficulties down the road. It's not a matter of intellectual deficiency but the inevitable consequence of managing a public health crisis like the waging of a culture war.
Regrettably, the outcome of this is an incoherent public health strategy, needless infections and tens of thousands more deaths than would otherwise be the case. Demonstrating the psychopathy of Tory short-termism is entirely fitting for Halloween.
Image Credit