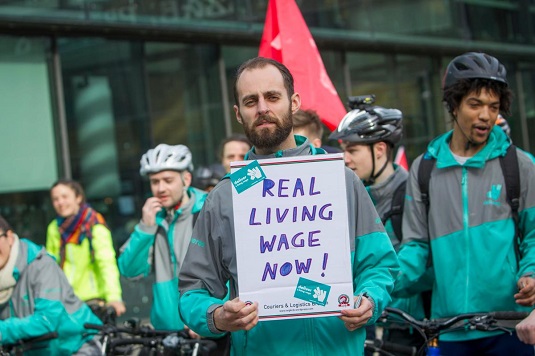 There is something about politics that lends itself to simplistic answers, and that's exactly what we're starting to see emerge in response to the size of Labour's loss. Bugger the complexity of the thing when faction-friendly sound bites will do. For the right it's mainly about Jeremy Corbyn, and for the left it was mainly about Brexit and Labour's pitch into remain territory. Both are correct, and both are mistaken, but merely observing that is not enough. We have to ask why the left read the election wrong, why the result was unexpected and, more importantly, think seriously about why we weren't able to repeat the advance of the 2017 general election.
Jeremy Corbyn was always going to be a hard sell given how much his politics are at odds with the political and media establishment. Indeed, this combined with my habituating to the miserably low expectations of what was then Labour's mainstream meant I didn't vote for Jeremy in 2015. My mind changed primarily thanks to the wreckers on Labour's right who warned a Corbyn-led party was unelectable, and stretched every sinew to ensure this was the case. And so when comrades went on the doors and found common Tory and press attack lines quoted back at us - Corbyn supports terrorists, Corbyn hates this country, Corbyn is an anti-semite, Corbyn can't make his mind up about Brexit - all of these lines were established years in advance and fed by people ostensibly on our side. Nevertheless, in 2017 the party weathered Corbyn scepticism incredibly well and given the trajectory of the polls, just one more week of campaigning would likely have returned Labour to government. Why not this time?
Given what happened then, you can understand why some comrades were champing at the bit for a general election regardless of timing. We had experience of circumventing the media, and the party membership did make a big difference. Not just in terms of volunteers campaigning, but thanks to the millions of conversations non-active members were able to have with their families, friends, and colleagues. This is why mass memberships matter because they can do a lot of the groundwork without the need for direction. Therefore the notion voluntarism could make up for Labour's other disadvantages was not official optimism or Maoist exuberance, but a belief we could decisively leverage the party's weight and make it a significant electoral factor. And the truth of the matter is the Tories knew this potential was there and did find the images of hundreds turning up for canvassing sessions, the take off of electoral registration, and queues forming up outside polling booths demoralising. Unfortunately, their fears proved unfounded.
Two years of demobilisation certainly had its part to play. Internally Corbyn's leadership failed to press home its advantage after the 2017 election, and what we got instead was a soggy compromise to suit trade union tops instead of the mandatory reselection we see in the radically democratic, ahem, Scottish National Party and the LibDems. We did not witness serious efforts about changing party culture to become more participatory and less obsessed by the dull proceduralism that unnecessarily clutter Labour meetings, and once the post-election sheen wore off we saw the party embroiled again in a lengthy and damaging drip drip of anti-semitism, Tom Watson-engineered wrecking, and second referendum remainia proliferate unchecked. Simultaneously, the Commons was the cockpit of Brexit struggle to which members and supporters could only spectate. In 2017, though the election was dropped on us the party was primed for thanks to two years' worth of mobilisations, aided by the fact Corbyn was largely unknown among the wider public. In 2019, we went from a standing start to full pelt in a blink of an eye, but by this point Jeremy was a known quantity and most people had made their minds up about him. The party responded magnificently to the moment, but the perception of the leader and Brexit was too much to get around.
This cannot account for our failure though. If you consider 2017 as a turnout game, where Theresa May assembled a huge pile of Tory voters but was met with a very impressive response by Labour, Boris Johnson repeated the feat while we didn't. Turn out fell by just shy of 375,000 votes and we lost over 2.5m votes. Why? As argued here many times before, Labour's new base is the socialised worker, or the new working class. This is networked but heavily individuated, their work tends to be cognitive and social rather than just physical, and tends them toward socially liberal and tolerant attitudes which, as a consequence, made them more favourably disposed toward the EU. The younger you are, the more likely you are to be employed in this kind of work and be at the sharp end of precarity, uncertainty, low pay, flexible hours and zero hours, bogus self-employment, no prospects, personal debt, and to top it off much less likely to be able to ascend the housing ladder and acquire property. As the Tories are presiding over this, they're storing up problems for the future and, indeed, this election saw an even starker age split than 2017.
As other comrades have noted, Labour lost more votes to remain parties than leave voters to the Tories, but the latter were amplified thanks to their geographic spread. Undoubtedly, had Labour not pitched to the second referendum position the election would have been even more catastrophic. Not because the loss of seats would have been any worse than what actually happened, but because an even greater chunk of the new working class base would have visibly registered Labour acting against their interests and sealed their alienation from the party for many general elections to come. And this matters more not just because they're younger and have more votes left in them than the Tory base, but that they're less likely to vote in the first place. i.e. Our base is numerous, but less inclined to vote, which means every one of our people who stays at home costs the party more than if a Tory voter skips the polling station.
Turnout figures by age have varied over the years, but the same pattern is clear: older voters turn out in greater numbers than younger ones. If the age splits we see in elections and values surveys are functions of a class cohort effect, then it stands to reason the turnout differential also must be structural. What is it about the socialised worker that, at the moment, sees them much less likely to participate in mainstream politics even though Labour is now flooded with hundreds of thousands of its most radical layers, and went into this election with a programme speaking to their interests? If we iron out the conjunctural issues - Brexit, Corbyn's leadership (which was more a positive factor for younger workers) - what are we left with? In the absence of undertaking research, there are a number of hunches. The first is, simply, the absence of workplace organisation and other collective institutions of the working class. Employment, especially at the more precarious and lower paid end of immaterial work is highly individuated and segmented. Workplaces are not large, are criss-crossed by high labour turnover and individualised shift patterns, hours are by no means guaranteed, and that makes the formation of a trade union consciousness more difficult. Trapped in a privatised world of competition for shifts to try and make ends meet, there is little wonder that many find it difficult to lift their eyes to the horizon. This is their lot and nothing can be done about it, all you can try and do is survive. The second is a related political paralysis. Again, the absence of collective organisation means oppositional ideological resources are not simply to hand for millions of people, and in its stead we see all kinds of substitutes fill the vacuum. Nationalism appeals for a small minority of this layer of our class, but preoccupations with creating escapes from the real via fandoms, gaming, dating, and the pleasures of consumerism are much more common, as is conspiracy theory and, crucially, a naive and fatalistic cynicism. This is despite the increasing interest on socialist and left ideas. Therefore in an election where, if you're watching it askance, politicians are making grandiose promises there's no way to separate the lies from a genuine pitch. And so you declare plagues on both their houses and tune out. Especially when what they're arguing about appears to have no direct bearing on your life.
This won't be the case forever, but it's not going to sort itself out. These are our people, our base, so we have to understand them and bring more of them into the party's orbit. This is the sort of listening Labour should be doing, not wasting time flattering two-bit bigots and chasing former UKIP voters by promising to be more racist and wafting nuclear weapons around like giant willies. We've got to think about how the new working class is segmented, the differences that tend to crop up between those who've moved to the big cities in search of opportunities as well as those who remain in the provincial communities we lost, and the rural seats we've never done well in. We have to think about our own membership and its occupational distribution, how they got involved in the party, what their points of contact were before they signed up, and Labour needs to work more closely with the affiliated unions to learn from their recruitment strategies and how to do a better job of pushing the Labour link. All this in conjunction with deepening the party's commitment to social movement organisation and standing with workers in struggle. Understanding our people is not an academic exercise. The aim is to cohere them, grow them and, crucially, be relevant to them. And of we get this right we will not just be back on the path to government in 2024, we can be for the decades to come.