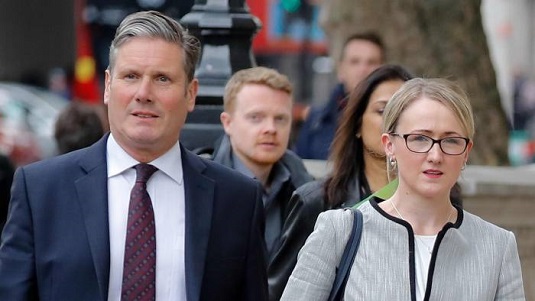 I'm oft fond of saying on here that if you want to avoid politics, you should go to a Labour Party meeting. Another adage might be if you want something organising, don't let the Labour Party NEC anywhere near it. Unfortunately as our highest decision making body between conferences, the newly-decided timetable for the Labour leadership election is, to put matters euphemistically, counter-productive. This is how it's looking.
Between 7th and 13th January nominations from MPs and MEPs are made, with parliamentary hustings taking place tomorrow night (Rebecca Long-Bailey, despite saying her piece needs to get her finger out and declare (Edit - she has!)). Then between the 14th and 16th supporters can register, of which more shortly, and between the 15th up to 14th February CLPs and unions make their nominations. Remember, to run a leadership or deputy leadership candidate needs 10% of MPs or MEPs behind them. They also require a union nomination or five per cent of constituency parties, which will whittle down the field. A cut off point kicks in on 20th January for new members' eligibility to vote in the contest, and voting takes place between 21st February and 2nd April, with the new leader announced on the 4th.
What's so bad about this? Here are three reasons why.
1. There's the timing. One of the lessons the party stubbornly refuses to learn is how the Tories take advantage of periods of Labour's introspection. In 2010 the departure of Gordon Brown and the long leaders' debate then allowed the coalition government to set out its priorities without facing a strong united voice defending the handling of the 2008-9 crisis and the lie too much public spending was to blame. In 2016 with the spectacularly pointless parliamentary rebellion against the party membership, the whole summer was spent toing and froing over a leadership contest whose outcome was a foregone conclusion. Meanwhile Theresa May settled into office and paraded around as if on water, defining Brexit in the hardest possible terms. And now here we are in 2020 with a new government beset with tensions, and having stupidly set itself the task of settling Brexit within the year Labour are going to spend the best part of three months holding not the Tories and Boris Johnson to account, but its own leadership candidates. There is no rhyme nor reason why the contest has to be so long.
2. The £25 supporter fee. The NEC, which is left-dominated, has decided to go along with the bulk of the rules set for the 2016 contest. Rules, you will recall, that were imposed to limit the participation of large numbers of people on the periphery of the party who were being drawn into activity - most of whom are now members, provide a significant chunk of the activists, and are almost entirely on the left. Now some think this doesn't matter because, if you're really so moved to vote, you can join the party at the lower rate of paying a month's sub, casting a ballot, and then cancelling. Which renders the fee utterly pointless and makes it look as though the party doesn't know its arse from its elbow. Additionally, though there is a work around setting the supporter rate relatively high hardly sends out inviting vibes. And, even worse, some of the left NEC reps have gone along with this nonsense concoction blissfully unaware that this can stymie any popular uprising and mass expansion of the party in the future. They've lent it credence and is demonstrative of their poverty of political imagination while they think they're blocking imagined centrists and die hard remainiacs.
3. Elections. Considering Labour is an electoralist party, it's plain bizarre that the NEC are acting as though elections aren't happening. This May we see the London mayor election (well done Sadiq Khan for putting people off from campaigning for you) and local elections. If Labour is to recover, it has to expand its local presence and make the case for competency and transformative politics here. Sadly, this is a big ask as far as the majority of Labour-run councils are concerned. Still, the NEC could have shown the wider party it was at least taking these into consideration by shortening the contest and giving the new leader a bit more time to bed in, as well as orienting CLPs and Labour Groups around the new direction of travel. It's not the case Labour is London-centric, it is still largely Westminster focused.
In short, piss ups and breweries come to mind. Here's to the next three months!