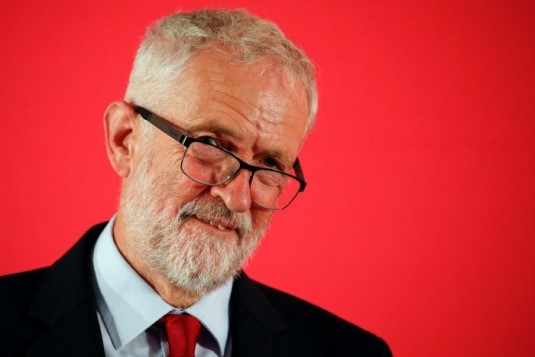 As households shudder in anticipation of the nation's trick or treat'ers descending on their doorstep, there is a terrifying something Labour people need to think about. There's this frightful ghoul haunting our political imaginations - and one we need to face up to. I'm talking about the spectre of defeat. Yes, this general election is open and no one knows what result we'll be cheering or booing when the exit poll drops. Labour has its plan and can win, and so does Boris Johnson. Therefore if things go awry for Labour, we have to think about what happens next. We need to plan for victory and defeat and do so now.
Obviously, there is losing and there is losing. Labour lost the 2017 general election but confounded expectations to such a degree that it effectively emerged the winner, while Theresa May will forever be tarnished with the brush of failure. This time, if we do improve our vote and gain seats but not become the biggest party, or if we fall back, following John McDonnell's remarks earlier this month it is likely both he and Jeremy will resign. If that is the case, nevertheless there is no pressing reason why both should step down immediately. For example, Michael Howard stayed in post as Tory caretaker after their 2005 defeat while its leadership election was going on. There's no reason why we couldn't do the same and indeed, we should encourage Jeremy and John to do so. As this brief exchange notes, there is unfinished business aplenty when it comes to rule changes. The departure of Corbyn does not necessarily and should not herald the end of the left's dominance of the party. We still need his NEC seat while the contest unfolds and, well, do you really want Tom Watson as the interim boss?
That's the first thing then. Jeremy staying in post helps stymie the shenanigans of the right while the leadership is up in the air. There is a second more important reason for his staying on temporarily: the membership. It is true people flocked to the Labour Party not because of Jeremy's saintliness or magic grandpa nonsense, but because he articulated something different and broke decisively with the miserable managerialism of his predecessor. His continued tenure at the top of the party is a short cut for the millions who don't follow things closely indicating that the party's heart remains in the right place, and is pushing policies that stick up for constituencies long neglected by previous Labour leaderships, and the rest. Unfortunately, because Corbynism hasn't bedded down a programme of education and cultural transformation (it's still the case that if you want to avoid politics, your best bet is a Labour Party meeting), there is every danger his resignation would see tens of thousands of members follow suit and/or let their subscriptions lapse - as well as an unwelcome return of the brigades of melts and right wingers who previously, and very kindly assisted the left's efforts by demobilising themselves. Obviously, it goes without saying that the left will continue to rule the roost as long as it has the numbers, recent setbacks notwithstanding.
It's therefore encouraging then to see Jeremy plug Momentum, considering it has a big role in whatever happens next. The more members that can be signed up with the organised left, the more we will hang on to and continue our programme of transforming the party. Conversely, the more isolated the member, the more likely any shock of defeat and ensuing despair will push them back into private life.
And lastly, the most vexed question is who comes after Jeremy? It's pointless speculating and picking and choosing while the campaign is fresh and winning is a very real possibility, but there's no point being naive. Would-be leadership contenders will be doing their quiet soundings right now, asking for support here and there, lining up union backing and making sure their people are ready for the stretch of internal campaigning. It's what happened in 2010 and 2015 ... For Corbynism after Corbyn, however, our objective has to be the maintenance of our policy platform, the only one appropriate to the conditions of the 21st century, and unite around one leadership candidate who can consolidate the work already done and build on it.
Again, this is not a counsel of despair. Labour can win and, according to the patron saint of polling, John Curtice, a Labour minority government is the most likely outcome. But if that LibDem vote stays stubborn and, despite the deepening social problems and environmental crisis we're mired in, Brexit dominates everything - as Johnson hopes - we have to be prepared to fail as well. Nothing is set in stone. If we stumble on the 12th there will be new crises, new opportunities, and openings Labour can exploit. We can still make this century ours if we suffer a setback, but let's be clear, none of us want to spend the next five years pratting around with a socially regressive Brexit deal while the climate heats up. We're playing with high stakes, and the left needs to be prepared for the next move if it doesn't go our way.
Image Credit