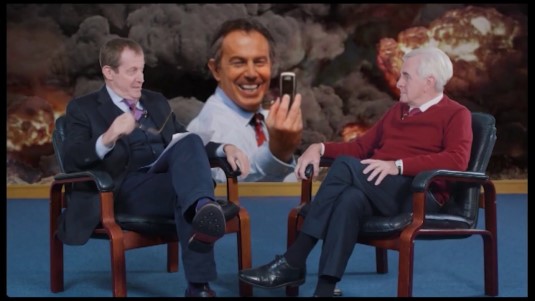 You've seen that interview by now with Alastair Campbell, and the ritual denunciations from the ritual denunciators on Twitter. Chances are many Labour members, even those who do not support the Corbyn project and long for the the good old days, are asking what the bloody hell is going on? Here are some observations.
1. If there is a significant difference between John McDonnell and Jeremy Corbyn, it comes down to party matters and the handling of the never ending cold coup. During these last couple of years, John has struck the more conciliatory tone. You will remember how shortly before her departure to form Change UK Luciana Berger faced a no confidence vote in her constituency party - John was one of the leading voices urging restraint. On the anti-semitism crisis more generally, John is at the forefront of urging tough action. For the Birmingham Metro Mayor selection, Liam Byrne got his endorsement over the popular local trade unionist, Pete Lowe. And on Brexit, his positioning has been subtle and not-so subtle, skirting around the outer edges of hard remain, and suggesting he would campaign for staying in regardless of the deal Labour might secure with the EU in any upcoming referendum.
2. The interview with Alastair Campbell fits well within this pattern. Going from calling him out to his face on Question Time for the damage he inflicted on British politics to a casual conversation for GQ isn't going to sit easy with many Labour supporters, especially when you remember how recently Campbell spat his dummy out. Indeed, if the possibility of such an interview was mooted this time last week plenty of people would have chalked it up as likely an encounter with Boris Johnson where each question was answered truthfully and straightforwardly.
3. Has John booked a weekend in sell out city, as his detractors like to claim? Obviously not. We know an election is around the corner, and we know that while the Tories are in disarray their vote has firmed up. The anti-Tory vote, however, is split. It can move in Labour's direction, and it must if we're to stand a chance of forming the next government. John's attempts to reach across the party's divides and granting an interview to one of the most loathsome characters in British politics isn't aimed at the likes of us, but more at that noisy section of soggy centrism whose votes the party needs. Because of First Past the Post lesser evilism is unavoidable. If Labour can appear less evil to centrist voters, then the party benefits in target seats instead of disgust at the Tories getting dissipated among the Liberal Democrats and other parties.
4. It also comes from a place of frustration. Labour's programme is bold and radical by the standards of British politics. The next manifesto not only promises positive change, it can establish the country as a world leader in green industry and what the wonks call ecological modernisation. We have a model, and the rest of the world can follow. Much more important than flying the flag for policy sensiblism, a Labour victory under current conditions would represent the greatest blow struck for working class politics in 75 years. It would shatter the confidence of the there-is-no-alternative brigade, shake the self-belief of our class enemies, and boost the left's resurgence everywhere - and particularly in the United States where a historic breakthrough is still possible.
5. These are the stakes as John sees them. And he's right to, because they are the stakes. Another five years of Boris Johnson shafting our people and downgrading climate catastrophe is unconscionable and doesn't bear thinking about. The despair, the demoralisation, we've had enough of that for 40 years. If a bit of conciliation now can help get us across the line later, then why not?
6. As plenty of folks know, there's no reconciling some people. And this is a hard lesson the left has been forced to learn by the Labour right since we won the leadership contest. Yet I strongly suspect John McDonnell knows a bit more about this topic than any hashtag-festooned keyboard warrior calling for his head. Give the man some credit. He knows the likes of Campbell or Mandelson aren't about to embrace Labour's programme, but again, it's not about them. It's about snatching back centrist-leaning Labour voters and others seemingly open to giving the LibDems a punt. If sitting down with Alastair Campbell might help Labour's chances, wouldn't you do it too?
Image Credit