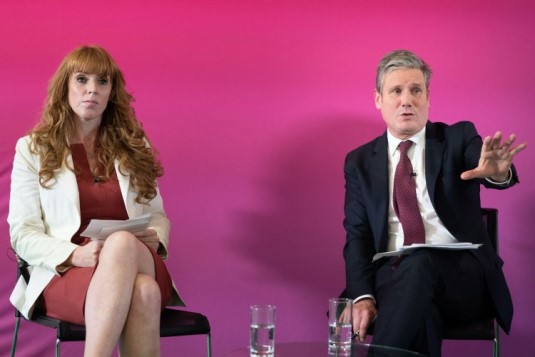 I've not known excitement like it. Over a period of hours, the new shadow cabinet was unveiled to us. Jonathan Ashworth, the great survivor at the top of the Labour tree has lost the shadow health brief to Wes Streeting, and will now diddle about with pensions. Kate Green has been banished with Bridget Phillipson rising to replace in education. Ed Miliband got demoted from the business shadow but given a fancy environmental job so it doesn't look like a sacking. Lyin' Lisa was let go from the shadow foreign office, replaced by David Lammy, and is heading over to hold Michael Gove's feet to the fire in housing and local government. Sadly, her fib count is unlikely to be affected by the posting. And the big news is Yvette Cooper has finally decided a bit more exposure to the limelight will do her chances some good as she takes on the home secretary role, a position she served in with zero distinction between 2011 and 2015. With such a team at the helm, victory is assured.

The bigger Labour news of the day, but certainly not the most interesting. What was were the jiggery-pokery between Keir Starmer and his self-identifying wayward deputy, Angela Rayner. Having gone hard on the Tory corruption row, Monday morning was to be Angela's time to shine with a keynote speech about standards. Her big ideas involved bans on former ministers taking work related to their portfolio for five years afterward, backed by fines that would claw back severence payments and pensions. Parliamentarians' behaviour would be overseen by an independent ethics and integrity commission which would also hold cabinet appointees to the standards set out in the Ministerial Code - a piece of paper, you will recall, that Boris Johnson has repeatedly disregarded when his henchmen and women have got found out. It was classic Rayner redolent of John Prescott's greatest hits: a tub thumping affectation of "authentic" radical anger she does so well married to straightforward constitutional tinkering barely anyone, apart from Tories, would find objectionable.

Unfortunately for the deputy leader, she was not allowed to have the headlines to herself. Reminding the public about Tory corruption came second to the opportunity to play silly beggars. As she began her speech, which has lived in the grid for a fortnight, news broke about the beginning of the shadcab reshuffle. Fielding follow-up questions from the assembled hacks, it appeared developments had caught her off guard, though Starmer's spox said she had been notified earlier that the hirings and firings were due to take place. What she knew and when she knew is immaterial: what is was the timing. We've seen in recent years how party bureaucrats would set timings for announcements and events to cause maximum damage to Jeremy Corbyn's leadership, so it's hardly a shocker for the same stunts to get pulled to slap down the uppity Rayner. As a close friend is reported to have said, "Trying to sack Angela and make her the scapegoat for Hartlepool was stupid. But doing a reshuffle when she's literally on her feet giving a speech attacking the Tories for being corrupt is just plain offensive." Yes, it is. And they'll do it again.

Except the wrecker on this occasion isn't a cackling minion scurrying around the leader's office, but the grand poobah himself. He's the boss, and so Starmer gets to determine the timings of his reshuffle. His appointment of the "top team" could, from the point of view of media splash, have taken place at any point before last week's Omicron variant announcement. He might have saved it for tomorrow, but chose not to. And so what does this tell us? That he's petty minded? That he bears grudges? That he can't have anyone on his shadcab team outshining him? It reveals, as if it needed revealing, all of these things. A peculiarly childish character trait for someone fancying himself the grown up of British politics.

The more Keir Starmer embraces the Labour right, the more complete his assimilation to them becomes. From ditching the ten pledges that got him elected, ruthlessly disposing of his enemies, and promoting and tossing aside lackeys who no longer please him, we've now regressed to constituency clique levels of pettiness. Like so many right wing councillors and student activists who believe themselves temporarily embarrassed Labour MPs, he's becoming a caricature of them - the sort that believes lots of swearing and shafting your own side because you can are positive proofs of the bastardry and tough decisions one has to make in politics. Starmer knows he can't sack Angela Rayner - he found that out the hard way. But the man has learned. She can't be shifted, but he can make life difficult for her. His deliberate attempt to drive Angela from the headlines is a foretaste of more to come. Though Starmer should be careful. In his deputy he has someone who also doesn't forget, nor forgives. Today saw the touching off of another low level conflict of briefing and counter-briefing just as we begin the long build to the next general election. Well done Keir Starmer for making your chances of winning that little bit more difficult.