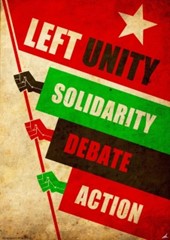 Today saw the launch of Britain's newest political party. Left Unity is officially alive. Since Ken Loach called for a left alternative to Labour back in March, there has been a tortuous road to today's official start, as the cpgb's coverage and comment has demonstrated in anything but gripping detail. Yet 10,000 Facebook likes, 1,000 paid up members, and a founding conference later, the new party is with us. The closing speaker remarked Saturday 30th November *could* be a historic day. Is this boosterism for the troops, the usual left hype that attends these sorts of events; or, *gasp*, could Left Unity be a real contender?
Let's be blunt. Unity initiatives on the far left have a chequered history. It got to the point of absurdity when the two main Trotskyist outfits - the Socialist Party and the Socialist Workers Party - had their own unity/recomposition projects. Off the top of my head, since 1996 we've had the Socialist Labour Party, the Scottish Socialist Party, the Socialist Alliances in England and Wales, Forward Wales, Respect, The United Socialist Party, Socialist Green Unity Coalition, Campaign for a New Workers' Party, Solidarity, Left List, No2EU, and the Trade Unionist and Socialist Coalition. This does not count fringe-of-the-fringe projects like Republican Communist Network, Campaign for a Marxist Party, and Anti-Capitalist Initiative. There's probably more I've missed. The point is all at best were still born or worst fractured, ironically leaving the constituent parts at a further remove than was the case at the outset.
If the best indicator of future behaviour is past behaviour, the odds are stacked against Left Unity breaking the sectarian mould. That said, there is something slightly different about LU that gives them an edge over these failing and failed projects.
The cpgb argues that if the revolutionary left practiced democratic centralism Bolshevik-style, i.e. open factions, open platforms, open debate and discussion, but unity in action, then the intractability of far left sectarianism would be resolved. Remember what I said about latter day Leninists unwilling to use Marxism to look at themselves? Sectarianism exists not because everyone bar the cpgb have misread Lenin's writings, but because they negatively express the outlook of the petty apparatuses/bureaucracies each far left organisation possesses, the material imperative to compete against revolutionary Others in a small but crowded marketplace, the strategic orientations to the different milieux they target, and the need to main discrete party identities. Sectarianism is deeply rooted in the far left's conditions of existence, and is reproduced unreflexively in a party's outlook. One can easily pay lip service to overcoming sectarianism, while obliviously reproducing that sectarianism. Hence self-decribed Leninist organisations share slight variations on a 'party-first' theme that structures their activity. This is why "unity" between different parties ostensibly standing for exactly the same thing has always come undone, and is never likely to be superseded.
LU is immediately at an advantage because it avoids this. The SWP aren't interested, not that anyone would have anything to do with this increasingly depraved cult anyway. And the SP think their self-important TUSC front is a significant step toward a mk II Labour Party. If only the misleaders of the working class and Elvis could be shoved aside. LU therefore can't be turned on and off at will by unaccountable cliques of ultra-correct revolutionary leaders. Smaller Trot outfits like Workers Power are in, and will no doubt make a pain of themselves in the LU branches they live in, but they are very much a minority - even in a membership as low as 1,000.
Neither is LU beholden to a Galloway-like figurehead. Ken Loach might make films lefties hold dear, but a man with the populist touch he isn't. And to be fair he has not sought such a position. He has used his platform to cohere a regroupment process that has led to today. He does not claim to be the leader. He has no wish to stamp the new party with the semi-Trot politics he holds. Despite the grumbles of the cpgb and the various tiny platforms recognised prior to conference, LU appears to break fundamentally with two key drivers that have wrecked unity projects of the past.
Well, perhaps not fundamentally. From casually observing LU's comments section on occasion, and seeing who gets named in Weekly Worker reports, there's more than a few folk involved who've been through the sorry experience of unities past. Most are veterans of the left, of activists without an abode to call their own. And had either the SWP or SP been involved, I'd have bet my bottom dollar that many would not have touched LU with someone else's. The second point regarding sectarianism is that LU is now a proper "player". It might have the ambition to reach out to the great mass of working people, but along the way it will have to compete with the Trots who are doing the same. Especially the SP's TUSC, who despite mustering tiny of handfuls of votes think they're The Most Significant Thing Ever because Bob Crow every year convinces RMT conference to endorse them. It will mean clashes in council and parliamentary votes, and perhaps a jostling for position on future demonstrations.
Nevertheless, as tenuous a bureaucratic relationship the SP's TUSC has with the RMT, on paper it does have that labour movement link. What of LU? Among its members are union activists, branch secretaries and so on. Yet, as the SP might argue, they represent no one but themselves. The party is a coming together of atomised lefties and micro-Trots. But then again, unlike TUSC, LU exists for itself. There is a possibility, however remote, that it could become something other than it is. That will never be the case with the SP's electoral vehicle.
Ah, prospects. Ruminating on the prospects of a 'left UKIP' earlier this year, I then argued there is some political space to the left of Labour. It is much tighter than was the case during the Blair/Brown years, but a constituency of pissed off ex-Labour voters and leftish anti-politics types does exist. Typically this manifests itself in the 1-2% you can expect to vote for far left candidates at election time. And as the Greens, BNP, and UKIP have shown, if you can sort out unity among your milieu you can face outward instead of inward. There's a few more percentage points to be grabbed and theoretically LU could build up a presence equal to the Greens.
This is only if it plays its cards right, and at present the new party holds only dud hands. To make its mark it has to exhaustively contest as many elections as it can, but unlike TUSC LU has to work them consistently to build up a base. To build its profile it has to work systematically in the labour movement and the procession of protest movements that come and go. To be fair (again? What's up with me?) there is no suggestion from what I've seen that they anticipate nothing but a slog.
But the single biggest thing, the challenge I think LU will find insurmountable is, as always, Labour. Only the most blinkered pretend the party is fundamentally the same beast as it was in 1997, 2001, 2005 and 2010. It might be more complex than the rigid schemas of the far left allow, but Labour has shifted back to social democratic politics. It has cottoned on that living standards are being hammered and, as a result, the party is the only one addressing those concerns. When the two main parties find themselves on opposite sides on the bedroom tax, NHS privatisation, house building, energy prices, apprenticeships, economic strategy, care for the elderly, breaking up the banks, and workplace rights, it's obvious who should form the next government. And while LU is something looking to become something else, so is Labour. Who, for instance, is going to listen to LU when Labour has a realistic chance of putting its policies into practice? Who will be tempted to support LU when it will be massively squeezed by the next election's high stakes?
Ultimately, while LU has got the potential to be much better than its various Trotty forerunners, as far as its prospects go the most it can ever hope for is minor party status. And I don't think it will ever come close to UKIP levels of support. If so, then what is the point?