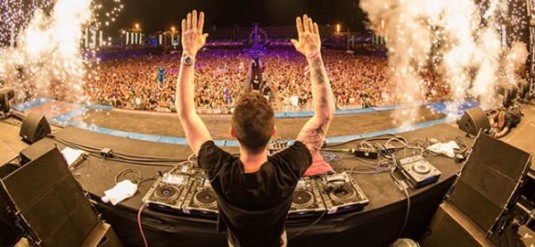 Politics is the rhythm round these parts, but its electronic music that provides the beats. And here, as per tradition are the picks of the year. Perhaps you'll find some tracks/artists you've heard of for once?
10. Flames by David Guetta and Sia
9. Nordic Nights (Darren Porter Remix) by Mark Sherry and RAM
8. Rain by Bicep
7. Breathe by Jax Jones feat. Ina Wroldsen
6. Cure by Tube & Berger & Alegant
5. One Kiss by Calvin Harris and Dua Lipa
4. Will We Remain (Spencer Brown Remix) by ilan Bluestone and Maor Levi feat. EL Waves
3. Back Home (Fady and Mina vs Omar Sharif Extended Remix) by Hazem Belatagui feat. Adara
2. Rainbow by Estiva with Ruben De Ronde
House and trance, trance and house, such is the way of the solid disco world in 2018. And, much to my surprise as anyone's, three mainstream monsters made my considered grade. The appearance of Flames marks Sia's third appearance (and Guetta's second) on the end of year list, and it's a jolly, bombastic number suiting Sia's mighty vocals. Check it out with the video as well - a trés fun homage to 1970s Hong Kong flicks. Jax Jones and Ina were so good that they featured back on the blog in January, and I wasn't surprised they remained a favourite come the year's end. And, as much as I use these occasions to berate Calvin Harris for not doing anything good, his collab with emerging superstar Dua Lipa invalidates all previous criticisms. It was impossible to escape its boozing-on-the-beach vibes wherever you went, and stood out from the usual crowd of soulless EDM that goes down well in the American market.
Trance was well represented this year with four belters. Good to see RAM back in the listings, but it's thanks to Darren Porter's remix that catapulted his collaboration with Mark Sherry to greatness. Ditto for the work Spencer Brown did with Bluestone/Levi/Waves. I'm particularly taken with her vocal for Remain. Initially unfussy, British and business-like she breaks into full trance diva as the song progresses - brilliant. Mucho praise for Back Home too. Cheesy, nostalgic lyrics are wedded to Adara's powerful vocal and create a euphoric experience seldom surpassed in trance these days. Exceptional stuff. And the best trance track of the year IMHO was Estiva's collaboration with Armin van Buuren protege/wingman, Ruben. No vocals on this occasion but a well crafted wunderwerk I'll have on the playlist for years. In all, top job and drinks all round.
Another good year for house too. Bicep's Rain certainly tickled my fancy. Yes, I know it got a long trail on YouTube but it wasn't until this year it was released, so it qualifies. Tube & Berger's collaboration with Alegant was a proper hottie, not least because the vocal sounded very Tom Smith from Editors - he previously featured back in 2010 as part of the Raized by Wolves project. Not a dissimilar style too. Brooding but weirdly relaxing, give it a listen!
What has made it to top of the pops? It has everything. Strings. A smouldering, echoing, decadent vocal different to but redolent of Lana Del Ray at her best. And, of course, a glamorous but dark heart around which the song is weaved. Here you go, my song of 2018:
Who knows what musical goodies 2019 has in store, but I know one thing - next new year's eve is the occasion for the countdown of the best songs of the decade. Be seeing you!