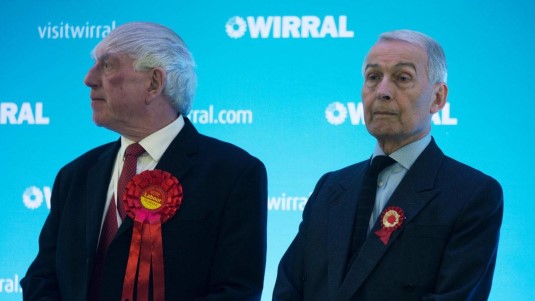 An ignominious end to an ignominious career. Like many Labour Party members, when I heard the news it was less a question of why and more one of "why did it take him so long?". And now we know. He was looking for an excuse, a "principled" reason for his departure that has absolutely nothing at all to do with the challenges to his erratic behaviour by his constituency party, culminating in the near-unanimous no confidence vote in him by the good party members of Birkenhead. Voting to save Theresa May's skin was too much even for these long-suffering comrades.
Often, Jeremy Corbyn supporters liken their opponents, particularly right wing Labour MPs, to Tories. But in Field's case the characterisation suits him more than most. Field is from the same sort of background as me, and one that too many labour movement people have a hard time getting their heads around: the Tory-voting working class. According to the potted biographies you can find knocking about online, Field was a Tory party member when he was a youngster. To his credit, and unlike the Prime Minister, Field was shown the door because he opposed apartheid in South Africa. Joining Labour he then subsequently embarked on a career in local government and in campaigns around poverty and low pay until entering the big house in 1979. This is work he continued once in Parliament, and folks who've served their time will recall that he was Blair's first social security minister charged with "thinking the unthinkable". Alas the dog's breakfast he served up proved too unpalatable even for Saint Tony.
The political problem with Field is he never outgrew the patricianism that is the true mark of the Tory. Readers may recall his voluntary stint as "poverty tsar" for Dave's Coalition government. During his time chumming up with the Tories (and scabbing on the party), he advocated stripping young men of all social security support if they "refused" jobs, believing it would "build character". This is no different to the Thatcherite critique of social security, which argued that a basic floor provided by welfare removes incentives to work and is responsible for locking people into cycles of poverty. In this topsy turvy world, it's not low pay and unemployment that causes poverty, but the relief for low pay and unemployment! Somewhat patronisingly, he felt one way of overcoming alienation among white working class people was the promotion of citizenship ceremonies. Problem families should be housed in metal containers. A proponent of national service, a stirrer of anti-immigration sentiment, and a true apostle of

Westminster

arrogance. Not the most awful Parliamentary record then, but one any Labour politician worth their salt should be ashamed of.
And yet Field, like the equally gruesome John Mann, are representative of a particular layer of the working class. A declining section to be sure, considering the recomposition of class politics, but one that has and always has had input into the Labour Party. To refer to it as socially conservative is to miss the mark: socially authoritarian is perhaps a more accurate description. That is a certain cut and dried morality growing out of the experience of being working class. One in which if I have to work, so should everyone else, if we have to

pu

t ourselves out woe betide those who laze about in bed. If someone's misbehaving or out of line, a clip round the ear 'ole will do. If someone falls foul of the law, more often than not they brought it upon themselves. This is a morality that prefers short, sharp, and possibly violent solutions to complex problems, and one that is often thin on sympathy because everyone has a bad lot. It's this authoritarianism, a negative working class politics glorying in all that is depressing and dehumanising about life as a wage earner that stains Field's politics. It is to Field's disgrace that he never once tried to break with this miserable outlook but sought to reinforce it whenever he got the chance by pretending its spurious authenticity.
While Field is no loss to the Labour Party, his resignation underlines one thing: how weak the Labour right have become. Rather than stand and fight, the flounce is the hot new move among Parliamentary elites. Jamie Reed, self-styled "Red Leader" of the "Rebel Alliance" packed himself off for a PR gig at Sellafield. Tristram Hunt went to the V&A. The 2017 general election saw unlamented no marks like Michael Dugher and Tom Blenkinsop vanish, and John Woodcock, and now Frank Field have thrown in the towel. Apparently Mike Gapes is thinking about resigning in exactly the same manner too. None of them have the stomach for political struggle because they haven't a clue. Faced with masses of new members with their own ideas and expecting MPs to account for their activities, they do not know how to manage, let alone win them over politically. Hence the bleating about anti-semitism, about "bullying", and the rest. There is no project uniting them, despite the overhyped centrist party silliness, and so just like the party members wedded to this obsolete and anti-working class politics are dribbling away, so do the MPs broadly representative of this trend.
Adios then to Frank Field. May we never see his like and those that would follow him ever again.