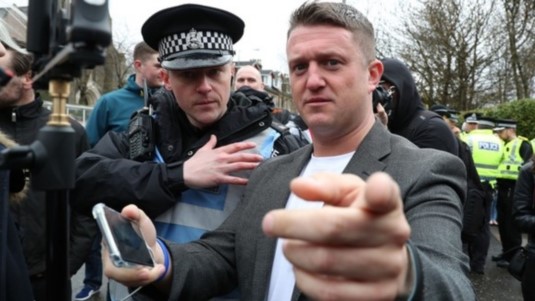 You can tell a something about a movement by its heroes and martyrs. Take the workers' movement, for instance. At its most radical edge you have comrades like Rosa Luxemburg and Karl Liebknecht, murdered by the proto-fascist Freikorps militia at the behest of the post-WWI social democratic government of Germany. Both of them had impeccable records as activists, organisers and, in Luxemburg's case, an outstanding theoretician. Truly people whose example will never be forgotten. Likewise, you can add to this list Antonio Gramsci who laboured in gruelling conditions under the lock and key of Mussolini, an imprisonment that killed him - but also enabled him to produce endlessly fruitful theoretical work. We think about the comrades who selflessly set aside their own safety and fought fascism, gun in hand, in Spain. The activists who put their jobs on the line defending workers' rights and building the labour movement in hostile workplaces. Comrades who risked life and limb taking on the fash and standing up to the police. And today, those comrades who travelled to Syria to fight with the Kurdish YPG. Whatever their foibles and human frailties, the fact they risked everything and, in some cases, paid the ultimate price, is what inspires. They put others before themselves and lived (and died) in power and in solidarity. They became martyrs because their lives and deaths embody socialist values.
Now consider fascist heroes. Take Horst Wessel, the SA youth leader who was murdered by a couple of KPD activists. A martyr to his cause, yes, but let's look at the content of his "activism". This consisted entirely of attacking the workers' movement with the kind of thuggish ferocity that ensured his promotion in the Nazi party, and earned him the favour of Joseph Goebbels. Though, like a true coward, he always let "his boys" do the grunt work of fighting and scrapping - he himself not being physically robust enough to mix it up. Wessel was also a notorious drunk and a pimp and undoubtedly, had his career not been cut short he would surely have graduated to the status of a major war criminal. It says everything about the Nazis and their latter day followers that a petty criminal and thug is one of their most beloved martyrs.
Which brings me to the case of Tommy Robinson, or Stephen Yaxley-Lennon, or whatever his name is this week. The "backbone of Britain" as the rancid Steve Bannon hailed him, and a living embodiment of "Ghandi", "Nelson Mandela", and "the Suffragettes" according to UKIP leader Gerard Batten. Why not add Buddha and Obi-Wan Kenobi to the list? It goes with saying he's none of these things. He is for the fissiparous far right a rallying figure and someone who has built a profile thanks to the indulgence shown him by the broadcast media, particularly the BBC, and his pubic "rehabilitation" thanks to Maajid Nawaz and the Quilliam Foundation. What can you say? Liberals are gonna liberal.
Of course, the far right narrative surrounding Yaxley-Lennon's recent imprisonment for contempt of court is about setting him up as a martyr figure. Here's a patriot standing up against Muslim grooming gangs, and getting put away for revealing the truth. At least goes the fairy tale. And yet this thin gruel is undermined by our Tommy. As The Secret Barrister notes, Yaxley-Lennon accepts that he was in the wrong:
1. Robinson admitted that he was in contempt of court at Canterbury, through racially charged and aggressive hounding of defendants which risked derailing a serious sex trial and denying justice to victims of sexual offending;




2. Robinson admitted through his barrister that he was in breach of the reporting restrictions at Leeds Crown Court. It was never suggested, by his barrister or anyone else, that the reporting restrictions were inappropriate. It was agreed by all that they were necessary to ensure the fairness of serious trials.




3. "Free speech" has nothing to do with this decision. This was not a case of Robinson "exposing" something the state was trying to cover up. At both Canterbury and Leeds, he was interfering in a live criminal trial in defiance of laws designed to ensure the trial was fair. The cases would have been reported in full by journalists once the postponement order was over. The only thing added to the sum of human experience by Robinson's "citizen journalism" was the very real risk of serious criminal cases collapsing.
Not that you'd know this from far right coverage. Or, for that matter, mainstream reporting. Yet, now's he's out and about again we'll see more of the same: lies, defamation of others, scapegoating and all the rest. Yaxley-Lennon is a liar, a cynical, deceitful and dishonest toe rag who revels in the celebrity notoriety the media has gifted him. But, as with the aforementioned Horst Wessel, he shares a number of other characteristics befitting a fascist icon. He received a 12 month suspended sentence for his role in a ruck between rival footy hooligans, cracked on to a 15 year old on Twitter, served a brief stint for passport fraud, received £160k for his part in a mortgage fraud (and did an 18 month stretch for it). All this is without taking on board his issues with the law vis the EDL and the contempt of court proceedings. He's nothing but lumpen trash.
And yet fascism draws deep from this most poisonous of wells. Why? Because, ultimately, fascism is a criminal enterprise. It has the trappings of a political movement - parties, periodicals, ideas - but its aim, which is the smashing of labour movements, the evisceration of democracy, and the erection of dictatorship simultaneously wages class war and involves criminal activity. A movement that is lawless and only obeys the law of the jungle, small wonder it appeals to criminals, misfits and losers. Yaxley-Lennon in this respect is the perfect embodiment of the fash demographic - petit bourgeois (shopkeeper), lumpenised and criminal, a serial liar, he's got what it takes to be a fascist hero.