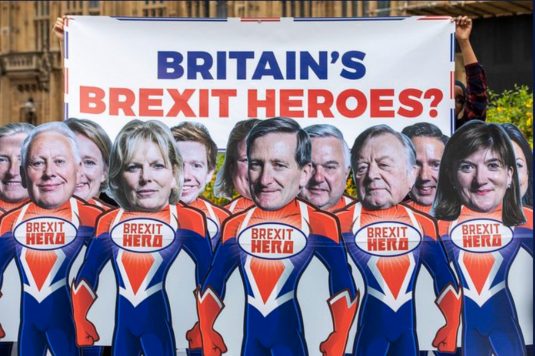 Sounds like a dream, doesn't it. Boris Johnson assumes the leadership of the Tory party in some sort of contest and two dozen or so Conservative MPs immediately announce their resignation. With them they take the blessings of Dave and George Osborne and a few thousand liberal-leaning activists the Tories can ill-afford to lose. Is this a far fetched scenario? For all the media obsession with Labour and the talk of a new centre party, the likelihood of that erupting from the right is something seldom considered. What are the chances?
There are a couple of things strongly in its favour, and a couple of others that act as significant barriers. The first are statements of intent from MPs. Unlike their Labour counterparts who skulk around in the shadows, a number of Tories have been open about how they wouldn't countenance being in a party led by Boris Johnson. Dominic Grieve came out recently and said this, and Woke Soobz has on a number of occasions. Nicky Morgan, Amber Rudd and Justine Greening have, for their part, vociferously and publicly barracked Johnson on occasion as well. Whether they would do the do, however, is another matter. We heard hard words over the Brexit votes in the Commons and avowed rebels too often rebelled against their own rebellion. Therefore we should take it as talk, but the fact this talk is open isn't without significance.
The second is, at first glance, the Tory vote appears to be a touch more fractious than the Labour vote. We saw how UKIP was able to successfully bleed away support off the back of Dave's social liberalism. He was able to re-win some of them with his EU referendum pledge, but what really saved his bacon were the Liberal Democrats volunteering themselves as sacrificial lambs. Why vote for a centre right, pro-market liberal party famed for ditching key pledges when Dave and his slick PR machine offered more of the real deal? The unexpected 2015 majority was only possible because the Tories filleted them like, well, a kipper. Now, where did these voters go in 2017? Very good question. This liberal Tory vote is not massive, but it is well distributed in the marginals and can make the difference precisely because of this. It didn't drift back to the yellow team, whose vote declined between the two contests. So for my money this liberal Tory vote saw a little bit of drift to Labour, but most would likely have stuck with the Tories. Why? Because the one nationism Theresa May made a big play of did have something that recommended itself to centre-leaning voters. i.e. A Sense of national community, a feeling of place, fairness, an end to social conflict, and pledges to tackle long-standing social ills. It's difficult to recall now, but in her imperial phase she did consciously sell herself as the Mother of the Nation.
Since her bungling of the general election and the Brexit shambles since, this vote might be game for moving if a slick centre Tory outfit was available, especially as Johnson with his opportunism, dishonesty, and racism isn't quite their cup of tea. So there are MPs, there's a modest sized constituency. There's a possibility some lash up with the LibDems could see them take back more former liberal seats, and it would no doubt flush out the centre party enthusiasts from Labour as well.
The problem is this isn't enough. Assuming they want to hold on to their seats, centrist Tories have the same difficulty as their counterparts in Labour. Few, if any, were elected on their own merits. When you look at this wing of the party only Ken Clarke has (some) recognition beyond Westminster and could possibly win his own seat on his own merits. The rest? Not a chance. They got in because they were the Conservative candidate, not because they're super amazing. The second difficulty is closure of the political opportunities that benefited UKIP. Yes, there is a possibility a new centre right party would score big in the media. I'm very sure it would with its leading lights plastered all over our TV screens, and centrist celebs like Brian Cox and JK Rowling might be persuaded to endorse. But with Brexit and no European elections every five years, they would have to rely on by-elections and local election contests for proof of political efficacy. The latter are not good for an untried and untested force - especially when they wouldn't have the numbers to field a serious challenge. And by-elections? What by-elections? We've had two - West Tyrone and Lewisham East - since the general election, so these can't be relied on to make a splash.
The other - major - difficulty can't be wished away either. Politics has changed. There is not one, but two mainstreams. There is one large voter bloc who disproportionately respond to fear and scapegoating of minorities, be they racialised (Muslims, East Europeans, black people) or dehumanised (people on benefits. The spare-the-rod, spoil-the-child and school of hard knocks nonsense is the stuff of a generational identification between them and the Tories. And don't forget the economic base of all this either. The other mainstreams is characterised by housing shortages, austerity, jobs, pay, security and prospects, and climate change. The Tories have got about 40% of the vote. It's in long-term decline, not least because the old property-based conservatising effects of old age is diminishing, but they are likelier to turn out to vote. The Labour vote, again 40%, is younger and overwhelmingly works. It's on a growth trajectory, which means unless the Tories figure out how to appeal to this mainstream they will find it progressively more difficult to win elections.
The political problem for centre Tories is the same as your Chris Leslies and your Liz Kendalls. They have no way of relating to either of these camps. A lovely stroll in the summer sun can fool them into thinking there is a base for their politics, but beyond what's already knocking about the LibDems and the liberal Tory vote, there's not much at all. That isn't necessarily a bad thing if you're trying to rebuild the LibDems, but it is if you're a parliamentarian and would like to stay a parliamentarian.
Could Boris Johnson split the Tories? In the event of his becoming leader, it is very unlikely. Those who are older and can't stomach him have retirement and a reserved sinecure in the Lords to look forward to, and those who are younger will batten down the hatches and wait for better times. However, if Johnson was kept off any upcoming leadership ballot thanks to shenanigans in the Westminster party then that, oh yes, that could get very interesting ...