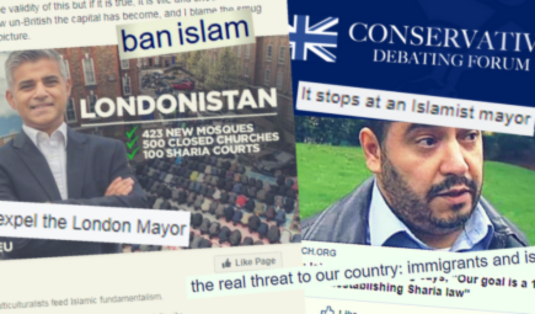 I expect not many readers have time for Baroness Sayeeda Warsi, especially as she was happy to front up the most appalling policies of Dave's ancien regime. But her repeated criticisms of Islamophobia deserve attention because, well, the attention is lacking. The press are uninterested, and no Tory has broken cover to attack their party in the vociferous terms we find across the chamber. Quite the opposite - we see Boris Johnson going overboard with his ever-so-funny characterisation of burqa-wearing Muslim women as letter boxes. There is nothing from the party, nothing. Not even Sajid Javid, the most senior Muslim in the government, has said anything. All in all it's outrageous and disgusting. But why are they totally uninterested in doing anything about it?
In the day-to-day of politics, the Tories can expect to get little grief from the press. Apart from The Graun and perhaps The Mirror and Indy, who's going to hold Johnson and his rancid views to account? House journals like The Spectator and the party's Fleet Street branches aren't about to make a song and dance. Especially when they indulge Islamophobic scaremongering themselves and employ columnists to the same effect. Why call out the Tories when doing so is a) hypocritical and b) shines a spotlight on the press's own shitty behaviour? Being Tory and being Islamophobic then is well within the zone of non-punishment, which is where politicians want to be. Islamophobia, which has always been a cover for being racist toward Asians, is an acceptable racism as far as the right wing establishment is concerned.
It goes without saying there has always been a racist streak in the Tory Party. It is the party most indelibly marked by Britain's history of empire, and it never entirely shed its imperialist superiority complex a t the time Britain divested its colonial possessions. This has manifested in a subculture of Tory MPs for whom racism (and Islamophobia) is ideological glue, an episodic occasion for populist rabble-rousing, and a means of currying favour among the yellowing grass roots. The opportunist racism of a Johnson, the hob-nobbing with Steve Bannon by Gove and Rees-mogg, the banter and larfs of Aiden Burley's mate's Nazi stag do, the foaming Tiber of Enoch Powell's fevered imaginings, the crude racism of Winston Churchill. The Monday Club, the links with fascists, loyalists and far right military figures, the lineage is a rotten one, a shaming one. And, appallingly, one that isn't dead. This was something Dave and Osborne understood and tried stowing under the stairs, but their pains at embedding social liberalism came to nought. A veneer for electoral convenience is what it turned out to be, the bare minimum necessary so the Tories didn't look hopelessly out of touch with an increasingly socially liberal society. How else to explain Dave's hands-off, chillaxed approach to Zac Goldsmith's London mayoral campaign which, you will recall, relied on Islamophobia and terrorist dog whistles. And how easily it was all swept aside once Theresa May assumed office.
Which brings us to the other reason why the Tories won't deal with Islamophobia. Because it suits them. Political parties don't stand apart from the rest of society. Its prejudices are bound to appear and find some political expression in parties, though this doesn't happen evenly - it all depends on the communities of interest parties articulate and condense. For instance, one reason why all racism, including anti-semitism, is less prevalent in Labour than the Tories is because its political power rests upon the core of the organised workers' movement. Or, to put it in plain language, solidarity. It's been a hard road but over the course of this last century the labour movement has tackled racism in its own ranks, not least because racism cuts against the collective organisation of our power. The Tories, however, are a reactive outfit. They are an organisation of ruling interests for ruling interests, and are the natural inheritors of Britain's long history of managing large populations. Their tried and trusted method, at least in domestic politics, is fear-mongering. And when does this work best? When they have scapegoating - the ideal ingredients for a spot of divide-and-rule.
The truth is Islamophobia works as part of an electoral strategy. Not with everyone, of course, but recent polling suggests 40% of the populace harbour some kind of suspicion toward Muslims. For the Tories, beleaguered by Brexit and relying on older voters, they need something to stop their diminishing electoral coalition from falling apart further. Islamophobia is a handy lever to pull on in such times. For the would-be kippers flirting with, um, the kippers, a few racist comments from leading Tories is, the likes of Johnson hope, enough to let them know he is thinking what they are thinking. But this is far from the preserve of a few mavericks , the party as a whole benefits. You might be a nice liberal Tory in a leafy shire appalled by the pack of gammon who congregate at the association meetings, but you will stay quiet because they deliver your leaflets, and as far as you know are representative of the constituency.
This ultimately is why the Tories won't do anything to address Islamophobia. Because it's too useful.