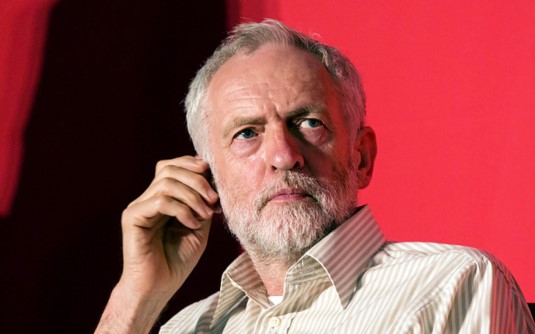 A WACO week, geddit?? Corbyn supporters getting a hashtag trending is suddenly akin to apocalyptic cultists dying in a fire. At least according to Marina Hyde, one of the self-appointed political hygiene inspectors who makes a living from saying a great deal about very little. In her 'A WACO week, as Corbynistas do politics in paranoid style' we learn two things. That she doesn't know what she's talking about ('Corbynista', in 2018, seriously?), and that all Corbyn supporters are suffering delusions. Jeremy Corbyn and the Labour Party have not suffered the most vicious press and broadcast media onslaught of recent times. No, not at all. There is nothing to see here.
She begins her piece by commenting on the online outpourings of Stephen Yaxley-Lennon's fans on the occasion of his appeal and release from the clink. Except, ho-ho, this isn't the case. She was instead writing about the Twitter support Corbyn has attracted this week as the anti-semitism row rumbles on. What larfs, eh? She says Corbyn supporters are suggesting the establishment are terrified of him and what an incoming Labour government would do, and are therefore out to get him. She then compares this with Yaxley-Lennon supporters who articulate their support for "Tommy" in roughly the same terms and declares them "similar". A remarkable conclusion, I'm sure you'd agree. A bit like saying the old National Front and the old official Communist Party are similar because they both organised marches and stood in elections.
I expect Marina is familiar with the basics of the sociology of social movements. After all, she's a professional commentator and so knows everything. But for lesser mortals, there is one thing Jeremy Corbyn and Stephen Yaxley-Lennon have in common - they're lightning rods for really existing tendencies existing out there, in wider society. In Corbyn's case, his almost-accidental appearance on the 2015 Labour leadership ballot paper saw him become a strange attractor for all kinds of grievances, frustrations and aspirations that were systematically excluded from mainstream politics. As this was subsequently elaborated under siege from the media and, scandalously, from Labour's own parliamentary party, a new voter coalition was built on the basis of the emergent class politics. While the likes of Marina sneered at retro socialism and the like, it turned out this was the most modern progressive politics precisely because it connected with so many people. 13 million people, to be more exact. While the outright party of soggy centrism, the preferred mode of establishment "radicalism", limped home with fewer than 2.5m votes. That is not a cult, regardless of the impression given by overenthusiastic Corbyn tweeters. It is a movement. And yes, one that gets plenty of elites sweaty at night.
You can make similar observations for "Tommy" and his band of losers. They're not on the same level as Corbynism as they attract nowhere near as much support, but then as recent meetings remind us, potential friends exist in high places. Overall, however, the far right in Britain are in a state. Since the BNP went belly up the litter of petty fuhrers haven't been able to unite their forces, and organisations come and go. National Action. The EDL. Britain First. Pegida UK. The Democratic Football Lads Alliance. They might be fractured, but they can be dangerous, if not infrequently murderous. Nevertheless, there is an audience out there for whom scapegoating, fear of the other, and flag waving nationalism is a heady political cocktail. The BNP rode it, as did UKIP and, more recently, so did the Tories. With substantial media flattery, Yaxley-Lennon has been built up into another lightning rod - a charismatic, and I use that term advisedly, figure that can give a structure of reactionary feeling a face, a name (many names), and a spokesperson. And yes, the enemies of this movement are real enough too. The overwhelming majority of people reading this, for starters. But also the labour movement generally, organisations like Hope Not Hate and Unite Against Fascism, and in the background there's the British state keeping tabs on things.
This is what's happening in these movements. Both have cohered around a figure, and both have come under attack in some way. The content of these movements and their objectives, however, are completely different. You have to study and understand them in their, well, movement. That's how you explain formal similarities. You don't use formal similarities to explain the movement. Yet this is exactly what Marina does. Both movements are characterised by the "paranoid style", allowing her to reject them as improper politics. To her mind, they're more conspiracy theory than anything else. Fascism with its fuhrer principle, criminality and violence is certainly structurally paranoid, but her offhand dismissal of the Tommy schlockers doesn't get to grips with this. Indeed, her approach, common among so-called liberals, (they're thick, they're knuckle draggers, they're irrational) mystifies fascism and racism and does nothing to help understand it. And when it comes to Corbynism, well, I've long ago given up waiting for a centrist explanation that does not rely on some conspiracy of Trots or a sublimated remain vote that does not exist.
Centrism, or liberalism also understood as a movement is imploding. Nick Clegg destroyed the support carefully cultivated by Paddy Ashdown and Charlie Kennedy. In the Tories, the "liberal" Cameroons are heavily marginalised, only able to muster a few votes in defiance of the government over Brexit. And in Labour, Blairism vanquished its own base before Corbynism brushed its putrid remains aside. Its only real constituency are the remnants of the LibDems, and establishment politics in the literal establishment. Not even June's pro-EU march was really theirs. Add to that the polarisation of voting intentions and to all intents and purposes we have a zombified centrism. The body is rotting and dropping to bits, but by blind instinct it stumbles on. Lashing out with a comment piece here, a fantasy programme there, it covets the warm, living bodies of Corbynism but can do nought except gnash its teeth. The paranoid style then, like so many dismal centrist attacks on the left, is merely a case of projection. It's like Marina reading into other political trends and movements the pathologies and decay that are afflicting her own. With their agency much diminishing and the people who pay them any mind shrinking by the day, their fixation on the authority figures of other movements is ultimately a jealousy and a longing. Where's their big daddy liberal hero to come along and make everything right?
Yet what's even better is every moan like this, if it catches any traction at all, does nothing to challenge the support of the objects of its polemic. Few will be the Corbyn supporters who eyed Marina's screed and found her flim-flam persuasive, and it might help firm up his support. What is more likely is a Labour centrist reading it, and putting it into the misery memory bank with all the other defeats and reverses their trend have suffered in the Labour Party in recent three years. For some, this might be one gloomy piece too many and that party card has gone in the bin. Sad times for them, and sad times for a Labour right incapable of recruiting to the party and is finding its constituency among the members diminishing. If Marina and friends want to stymie the centrist fightback in Labour, then who are we to stop them?