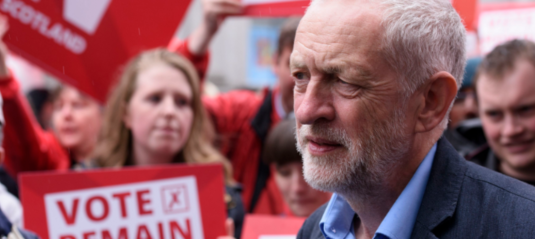 If you have recently woke during the night to the sound of piercing screams and pleas for mercy, you just might have caught the final agonies of Tory hopes on winning the next general election. As their vote is coming unstuck thanks to their incoherent mess of a Brexit, which at first glance appears to be a soft one, does it mean anything as far as Labour's support is concerned?
As you will have seen in the polls, the marginal Tory lead has vanished. Two points, four points, five points, it's very difficult to see how they could possibly win these voters back with Theresa May still at the helm. And there's room for further movement. Nigel Farage is still doing the Smashie and Nicey on LBC, but should his threat to return to front line politics be made good, Farage's dubious charisma could be relied on to chip off a few more percentage points. To be sure, the Brexit mess is of the Tories' doing and they're being made to own it, but might their fall out impact Labour's own coalition of voters?
It would be marginal at best, because the dynamics of Brexit, its meaning and attachments play out differently among Conservative and Labour supporters. As I've written more times than I can remember, the Tory coalition up until last week was an agglomeration of constituencies in decline. Retirees, Scottish unionists, the know-it-all petit bourgeois Facebook bore, older workers in dying jobs. They are also disproportionately male and white, Are Labour sceptical at best, with many who've never voted Labour and have become habitually anti-Labour, and there are refugees from UKIP's implosion - what centrist politicians used to euphemistically call "real concerns" and "strong and sincerely-held views". This constituency is breaking down because it is literally expiring. Thanks to the realities of working class life of the rising generations, they tend toward social liberalism and are therefore at odds with the callous conservatism of May and her minions, and the conservatising effects of ageing have broken down. Being conditions consciousness, so if you can't accumulate property, you're much less likely to start thinking like a Tory voter. Nevertheless, for those who have invested themselves in May's Tories Brexit is an ideological glue that keeps the coalition together. If you have large numbers of people who feel like strangers in a strange land, they will grasp for symbols and totems of stability, like beloved institutions and national identity. Brexit here is an act of national self-assertion, of taking Britain back to a time when immigrants were few and far between, you could get a job from the school gate, there was no touchy-feely namby-pamby nonsense and, crucially, Britain was fully independent and could make its own way.
The flipside of Brexit, remain, just doesn't work this way in Labour's coalition even though approximately two-thirds of its support did vote to stay in the EU. While it is true, as a number of polls have shown, that a majority of supporters (and members) would either like to remain or at the very least have a referendum on the final deal, it is not a deal breaker. Over the last couple of years the party has been consistent in its view, sensibly in my opinion, that the referendum outcome has to be observed. And despite the best efforts of the Liberal Democrats, a paddling of Jolyons, and His Blairness those voters have kept with Labour while the LibDems remain stuck in the polls. This is because Labour voters are attracted to the party thanks to its policy platform. Forget the idiocies about the cult of personality, Jeremy Corbyn is an attractor. His politics speak to people. It's not rocket science. If you're going to talk about poverty, frustrated aspirations, social justice, investment not cuts, and so on when these were out of bounds as far as official politics were concerned you have the tinder of an insurgency. The point is for Labour remain supporters, on the whole the party and its policies come before their attachment to remain.
It works slightly differently with Labour leave voters, the majority of whom tend to be older workers and retirees. Because Labour has accepted the referendum result, they were open to hearing what the party had to say because they in turn had been listened to. They might be quite sceptical of Corbyn and not be fully on board with the social liberalism of the younger generations, but they can see that the new left Labour Party has reoccupied the sort of political ground familiar to them. Had Labour abandoned Brexit, as some strategic geniuses have suggested it should, the result would not have been an influx of millions of enthusiastic remain voters (where from?) and double-digit point leads over the Tories. It would have been read as dumping on the wishes of Labour leave voters, and our enemies would cast themselves as the custodians of Brexit. In other words, I'd be writing and you'd be reading about the disintegration of the Labour vote instead of chewing popcorn and happily watching the Tories gut themselves.
This isn't to say Labour should carry on as if it's all in the bag. Complacency is counter-revolutionary. We should actively reach out to the relatively small but progressive-minded remain constituency, keep our people on board by hammering the Tories on living standards and public services, and pitch toward disgruntled Tory voters by criticising the messy and unworkable position May has come up with, and opposing it with our emphasis on rebuilding the country after a wasted decade. It's triangulation, but not as Blair knew it.
Let's be clear again, and this point cannot be underlined enough, we are in this position, of Labour having the advantage over the Tories because they've spent the last two years coming up with a pig's ear of a position while we have kept up the pressure and respected the referendum result. It wouldn't have been possible had we, to borrow the hackneyed phrase, opted to exit from Brexit.