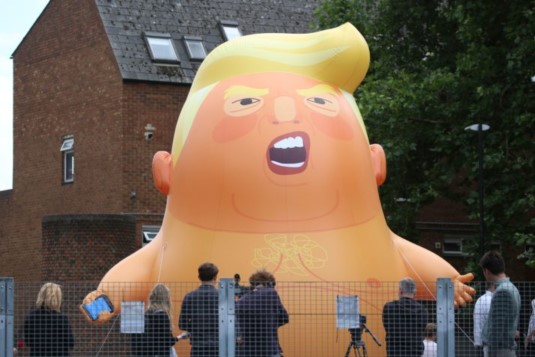 Is there a point? Among those for whom Donald Trump is a pretty repulsive figure, then the answer is obvious. Simultaneously for the minority who don't think antagonising Trump, a man with a notoriously fragile ego along with a dainty set of hands, is a good idea then no, there shouldn't be any protesting. If you don't respect the man then at least respect the office, so goes the argument. And then there are the somewheres-in-the-middle who greet his "working" visit to the UK with indifference, or can't see any point in taking to the streets. Well, the protesters are right and the naysayers, whether they instinctively recoil from extra-parliamentary politics or go by the world-weary cynicism of the sofa, are wrong.
Protesting against Donald Trump sends a message. One of the predicted consequences of Trump's presidency is the attempt to normalise the abnormal. All capitalist societies (and all class societies, for that matter) are based on conflict. This means at any one time, tensions are in friction, classes and fractions of classes face off, and pathologies of violence, physical and symbolic, tear at, rip up, rework, and reweave the social fabric. Trump's presidency is an attractor and condenser of backward and declining forces who were/are attracted to him because he offers a simple analysis that makes sense of their own predicament, and whose political obscenities mark him out as someone and something different to what went before. If he refuses to abide by the etiquette of polite liberal society, if that makes him an outcast and a renegade then perhaps he will follow through with all the other outrageous, anti-globalist, anti-immigrant postures he's taken up.
A cynical strategy for Trump and those who hitched a ride on his bandwagon, but the consequences have been appalling. Every single racist arsehole in the US has been empowered by the example set by the bigot-in-chief. Racist attacks are up. Racist police violence continues virtually unchecked, despite the hard, necessary work done by Black Lives Matter. We've had children separated from their parents at the border and thrown into cages. Misogyny festers, making celebrities out of non-entities like Jordan Peterson, and spawning truly pathetic movements of entitled and embittered masculinity, like the incels, and worryingly giving fascism a leg-up. Protesting against Trump in the UK says to those back home that none of this is normal and should not be accepted. It shows people who are really in the thick of it, be it organising against the cops Trump champions, fighting the sexual violence Trump treats as a joke, and working to build unions in the firms Trump and his billionaire cronies own that they're not alone, that along with the comrades they have there that large masses of people overseas agree with them, refuse to accept the normalisation of racism and misogyny, and will take to the streets to make their opposition heard. They don't call them demonstrations for nothing.
Second, marches can be fun, but people as a rule don't go on them because they're a good larf. They attend to demonstrate their strength of feeling about an issue, but they also have an extremely important secondary effect: they help pull a movement together. Thousands of people are due to take to the streets and, in the shadow of the Trump balloon sailing above, make new connections, come into contact with new ideas, deepen their political understanding of the world and forge new friendships, while feeling a sense of solidarity with like-minded others. For not a few who get involved and for whom this is their first demonstration, it can be a life-changing experience. The march may only wind from A to B and hear the same roster of speakers who normally adorn leftwing demos in London (assuming the Met unban the mobile stage), but all this does not do justice to what cannot be seen: the spadework of movement building.
But why protest against Trump when worse people, like Erdogan, sundry Saudi princes, and Xi Jinping tend not to be greeted in the same way? So ask the self-appointed protest police, like Piers Morgan, whenever a leftist demonstration is organised. Let me put the case to them as patronisingly as possible. You see, when you have a movement and a politics that is somewhat marginalised in society in terms of numbers, media coverage, and general awareness of what it stands for, it has to use what meagre resources it has to make as big a splash as possible. That way it can win over new people and push the political envelope more towards the left. Trump, for example, is almost universally known in the UK as the American president. How many people have heard of Erdogan or Xi by way of comparison? Just because all the stops aren't pulled out for them and others does not mean the left are okay with them. Let's just repeat that, it does not mean the left is okay with them. It's only by building movements off the opportunities afforded us can we ensure that people worse than Trump can get a testy reception in the future, hopefully to the point where turnouts are so large they are deterred from visiting again. There endeth the lesson.
Why protest against Donald Trump? There's every bloody point.