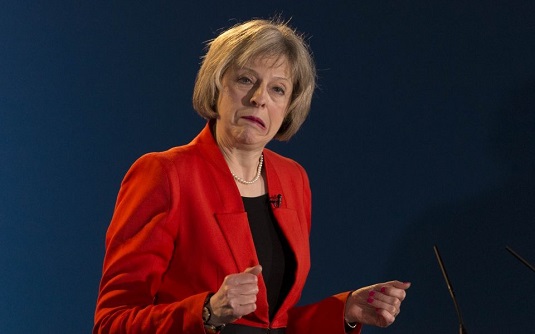 Astonishing scenes. Last night the government scraped a victory by three votes on its customs bill. It was able to do so because thanks to the votes of our friends the Labour-in-name-onlys - Frank Field, Kate Hoey, and Graham Stringer - and the absence from Parliament of Uncle Vince Cable and Tim Farron. Clearly they had priorities more pressing than derailing Theresa May's ridiculous and incoherent Brexit plan.
Well, thanks to May's acceptance of Jacob Rees-Mogg's four wrecking amendments to her customs plan, she has - at least at first glance - made her own negotiating position even more uncertain and tied herself in knots by accepting the Brexiteers' views into law. It's madness. Madness. What on earth was she thinking?
There are two points that can help explain the seemingly inexplicable. What we are seeing is short-term Tory party management in extremis. Plenty of people have commented about how the Prime Minister is living from day-to-day, and here we are. By accepting the Mogglodytes' amendments she was able to get the 60-or so votes they hold behind the government's position. As we have seen, Tory remainers could only muster 11 votes in opposition so from that point of view, the government's overall position lived to fight another day. Had Mogg and co. set their face against the remainers would not have been enough and it might have proved curtains for May.
The second point is that voting the Brexiteers' amendments into law doesn't actually matter. Nothing has changed, to coin a phrase. When Dominic Raab is packed off to negotiations with Brussels and May's plans dissolve in first contact with the European Union's position, whatever is eventually arrived at - and it's looking like Britain is heading more to a Norway-style destination - this will mean more government legislation, and therefore anything put down to placate the Brexiteers now will necessarily get repealed later. One assumes the European Research Group have the wit to realise this too, and so their mobilisations are all about showing May what headaches they can cause her down the line.
And here we are. A Brexit position evolving not from speaking to the EU but from arguments amongst the Tory party, and a set of incompatible and contradictory negotiating lines that will be rejected out-of-hand. Unfortunately, the longer this shilly-shallying goes on the more likely the UK will crash out of the EU, a crash that will hit our people the hardest.