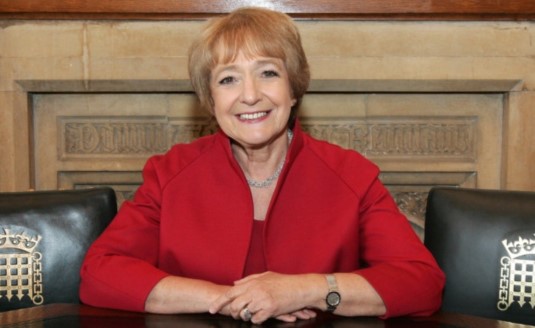 "When she speaks out about antisemitism, people should listen and act rather than condemn her." So says Luciana Berger of Margaret Hodge who, you will recall, called Jeremy Corbyn a "fucking anti-semite and a racist" in the Commons last night. She was careful to say these words in the chamber and does not have the guts to repeat them outside of it. Because she knows they are not true and are, in fact, defamatory. Rightly action is due to be taken against Hodge under PLP rules and there are grounds for a complaint of bringing the party into disrepute as well. I am also of the view this was a stunt, a put up job to drive anti-semitism up the news agenda while the media are, for the moment, more interested in Tory divisions. If any of this has to do with the resumption of Labour lead in the polls is something for readers to judge.
At the centre of the dispute is the Labour Party's definition of anti-semitism and its refusal to adopt wholesale the International Holocaust Remembrance Alliance's working definition. And the party is right not to do so for two very good reasons. It counts "Denying the Jewish people their right to self-determination, e.g., by claiming that the existence of a State of Israel is a racist endeavor" as an example of anti-semitic behaviour, as well as "Applying double standards by requiring of it a behavior not expected or demanded of any other democratic nation." While the definition notes that "overall context" matters, having seen how cheerleaders of successive Israeli governments have worked to characterise and discredit opposition to its actions, such would no doubt be used to try and close down legitimate and justified criticism.
For example, thanks to conquest and colonisation Israeli Jews are a fact of life, and like any other national grouping are entitled to the right of self-determination. However, that does not for one single moment hide the fact that Israel was founded as and remains a colonial project defined explicitly in ethno-nationalist terms (a self-designation almost uniquely shared with Japan). Israel discriminates against its minority Arab citizens, illegally annexes occupied land, steals water resources and, under the guise of self-defence, pursues military incursions against its neighbours, up to and including massacres of unarmed protesters. It is a racist state because it is formally racist, and its actions are racist. The exercise of national self-determination does not give any nation carte blanche to ride roughshod over the rights of others, be it Israel, the US, China or whoever. Claiming that your nation possesses such a right because your neighbours are inferior and barbarous is the very epitome of racist politics.
Neither is there any question of holding Israel to a higher standard than other liberal democracies. The United States is regularly berated, and rightfully so, for its "police actions", extra-judicial killings and meddling in other countries' affairs. French secularism and its particular model of republican citizenship is also criticised and attacked for the exclusion and marginalisation of migrants of North African descent, providing politicians scapegoats aplenty. And then there is the UK, which once faced an insurgency that came very near to wiping out the Thatcher government in the 1984 Brighton bombing. This last example is an instructive one because for all the brutalities and injustices of the low intensity war in Ireland, the British state did not flatten the Bogside with bombing runs and heavy artillery, it did not bulldoze houses belonging to the families of IRA volunteers, systematically assassinate leading figures in the provisionals and Sinn Fein, deploy white phosphorous, nor launch shock-and-awe punitive expeditions over the border. Criticising Israel for its incessant attacks on Gaza is not holding them to a higher standard, but a matter of taking it to task for violating the standards expected from a democratic country as a matter of course.
These are not anti-semitic arguments. Nowhere can the whiff of anti-Jewish racism be found. But what the IHRA definition does is discourage critical investigation along these lines for fear of getting tarred with the anti-semitism brush, and/or attracting the attentions of self-styled custodians of Israel in Labour Party circles. And you know who agrees with this? Chuka Umunna, who this week branded Labour "institutionally racist", Keir Starmer went on Andrew Marr a couple of weeks ago and said the IHRA definition should be adopted in full, and Anna Turley, today amplifying and cheering on Hodge. I pick these three because they sat on the Home Affairs Committee reporting on anti-semitism in the UK. This cross-party group concluded that it "broadly accepts" the IHRA definition but with "additional caveats". What might these be? The report notes it's not anti-semitic, in and of itself, to criticise Israel, to hold it to the same standards expected of liberal democracies, nor to take a particular interest in its activities. As Labour's position is similarly caveated, are our "comrades" saying their report with their name on it is racist and therefore is an example of institutional anti-semitism? As they haven't explained themselves we are forced to conclude it's factional hypocrisy guiding their words instead of principled anti-racism.
Like most of you, I'm sick of this. The party is not without its problems, but I'm sick of the endless stream of dishonesty, of the purposeful besmirching of Labour's name, part and parcel of scorched earth shenanigans as the right are democratically ejected from their positions of influence. This is not about Israel. It's not even really about Jews and anti-semitism. It is about stopping Corbyn, of taking the party back to where it trod water before 2015, of making it once again a timid and loyal opposition to the Tories but one where, at least, they ruled the roost.