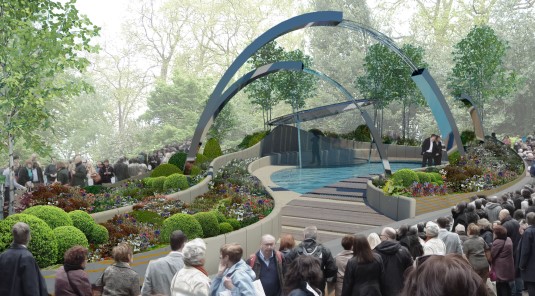 One problem when you have an market-based economic system built around production for profit, is that those with binding decision-making powers (heads of companies, politicians, etc.) frequently have to make perverse choices. Enter stage left Stoke-on-Trent City Council's entry to the Chelsea Flower Show.
Despite being the son of prize-winning gardeners, what I know about plants and gardens could fit on the back of a seed packet. But looking at the pictures the Council's garden looks very swish. In the socialist future all our cities will be adorned by horticultural displays of its like. And robots. Apparently, it represents Stoke as a renewed centre of advanced materials manufacture and, thanks to ambitious plans to exploit the hot rocks beneath the city, a coming powerhouse of a new green industrial revolution. The judges were very impressed. In a field of 12 showcase gardens, Positively Stoke was awarded silver, just missing out to Birmingham City Council's entry.
Not as impressed are local residents who follow the Council's comings and goings. The cost of the garden and a VIP reception lies between £250k and £450k, the majority of that picked up by the local authority's coffers. To rub it in Birmingham's costs were met mostly by sponsorship. The bill to the second city's taxpayers was just £5,000. In the context of £100m worth of cuts over the next four years, splurging on a glorified London soiree is taking the piss. Or is it?
Responding to objections, Council chief executive John van de Laarschot lays out the logic of the game the Council has to play. Because of the heavy cuts falling on Labour-run authorities, they are compelled to seek new sources of revenue. They can increase charges for council-provided services, and put up council tax. In both cases, there isn't much room to rake in mega money. And, thanks to Eric Pickles, from 2015 locally collected business rates will be returned to council as the pool from which local government presently share is abolished. As Stoke has fewer businesses in number and size terms compared with, say, Derby, that means another cut to revenues. There is only one precarious ladder out of the deepening pit the council finds itself in, and that is regenerating the local economy and increasing the numbers of people who live inside the city limits. More business = more business rates. More residents = more council tax.
This is where the perverse logics start kicking in. If the council adopts a strategy of fighting fires, of protecting budgets according to demonstrable need then it is a matter of buying time for those services. However, there will be nothing left for immediately intangible things like economic regeneration strategies. On the other hand, if the council applies cuts across the board but retains a budget to market the city to potential investors, and/or attempts to make the city more attractive through controversial developments, it opens up the possibility, the hope that it will pay off and put it on a better footing to protect services in the future.
Keeping this in mind, as unpalatable as it is, the council's decision to enter Chelsea should be seen as a speculative investment. Because it's not about the horticulture, it's about business. More politicians and business people attend the flower show than any other, outside of elite summits and the like. Chelsea is the number one networking event on the corporate calendar. Yes, unfortunately, if you're playing the regeneration game it means going where the potential investors are and spending money to catch their eye.
I don't like it. When the food bank queue is growing in our city, it is appalling that the council are spending and borrowing for things that do not address these problems. Yet that is the game by which it has to play. As those rules are unlikely to change any time soon, neither by new legislation or a mass movement challenging these logics, it's stuck. The council can do nothing and let the city's decline continue, or stretch every sinew to turn the situation around. It stinks. It's the stuff anti-politics is made of. Sadly, however, I don't think it or any other local authority in a similar position has much of a choice.