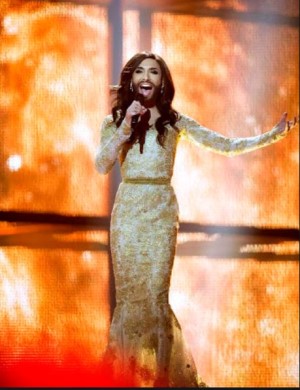 Eurovision is merely the continuation of politics by other, musical means. Usually, the popular perception is of nepotistic voting, of kindred nation supporting kindred nation. Witness Greece and Cyprus, the Scandinavian countries, and so on. Another persistent trope is to read the blunt force trauma of geopolitics into the granting of points. Everyone east of the Vistula, for example, habitually votes Russia because Papa Putin will turn off the gas otherwise. Or so the argument goes. But last night something different happened. The blocs of old melted as gender and sexual politics came to the fore. Against the backdrop of Belarus and Russian protests, hostility at home, and homophobia from a fellow contestant, Austria's Conchita Wurst swept the board and lifted the Eurovision crown.
Rise Like a Phoenix is a great song, and was the best on offer last night. But even had it not Conchita's victory would have been the most positive possible outcome, especially in light of the above (though it's worth noting Armenia's Aram MP3 later apologised for his remarks). There is a ugly homophobia abroad at the moment, particularly in Eastern Europe and Russia. Much like the new misogyny, I believe it's a reaction to the normalisation of same sex relationships and "non-traditional" ways of living. Except in the East, it is being seized upon and reinforced legislatively by bigoted, authoritarian politicians. You have to ask yourself why such people are obsessed with what goes on in others' bedrooms.
Of course, Eurovision is no stranger to gay culture nor it to the contest. We all remember when Israel's Dana International struck a blow for trans acceptance way, way back in 1998. Her entry was accompanied by talk that it could spark civil war between secular/liberal and orthodox Israelis. I'm not entirely joking. Nor was last night the first time Eurovision has played host to a drag act. Verka Serduchka represented Ukraine back in 2007. It too caused protests, but ostensibly because Serduchka sent up middle-aged peasant women rather than saying anything about sexuality. However, that performance was more pantomime dame than anything else and so was deemed "safe".
Wurst's revolutionary quality lies in being queer. Being queer as fuck. She's an arresting, nay stunning woman, who happens to also be a bearded man in a dress. No fake boobs. No bum padding. Her very figure takes gender boundaries and straddles them in defiance of the conventional rules of drag. Is she a man? Is he a woman? Wurst constantly keeps that question in play and stubbornly refuses to answer it, as if it doesn't matter. In so doing Wurst forces everyone ill at ease with the liquefaction of gender and sexuality to face up to their lingering discomforts and make a choice about what is and what isn't tolerable to them. Increasing numbers are taking the tolerant road, hence the signpost of history is definitely pointing in the direction of acceptance, to a destination where such questions matter no longer.
The fact Wurst's presentation wasn't a barrier to her winning and, in fact, will have contributed toward that victory in a major way sends out a clear progressive message. For the 160m Europeans who tuned in, for those in Belarus, Russia and elsewhere who have to hide their sexuality and gender identities, it shows them a possible image of their own future, that the countries to the west are riding a cultural wave of acceptance that will eventually wash up on their shores too. As painful and frightening things are now, the bigotry Putin and co are egging on are the death spasms of moralities and norms on their way out. There is every chance that after last night, the distance between it and its final resting place has foreshortened.
(NB 1. Co-author creds are due @catherinebuca - some of these ideas are hers).
(NB 2. 'Conchita Wurst' means 'Vagina Sausage')