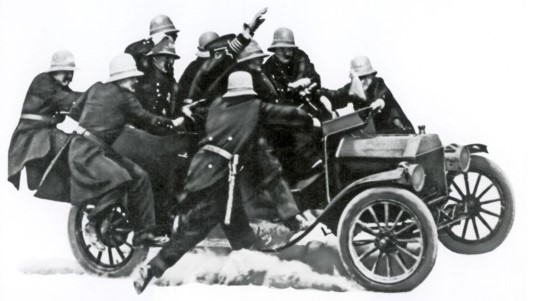 Labour's dreadful anti-semitism debate has to change, so argues Barnaby Raine. And he's absolutely right - read the piece if you haven't already. The problem is, like so much in the Labour Party, the issue of anti-semitism was a factional football more or less from the moment it began making waves around the time of Jeremy Corbyn's election as Labour leader. It still is. For instance, while his past associations are taken as evidence of irredeemable anti-semitism, hanging out with open anti-semites at the Spectator's birthday bash isn't.
Because anti-semitism in the context of Labour is a factional stake, a strategy, a weapon, one side have every interest in keeping it in play. Therefore, as Sienna Rogers rightly points out, it falls to the left - as the majority faction - to do something about it. To put it another way, just because the right are using it to destabilise the party and toxify its name doesn't mean there isn't an issue. Just because Corbyn's opponents have got out the chopping block doesn't mean you have to rest your head on it.
Consider these two exhibits. On the definition of anti-semitism, Labour's is certainly stronger and more robust than that proffered by the International Holocaust Remembrance Association. After all, it only made good the criticisms made of it by Keir Starmer, Anna Turley, and Chuka Umunna. What wasn't enough was how Labour's NEC arrived at its decision. Given the sensitivity around anti-Jewish racism and the fact it is something of a hot button issue that has caused the party serious grief, why was modifying the definition treated as a technical matter as opposed to a political one? Who thought it would be a good idea not to consult with Jewish groups in and outside the party? Why has this been handled in the most incompetent and cack-handed way possible? Yeah, we know the Jewish Labour Movement and the Board of Deputies are hardly honest brokers and have factional irons in the Labour fire. Yes, it's likely nothing could have placated them. But you do not manoeuvre in such a way to give their criticisms credence. 68 rabbis uniting in condemnation of Labour? The three Jewish newspapers doing likewise? Shameful, shameful. Utterly damaging, and all utterly unnecessary.
And that brings us on to the second exhibit. A recording of outgoing NEC and Momentum slate member, Pete Willsman ranting away about anti-semitism at the NEC earlier this month is, to put it euphemistically, not helpful. Saying "I've seen no evidence of anti-semitism" coming from someone who isn't Jewish is like some bloke claiming sexism is a myth because he's never experienced it. While not anti-semitic in and of itself, it's crass, stupid, and in the context of what's going on, unforgivable. As Luciana Berger notes in her quote, evidence of anti-semitism, as sporadic as in the party it is, was right there in the papers in front of him. The thing is when studied recklessness of this sort happens and continues to happen (I understand this isn't the first time Pete has held forth on this topic in a similar manner), you've got to start asking serious questions. Whether Pete is guilty of being stupid or something worse doesn't matter, he has shown himself unfit for the position he's contesting, Momentum slate or no Momentum slate. For as long as he's on the leading body and associated as a "key ally" of Corbyn, he's a liability and will cause further damage down the line. I was glad when Ken Livingstone belatedly realised his pig headedness was harming the Corbyn project, and did the decent thing. I hope Pete has a similar epiphany too.
It's worth remembering Labour is no more anti-semitic than the rest of society. Indeed, as polling shows the party is, in fact, less so. How then have we come to this ridiculous situation? It's not only because of the shenanigans and factionalising of the right. I'm afraid to say the incompetence of the leadership on dealing with anti-semitism has to take its share of the blame. This is not good enough, it needs to get a grip and stop fucking it up. This cannot be allowed to carry on as it has been doing.