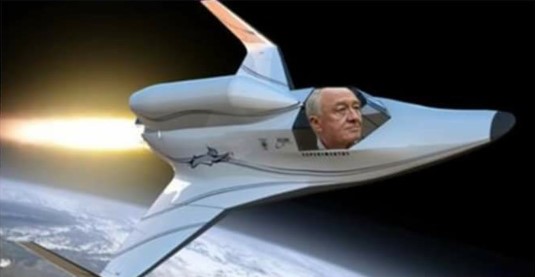 I'm glad Ken Livingstone has decided to quit the Labour Party because I agree with his resignation statement. He writes "The ongoing issues around my suspension from the Labour Party have become a distraction from the key political issue of our time – which is to replace a Tory government overseeing falling living standards and spiralling poverty ... However any further disciplinary action against me may drag on for months or even years, distracting attention from Jeremy's policies." Yes, his repeated remarks were a distraction from what the Labour Party is trying to achieve. And you know who's to blame for that? The former Labour Mayor of London, one Ken Livingstone.
Is Ken anti-semitic? I don't believe he is, but it's easy to see why others might have drawn this conclusion. When you have, on the record, compared Jews to Nazis, made out Hitler was some sort of Zionist "before he went mad", and stubbornly, repeatedly talked up collaboration between the Third Reich and the Zionist movement, and carried on once it became a major political scandal, you do start to wonder. Normal behaviour is to try and get out of the hole you're in, not calling in the earth movers.
The problem with Ken and, unfortunately, many politicians and activists is he thought he was bigger than the party. And in Ken's case, when you've been a prominent figure on the left for almost four decades, and won an election as against the full weight of the New Labour machine at the peak of Blair's imperial majesty, you can understand why. But, unfortunately, there is a culture on the left of a certain radical narcissism. This is characterised chiefly by the adoption of provocative position-taking, behaviour that is shrill, shouty-shouty, self-aggrandising and downright annoying, and a studied refusal to ever put the collective interest of the politics, party or movement one is ostensibly committed to before their ever-so-important selves. Ken fits this like a glove, but there are others. Our "friends" Tony Greenstein and Jackie Walker, for whom bringing Labour into disrepute is a price worth paying as long as they can carry on acting like overgrown children. Gerry Downing of Socialist Fight thought it was fine and dandy to rhetorically support Islamic State, and write about a transnational "Jewish bourgeoisie" exerting a malign influence on world politics, slap bang in the middle of an anti-semitism row. That "Dr ACActivism" fool who dashed onto the stage this year's Eurovision to shout a muffled "For the Nazis of the UK media, we demand freedom" is another example. And there are our old favourites: George Galloway and Tommy Sheridan, though the less said about them the better.
There isn't anything particularly radical about radical narcissism, and it's no different from what we can find on the right. There's nothing necessarily political about it either. In a world in which we are exhorted to be responsible for our actions, to pull up our bootstraps and be masters of our own fates without assistance or support from others, it is we - individuals, ourselves - who are the supreme authority and arbiters of efficacy. Discipline, optics, persuasion, none of these thing matter. The individual is everything. The movement, the politics, nothing.
By removing himself from politics and putting the party first Ken has done the decent thing. Ironically, by resigning his Labour membership he became a better Labour and Jeremy Corbyn supporter and left behind him his hitherto primary loyalty: the Ken Livingstone Party. But now life after politics beckons he should spend his time repairing his reputation, and avoid the temptation of the broadcast studio and the inevitable questions about Hitler and Jews.
NB Image courtesy of Jewdas.