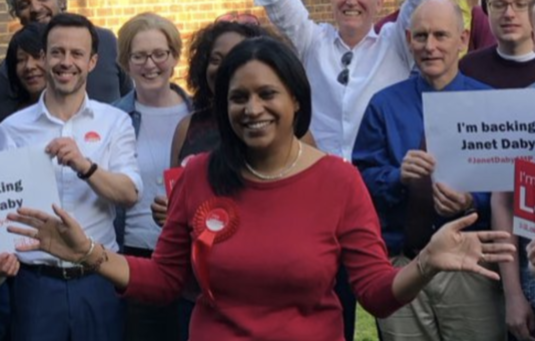 It's going to be a match made in heaven. No, not the Royal wedding, but the solemn and holy contract made between Lewisham East Labour Party and their new Prospective Parliamentary Candidate, Janet Daby. Winning 288 votes to Sakina Sheikh's 135 and Claudia Webbe's 35, Janet's win is convincing. Not even a united left or a second preference deal struck beforehand would have been able to see her off. Yet, thinking about it, did the left actually lose? Well, no. Apparently not. Forget the backslapping and what have you from the usual suspects online and consider that Janet voted for Jeremy Corbyn in both leadership contests, which is more than, ahem, some Corbyn supporters can say. It would be a real stretch to describe her as a right wing figure, unless wanting to keep Britain in the single market post-Brexit invalidates one's left credentials. Instead, consider it like this: how screwed must Labour First and Progress be when they're forced to endorse a candidate with impeccable pro-Corbyn credentials. This is not a loss for the left, and more an underlining of the right's weakness.
The selection did threaten to descend into farce, however, when Unite stumped up evidence of Sakina's alleged involvement with Take Back the City, a campaign group who stood candidates for last year's London Assembly elections. Immediately she was suspended and within minutes put back on the selection shortlist. What a farce. Not at all coincidentally, Unite had endorsed Claudia for the seat and so sat on this information, which was not disclosed to the NEC's shortlisting panel, before springing it at the last possible moment.
Unfortunately, Unite have form for what you might call bureaucratic bulldozering. As the largest affiliate to Labour, the role the union has played in clearing out Labour First's administrative power base in the West Midlands, and its bastions of power inside and around the leader's office, Unite has a certain weight, and it's not averse to using this to get its way. Having got the union's fingers burned in the particularly clumsy intervention in Falkirk a million years ago (remember that?), its seems the Unite's respect for subtlety has not grown alongside its clout. Replacing politics with administrative activism, to give it a euphemism, is the wrong approach to take. Corbynism will not succeed if it's merely an exercise in replacing a right wing bureaucracy with a left wing one. But quite apart from what Corbynism and the Labour Party might become, it's embarrassing and makes Labour look like some tin pot outfit as opposed to a party serious about government.
More worryingly, there's an element of recklessness here. The right in Unite got a right old clobbering after Gerard Coyne's failed run for general secretary. And rightly so. He ran a disgraceful campaign. Readers who have followed the saga since will note Coyne and his band of ne'er-do-wells have petitioned to overturn Len McCluskey's victory by going on about process and procedure, not that they ever bothered his campaign while the election was on. I digress. But just ask yourselves this. If you're going to be in and out of court over the next year against an opponent seeking to rubbish you and the structures of your union and for whom bureaucratic abuses is part of his case, is it smart politics to be seen publicly, in the full glare of the anti-Corbyn and, yes, anti-Unite media, to be pulling off egregious dirty tricks and attempted stitch ups?
No. Let Lewisham East be the end. The new politics can never be victorious if they rely on the old ways.