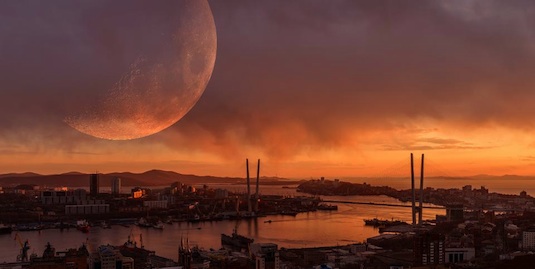 This is the end, beautiful friend

.

This is the end, my only friend, the end. There are one of two ways you could be reading this. Deciphered and translated from a charred server drifting among splintered asteroids some millions of years after these words were written. Or as per normal via your favoured internet-enabled device. As 23rd September draws to a close there's nary a rogue planet in sight (let alone the earthquakes and volcanic eruptions that would occasion its approach, though I'll grant you the severe weather ...). Yes, Nibiru, the fabled phantom planet beloved of conspiranoids and Bible code saps was due to wreak devastation upon the Earth today, if not collide and smash us into smithereens. The ways things are going some might regard this as a mercy denied, but I'm not one of them. What interests me is the persistence of such obvious bullshit beliefs like this one.
Social being conditions consciousness. If what you encounter during the course of your own experience runs against the ideas you have in your head, they're going to be heavily modified by or discarded in light of that experience. The pernicious character of conspiracy theorising, however, works because they operate at a level of abstraction and remove from experience. They disregard the rules of evidence and, in fact, take the absence of evidence as evidence of their claims. It makes them nigh-on impossible to refute as counter-arguments merely confirm the original claims, or invalidates the critic as part of the conspiratorial apparatus. Take our friend Nibiru for instance. Despite claims of its imminent coming on several occasions, the planet's studied refusal to bring human civilisation crashing down is merely a consequence of reading the Bible numbers wrongly. Take it from the claim makers, Nibiru exists. Have faith! And ignore NASA and 400 years of modern astronomy who have consistently conspired to keep the truth of its existence from the public.
We've visited the well spring of conspiracy theorising before, that their strength lies in their simplicity. You can take together the complex mess of the social world and weave it into a narrative of manipulation by self-serving elites. A matter of reducing shades of grey to black and white. My friend Andrew Wilson, for instance, researches how fringe-of-the-fringe beliefs have totally mainstreamed, with some ugly political consequences. The fertility of conspiracy is thanks to the context in which we live, one that is marked by great uncertainty and risk, a seemingly rapid (and bewildering) pace of technological and social change, and an emphasis on the individual as the agent responsible for its own fate. If you are told and positioned by the social world as being on your own, you as a subject of that society become the most exalted figure within that individual universe. Your fate is your responsibility, yet you are also the ultimate authority and therefore the arbiter of what is right. Old Lyotard was certainly onto something when he diagnosed postmodernism as "incredulity toward metanarratives". Or, in plain English, the fragmenting of the dominant ideas (religious, political) that guided the understanding of the world for untold millions of people.
The default condition of thought in contemporary societies is therefore not scepticism, but cynicism. Or, to put it more accurately, naive cynicism. This is the assumption that everyone is out for themselves, are self-obsessed and concerned with feathering their own nests, and would happily sell their relatives into slavery if they stood to profit from it. Where this sensibility informs our relationships with institutions, the latter are taken to be untrustworthy, uninterested in "little people" concerns, and conspire with one another to frustrate the individual and bolster the power and cash of various elites. It is the petit bourgeois mindset writ large, a logical outcome of the individuating cultural logics of neoliberalism, aided and abetted by the easy networking the internet affords the like-minded. Living in such times, it would be surprising if conspiracy theory and its truth-denying properties had not become a mass phenomenon.
Hence Nibiru, one conspiracy theory amidst an expanding market for bullshit. The economic, the political and the cultural conditions that comprise the social is permissive of and amplifies conspiracy theory, and shall continue doing so until society is reconfigured into a new set of relationships. That Nibiru doesn't exist, let alone is coming for us doesn't matter. Nibiru is always coming.