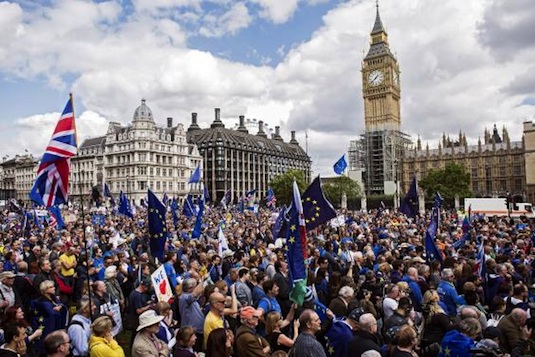 London Town rang again with the chants and pounding feet of a march, like it does most weekends. Demonstrations are always coalitions organised around broadly progressive issues, and therefore tend toward a left wing colouration. A good indicator of socialist creds is whether it attracts our friends the paper sellers or not. Less common are mobilisations of the right. The EDL and the Britain First Facebook group tend to avoid central London and strike out for the provinces, which more often than not means a car park on an out-of-town industrial estate. But the Countryside Alliance pulled off mass demonstrations early in His Blairness's reign, reminding us the right can organise extra-parliamentary opposition if the forces favour it. Rarer still are liberal marches. Occasional lobbies of Parliament with a dozen or so participants, yes, but tens of thousands? Breaking with convention and entirely in line with our mixed up politics, today's anti-Brexit demonstration is the third or fourth big demo against leaving the EU. Krazy with a capital K.
Asking why liberalism is on a march (not on the march) seems redundant. It's obvious, innit. 15 months on from the referendum vote, the political establishment are split this way and that. Brexiteers remain divided between indifference to what a hard exit would mean for millions of people as well as Britain's continued economic health, and those who maintain a modicum of good sense. Similarly remainers are found twisting this way and that. Folks who accept the UK has to leave, folks who want to stay in the single market/customs union, folks who by hook and by crook want Britain to stay in the EU, it has all percolated outwards. The referendum and the general election helped politicise millions of people, and what would normally be the province of politicians, wonks, hacks and hangers on (like yours truly) now has a mass audience. If there is a constituency stirred up by something, then a demonstration is a very good way of, well, demonstrating the depth of feeling about it.
Liberalism in the shape of the current fortunes of the Liberal Democrats isn't in tip top shape, but getting 50,000 or so on the streets for Remain will certainly gratify the organisers. And dubbing the politics of the march 'liberal' is amply justified by the speakers and the quality of their contributions. Uncle Vince ponied up to the rostrum as demonstrators ambled into Parliament Square. Fiery oratory will never be associated with the LibDem leader, but no doubt attendees were pleased to hear him attack "the Brexit" the "incompetent, dysfunctional and disunited" Tories are foisting upon us. Can't fault him, but did Vince act with the honesty the LibDems are famed for and remind the crowd his party's position is to honour the outcome of the referendum? I'm sure it slipped his mind. Ed Davey, deservedly ex of Westminster, told the audience that Parliament was against remaining and the odds were stacked against them. What "we" have to do is reach out to leave voters and become a unifying force. Um, when your objective is overturning a divisive referendum result there might be one or two difficulties in "reaching out" to people who fundamentally disagree with your position. Still, you can't but try and our Ed is very trying.
Our good friend Jolyon Maugham was there and gave a speech. Woot! Thankfully he steered away from new party/centre party nonsense and talked about, um, nothing in particular. Whereas Uncle Vince and Davey can get away without saying anything - because their personage and position are tied entirely to their party - JoMo doesn't have that luxury. As C-list commentariat, a sideline to the lawyering day job, he's supposed to say it as he sees it, and chart something of a way forward. What sage advice did he proffer? Um. "Taking responsibility". Apparently, responsibility is different for everyone. To wit; "if you're a student, maybe volunteer in a care home. If you're wealthy and a parent send your kids to a state school so they know the lives of others. If you're an empty nester work with a refugee charity to help another human being live a decent life. Look out for one another. Look local."
It's easy for old hands to snark, but JoMo typifies a trend. Remainia as a movement is incoherent and suffers from structural naivete. It is a sentiment sometimes finding expression in the LibDems, sometimes in Cameroon dregs and Blairist remnants. It marries together dethroned party elites (and their elitist sensibilities) with layers of the liberal intelligentsia who had transferred hope for a better future to the supranational (if not the supranationalism) of the EU, and are entirely at a loss to a) explain what happened, and b) how to recover the situation. To make matters worse, while 50k is indicative of a certain level of mass support they're squeezed between the growing might of Corbynism and the passive, large but declining support for the Tories. It is a constituency unmoored and cut adrift from polarising politics. Hence they grasp after the EU's comfort blanket just as it is yanked out of reach. Without it and in the absence of a vehicle for liberalism, like a LibDem insurgency or Dave and Blair on the rise, we see confusion become confusionism, and its outbreak across the mediascape as narcissism and cluelessness.
All told, folks attending today's march enjoyed a good day out. A few snaps were shared and selfies taken, friends made, virtue signalled and duly signalled back. Yet none would have come away with a sense of direction. Purpose perhaps, but not what to do next. It's a good job there'll be another demo in the Spring.