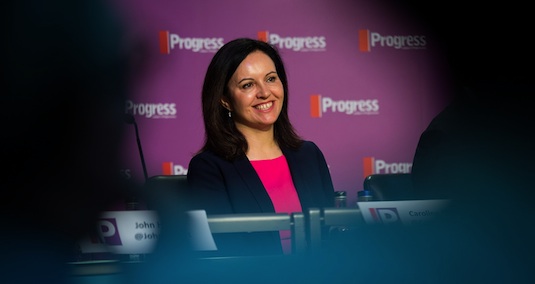 From time to time politics presents us with an acid test. Examples might be opposing wars based on dodgy dossiers, not taking more money off poor people, refusing to cheerlead the scapegoating of powerless populations, standing up against the marketisation of the NHS. You know the sort, a vitally important issue that comes down to very clear right and wrong sides. The Withdrawal Bill now going through the Commons are one of those issues. Not because it facilitates or stymies Brexit, but because it's an egregious power grab. It is a self-evident attempt by an authoritarian Prime Minister without authority to rule by fiat, to bypass Parliament and empower the government without check or scrutiny. We all know British democracy is flawed and frequently flaky, but this bill - if passed - makes matters substantially worse.
What a disgrace then to see the grotesque chaos of Labour MPs - Labour MPs - scuttling around the TV studios handing out feeble excuses for their refusal to oppose the government. Failing to defend the most basic democratic functions of Parliament finds them on the wrong side. And when you look at the list of names who plan on either abstaining or voting with the government a sorrier collection of entitled has beens is seldom seen. Caroline Flint is the most prominent because, after all, advertising one's moral and political bankruptcy should become a chance for publicity at all times. But you also have John Spellar, Frank Field, Graham Stringer, and Kate Hoey, names that are never going to be synonymous with 'principled' and names, shock horror, that have found themselves consistently on the wrong side.
For Caroline it's, you guessed it, all about the constituents. They voted to Leave and therefore she feels Labour should be looking to improve May's appeal bill instead of opposing it. Let's treat this argument with the due seriousness it deserves and classify it as a pile of disingenuous bobbins. Despite getting a deserved mugging by the electorate in June, May is hell bent on inflicting untold damage to the British economy and the livelihoods of its citizens. This, she reasons, will keep her career afloat and retain those voters who've abandoned UKIP to the yawning cynicism of racists and professional Islamophobes. As David Allen Green points out, contrary to the drivel of Caroline and co. the bill isn't really about Brexit. It makes no difference to seeing through of Article 50. It's a matter of how Brexit proceeds.
They know this, so why are they prepared to throw Parliamentary democracy under a bus? Throughout her career, Caroline has shown a mercenary streak. Any progressive or Labourish-sounding policies she's championed are window dressing to a rotten core of anti-working class politics. She is entirely comfortable screwing poor single mums, migrant workers, and did float the idea of throwing unemployed council tenants out of their homes. In short, an appalling human being not fit to sit in Parliament for the Tories let alone the Labour Party. Frank Field is little better with his one man crusade to abolish social security as we know it. Kate Hoey and John Spellar go without saying. What unites them all are not the "wrong ideas" that would melt in the light of reason, they're motivated by a desire to cling onto their seats. As stupid empiricists who fell for the fool argument that because Labour constituencies disproportionately voted for Brexit we were looking at a wipe out during the general election, it appears the actual result passed them by. They're doubling down on the right wing sub-UKIP idiocies because it's easier, and less risky, to pander and stir up backward politics. Their dismal opportunism is as simple and as venal as that.