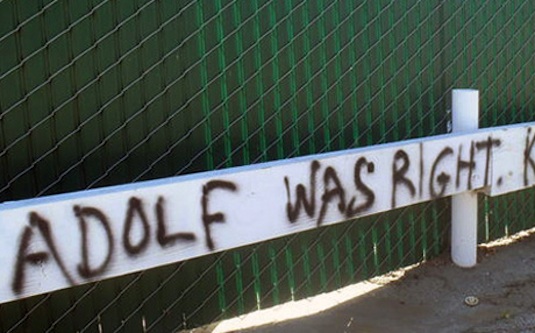 I'm fed up of hearing about anti-semitism and the Labour Party. I'm fed up of it being used as a stick to beat the party with, and slander a political project and a movement. But you know what I'm sick of even more? And that's anti-semitism in general, of the continued vitality of a racism that should have been buried in the rubble of Nazi Germany. I'm disgusted to see anti-semitic tropes and outright Jew hatred infest several Facebook groups including, regrettably, some ostensibly Labour-facing forums. It saddens and appalls me when you see known anti-semites on Twitter tweeted and retweeted by lefties just because they happen to make the right noises against the Tories and in support of Jeremy Corbyn. I find it stupifyingly maddening that here in the 21st century we see activists, ostensibly well meaning and motivated, succumb to the dumbest conspiracy theorising which, inevitably, shades into anti-semitism. The great German socialist August Bebel referred to anti-semitism as the socialism of fools. He wasn't far wrong.
In the hot house factionalism of the Labour Party, every shift in policy, every utterance and intervention becomes a stake in the struggle to consolidate or remove Corbynism. As such, and because the Labour Party reflects the society that incubates it, ideas and prejudices that are alive and well in wider society are reflected in the party in all kinds of ways. Anti-semitism and sexism, to give two examples, have a life outside of Labour and therefore have a life inside Labour. In the context of a fraught and febrile political situation, they will be interpreted and used in the discharge of factional manoeuvring. Any old weapon, after all. But they wouldn't have potency if there weren't problems in the first place. To put it another way, if you think charges of anti-semitism are entirely made up by supporters of Israel, then they would have no traction. This, unfortunately, is nonsense. Anti-semitic incidents wouldn't be at their highest recorded level if these claims were a mere ploy.
Enough is enough. The party isn't institutionally anti-semitic - quite the opposite considering you can get slung out for it, and rightly so. But there are plenty of members who are indifferent to who they give credence to on social media, and often push stuff on Israel, its lobbies, and banking (particularly regarding the Rothschilds and Goldman Sachs) that accidentally-on-purpose play close to the line of anti-semitic conspiracy mongering. We would not, or at least I'd like to think we wouldn't adopt such a lackadaisical toward racism aimed at black or asian people, so it's time the left sharpened its anti-semitism antennae.
There is some help at hand. Anti-Nazis United (Twitter) is a blog dedicated to exposing and attacking racism, and anti-semitism in particular, wherever it rears its head in our movement. It's sad that we need an active anti-semite watch like this, but it's a necessity. Having recently been forced to shift from Medium to Blogger, the site regularly picks looks at ostensible Labour supporters on social media and provides evidence of their anti-Jewish racism. That said I don't always agree with some of the arguments made, but nevertheless it's a valuable and useful project - particularly for those new to the left on social media. And for established users too. There's been more than one occasion when I've punted something from a Corbyn supporting account only to have found a reservoir of anti-semitic bile hiding beneath the surface of run-of-the-mill leftism.
If there's going to be some weaponising going on, I'd like to see socialists weaponise against anti-semitism. It has no place in mainstream politics, let alone the movement dedicated to solidarity and anti-racism. And it's down to us to confront it and drive it out.