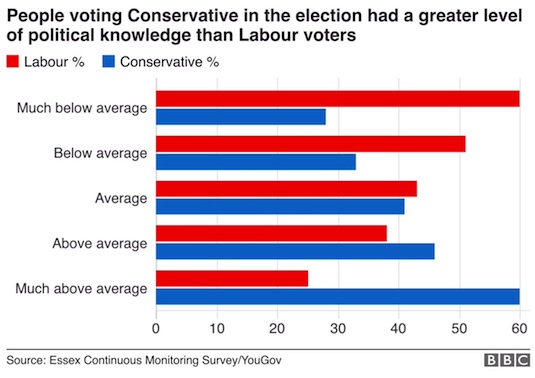 I suppose Tories have to take good news where they find it these days. Take this study by Harold Clarke, Matt Goodwin, Paul Whiteley and Marianne Stewart via YouGov, for instance. It establishes two things: that people who took to the internet for information about politics in the lead up to this year's general election were more likely to vote Labour. But, more controversially, those who were more clued up about politics tended disproportionately toward the Conservatives. Excuse me?
This is an interesting finding because other studies (a couple of examples) have consistently found correlations between intelligence and a propensity to hold liberal/left views. The problems with these studies is how one defines left and right as well as intelligence itself. Remember, IQ only measures one's ability to do IQ tests after all. Nevertheless, one doesn't have to look too far to note the relationship between greater levels of formal education and left votes. That was the case this year, and is a universal characteristic of electorates in mature liberal democracies.
Therefore the survey work of Clarke et al might be said to go against the grain of established research. According to the study, it found some 60% of people with 'much below average' political knowledge voted Labour, and exactly the same proportion of 'much above average' knowledge voted Conservative. The Tories had commanding leads in this and the 'above average' categories while Labour led 'average', 'below average' and the aforementioned 'much below'. How can we reconcile these findings, for which the field work was done before and after the general election, with the voting patterns by education also seen in the same contest?
It lies in the definition of political knowledge. As this is an important study trumpeted by the BBC and with big names attached to it, one would expect this to be quite robust. Alas. According to the survey methods, they deployed a set of true or false statements that would measure how clued up the respondent is on politics. This comprised their Political Knowledge Index. The questions were:
1. The unemployment rate in the UK is currently less than 5%
2. The Chancellor of the Exchequer is responsible for setting interest rates in the UK
3. In 2016 over 500,000 immigrants came to the UK from the European Union
4. In the UK, anyone who earns less than £11,500 pays no income tax
5. The UK is legally required to leave the European Union by March 2019
6. The minimum voting age for UK general elections is now 16 years of age
7. Any registered voter can obtain a postal vote for a general election by contacting their local council and asking for one
8. The UK currently spends just over one per cent of its gross national income on overseas aid
There's no explanation why these questions were chosen as a convincing barometer of political knowledge. Perhaps they didn't feel the need to supply their reasoning, which in itself is worrying - because these choices are indefensible. This is politics reduced to a pub quiz, a series of disembodied, decontextualised, and reified trivia with little to no use as far as most voters are concerned. First, why these? Why not the names of leading ministers or shadow ministers? Or, even better, the policies of the parties, or whether voters watched party political broadcasts or read material from a range of parties? Surely in terms of political knowledge pertinent to voters these would rank much higher than knowing the competencies of the chancellor vs the Bank of England. As measures of knowledge go, these are spectacularly abysmal choices.
The second issue is the status of knowledge itself. Political science, and I use that term advisedly, has a tendency to conceptualise parties as self-contained things that compete in elections, negotiate with other parties, run governments and so on. Of course, parties do those things and engage as (relatively) disciplined collectives in these activities. Yet the discipline largely brackets the most obvious characteristic, that they're a series of organised social relations with relationships stretching across and reaching deep into the societies playing host to the political systems they inhabit. Parties express and condense interests corresponding to how a given society is stratified, and it follows that political knowledge is always specific depending on the party and the interests in play. Take Jacob Rees-Mogg, for instance. With his Latinate asides and familiarity with Parliamentary arcana, he can demonstrate knowledge about politics. Then take a Labour activist from an inner city district in the north or Scotland. They don't know anything about that, but through first hand trade union and campaigning experience are aware of the class character of politics, and understand well the interests the two main parties represents. Here, the authors have entirely discarded experiential learning and understanding and chose to arbitrarily privilege one form of knowledge over another - which just so happens to be entirely of the disembodied sort that characterises political science. Think about it like this, who is the most knowledgeable about politics. The working class Tory voter who swallows the race-baiting editorials of the paper they read, but can reel off the last eight Prime Ministers from memory, or the working class Labour voter who sees through divide-and-rule nonsense and votes according to their interests as a wage earner?
This survey is okay if you want to test political trivia, but that is all the authors accomplish. That people who see politics in rarefied terms should vote Tory is hardly surprising, but to identify this with "greater" political knowledge is absurd and says more about the authors than anything else. A study with such unjustifiable and obvious methodological problems should not be making the grand claims attaching to it. Were the research submitted to a peer reviewed journal it would get a very rough ride indeed, if not an outright rejection.