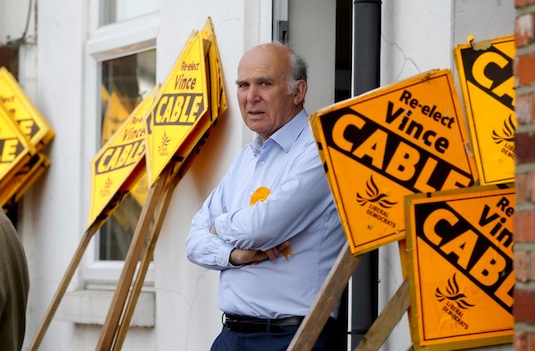 Not a chance.
With Liberal Democrats rolling into Bournemouth for their annual gathering, Uncle Vince had to grab the headlines. As we live in an age of outrageous claims and lies I suppose they needed something - their electoral endeavours and polling aren't redolent of that magic term, 'LibDem revival'. With 12 MPs and their rapid advances on the local council by-election scene a distant memory, when pressed on his ludicrous ambition all Vince can offer is the observation that politics is in flux and therefore anything can happen. Le sigh.
His favourite soundbite at the moment is how the Tories are engulfed by civil war and that Labour is in the midst of now simmering, now suppressed internal strife. Yes, just as a broken clock is right twice a day so a Liberal Democrat leader occasionally tells the truth. However, understanding why this is the case explains why Vince's hopes are among the most forlorn ever harboured by a leading politician.
The Tories are having a hard time ostensibly because of that general election, but their result only brought long-term problems to a head. For the last five years this blog has banged on about the declining fortunes of the Conservative Party. This is expressed in an overall tendency for their membership to shrink and their vote consolidating around declining demographics. Theresa May's achievement, and in normal times she would have been lauded, was to firm up that support. UKIP were destroyed, inroads made in "old" working class, Labour-loyal areas, and mobilising unionist voters gave the SNP a bloody nose. These constituencies, however, are not getting any larger and hitherto the Tories have relied on their greater propensity to turn out. Tory divisions, which have always mapped on to different configurations of business interests and their allies in the classes beneath them, are exacerbated by a sense of creeping doom, of having zero handle on what's coming next. As declinism set in its leading politicians have grown ever more preoccupied with short-term party interests, of any old wheeze and gimmick to turn around its fortunes. It's why we are where we are.
As the pace of political change has quickened, we know we're normal times. A combination of fear of the Tories and the programme Jeremy Corbyn's Labour offered unexpectedly powered it to the party's highest vote for 20 years. It rode the wave of a new, reconfigured class politics and cemented an alliance between increasingly dominant immaterial labourers. Labour's difficulties arise from being the de facto party of the new working class, of responding to them, mobilising them, and encouraging them to move into politics in large numbers. Labour is ascending because the forces powering the party are on the rise. And likewise, the conflict in the party is a direct consequence of the new colliding with the bureaucracy, habits, and politics of the old.
This is the story of British politics. After years of fraying loyalties and mass abstention, the direction of travel is in the opposite direction. It also looks like this situation is going to persist, and not just because fear of the other has stiffened support for the two main parties. Not only do they map on to two class coalitions with opposed existences, but seven years of Tory austerity - aided at every turn by Uncle Vince - have sharpened the contradictions. May's government doesn't offer anything apart from more of the same, Britain's political economy is going to stay largely the same, and so politics looks as though it's going to retain its polarising aspect.
What room for the Liberal Democrats? Well, there isn't much of one. They can carry on eking out an existence on the margins, but the famous liberal allergy to anything resembling a structural analysis of how societies work not only makes the LibDem leader sound deluded, but it marks him and his party out as singularly and willfully stupid.