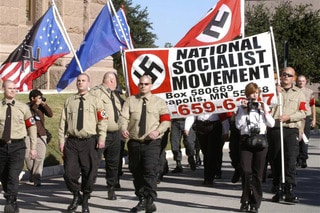 Our last Sociology Research Seminar Series session at the University of Derby saw Andrew Wilson present his recent conference paper, 'The Thematic Preoccupation Governing Meaning Construction on a White Nationalist Forum'. The focus of his research was the infamous hang out of assorted fascists, Nazis, and racial fantasists, Stormfront. Founded in its present incarnation in 1996, Stormfront is the hub for white supremacism/nationalism on the internet. For instance, between 1st April and 29th June this year, it received two million unique visitors and 3,246,612 page views. 51% of its audience are from the US, and ten per cent hail from the UK.
Andrew's previous experience researching apocalyptic cults, conspiracy theory, and fringe beliefs took him to Stormfront in the wake of last year's Paris attacks. He found that by post six (on a thread of thousands) about the incident a poster was already touting conspiracy theories by way of an explanation, which became the dominant discussion theme. What also attracted Andrew's attention was the convergence of this conspiracy mindset, which is a staple of the far right with a certain species of spirituality, or, as Charlotte Ward and David Voas put it, conspirituality. This is important because for the site's participants as their investment goes beyond the political (and certainly the party political). Their loyalties lie in a transnational ethnicism, a quasi-mystical attachment to a contested and variously understood ayranism which, for its part, is held down by sinister conspiracies.
The performance of conspiritual identity requires the adoption of certain regalia. Anyone who's been on Twitter for five minutes will know that overtly political people tend to fix their avatars or festoon them with ribbons. Stormfront is no different. Typical displays include knights, flags, wolves, Norse Gods, weapons, targets, and a pantheon of Nazis. Some were assembled in a manner akin to Dick Hebdige's celebrated notion of bricolage. What Andrew was interested in was whether there was a correspondence between contributors with certain avatars posting on particular topics via the process of discourse mapping. Picking the five most popular discussions - The Holocaust, National Socialism, September 11th, Illuminati, and Reading, which amounted to 28,808 posts at the time of the study, among the 50 most used words and terms were Jews, People, Germany, Nazism, and Holocaust. As there was a chance the result could have got skewed by extended but relatively neutral discussion of aspects of holocaust history, stripping the thread out of the combined results saw Hitler receive greater prominence. Performing a similar operation by discounting the National Socialism thread, Andrew found the terms 'People' and 'Jews' came top. No matter what was left in or taken out, Jews and Jewishness cropped up again and again. He then performed a Latent Dirichlet Allocation, which identifies word patterns, and found Jews were mostly associated with Holocaust, Nazism, and Conspiracy. In the rarefied world of far right conspirituality, anti-semitism remains the core attribute. At the same time, Andrew began to see patterns emerging, of avatars tending to be active across topics that shared common ground with their motif. Further investigation of these patterns would allow a researcher to identify the in and out groups, what terms and values are likely to repeat, what and who gets labelled friends and enemies, and how this work tries to glue together a collective identity.
Questions were then taken about the place of hatred in these conspiritualities - is being against something enough for these identities? The repeated use of avatars with repeated far right themes, which in turn are anchored by the discourses posters contribute to suggests it is necessary but insufficient. Andrew also noted that despite Europe's far right switching to Islamophobia as their public target of choice, there was little evidence Stormfront's contributors were concerned with Islamism, the Islamification of Europe, or other such nonsense: obsession with Jews and Jewish-controlled conspiracies remained the shared focus of paranoia and hate.
This was an interesting opener into work yet to be done, and Andrew raised a number of interesting questions. Particularly with regard to the status of the white nationalism on display on Stormfront. Because of the transnational understanding of race they operate with, the fusion of conspiratorial politics and pseudo-religion, and, of course, the far right's propensity to terrorism, perhaps it would be profitable it they were viewed as a species of extremism not dissimilar to Islamism.