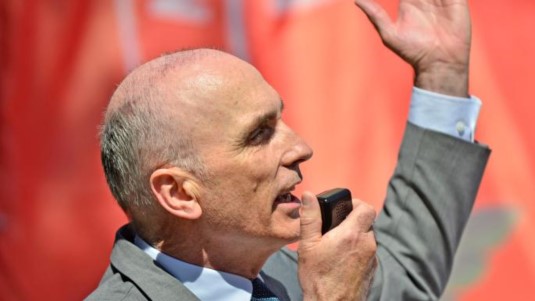 On Thursday night, the Chris Williamson Democracy Roadshow rolled into sunny Stoke-on-Trent and pitched up at the Florence Sports and Social Club. Of course, yours truly couldn't pass the opportunity up and went along to hear what Chris had to say. Also speaking was Chris Spence, the secretary of Newcastle under Lyme CLP, and Heather Mendick from Hackney South.
Kicking off proceedings we heard first from Mark McDonald. Labour's PPC for Stoke South. As the topic of the meeting was democracy in the Labour Party, he led off with an anecdote of his own. Recalling running for a senior lay party position, he was called to a meeting by his opponent. Sitting at opposite ends of a boardroom table at his union's head office, Mark was asked directly what he thought he was doing and why. It was as if, as an ordinary member, he had no right to stand for election. He was also bluntly told he was going to lose even though a single ballot had not yet been cast. Mark's opponent said there are members and unions voting in this contest, and he'd spoken to all the other affiliated general secretaries. They had all agreed they weren't going to vote, leaving just him to cast his union's bloc vote to vote for himself and thereby guaranteeing him the position.
In the past, we've talked about dodgy practices, but what to do about them? This was the theme of Chris Williamson's talk. He argued that far from stoking tensions and damaging the party, as per Barry Sheerman, democracy holds leaders to account. If there was proper democracy in Labour we would not have seen the Iraq War nor the kinds of policies that allowed Tony Blair to boast that Britain had the most restrictive labour laws in Western Europe. These mistakes wouldn't have happened if Labour MPs had to pay attention to Labour members. What party democracy offers then is a way for the party to reflect the thinking and the interests of the electorate because, despite what MPs might tell themselves, members are better informed and closer to the people Labour has to win over than our esteemed politicians. Chris also - rightly - argued that not once did Jeremy Corbyn vote against the party as a backbencher. Rather he voted with the party against the direction New Labour imposed on the party. What we have now then is a fruit of the democratisation that has already happened - Labour's common sense socialism reflects where the public are politically, on the economy, on housing, on austerity, on the utilities, and so on, and is why we did so unexpectedly well in 2017.
On what a democratised party should look like, Chris took aim at the National Policy Forum which he branded "not fit". This was brought in by Blair as a sop to member-led policy formation, leaving conference to be "hero worshipping nonsense" with its cosy chats and Good Morning Britain sofas. Not only should policy making be returned to conference, there is real potential for digital democracy and we need to think about how to utilise it. Chris also spoke in favour of directly-elected Labour Group leaders to ensure councils are closer to the public, and of course when it comes to mandatory reselection members are perfectly entitled to determine who should be their local party's candidate. After all, even the secretary of Jeremy Corbyn's allotment association has to submit to periodic re-election. But democratising accountability of Labour MPs helps ensure the party selects people who are resilient and are not going to oppose the transformative programme the party is elected on. Labour, after all, is not just about getting elected, we're trying to change the course of history, and finishing with a flourish, Chris said "... and you are the history makers, comrades!".
It was then the other Chris's turn to speak. He too spoke about his experience with party democracy as someone who was interested in and now sits on the party's regional board in the West Midlands. He started with his first 12 months in the party and found it strange how no one explained to him how things worked. New members were either expected to 'just know' or be left in the dark. And so it was when he got wind of the regional board's existence. He asked around and various party worthies said it wasn't worth bothering with, it was just an administrative body, etc. This evasiveness made him check further and found it was, potentially, a way of holding representatives and party officials to account. However, in the WestMids there were no elections, its membership was picked by the regional office and was supposedly open only to Labour Group leaders. Small wonder then that there is a Birmingham CLP that has been in special measures for 26 years and serious allegations of corruption are doing the rounds. Without any kind of accountability, this sort of thing is bound to happen sooner or later. Chris also talked about his struggle to get hold of the rules for the regional board (which are separate from and don't get a mention in the Party rule book), and that reading them - just like the party rules - are vague, contradictory and deliberately open to interpretation. Part and parcel of the Democracy Review is the need to put these rules on a proper footing.
In her contribution, Heather said she had been out of the party for 16 years before returning when Jeremy stood for the leadership. The first thing she did was get involved in a Corbyn phone bank, and she found it a transformative experience. It was welcoming, friendly, convivial, bottom-up and it a place where activists learned from each other. She contrasted this with her first CLP meeting, which she described as negative and exclusive. Initially then Heather preferred working through Hackney Momentum simply because it was much more inclusive, but through that comrades found confidence and solidarity to stick out the meetings. By attending and organising, the left won all the executive positions at the June 2017 AGM. Heather said being secretary is an unrewarding task, but she has strived to knock the unwelcome edges off the meetings. The constituency regularly uses PowerPoints to explain what's going on, as well as videos and tries keeping foreboding jargon to a minimum. She also noted that the one thing a right winger hates the most is a leftie who knows the rule book. In sum, while leftwingers in position and on executives are important we need a movement - a Labour MP can only ever be as good as the people behind them.
In the questions, we had queries about the period of special measures, the absence of women from meetings (including this one) and how this is as much a democracy as it is a gender issue, the networks of nepotism and protectionism near the top of the party that tie together elite cliques, the indifference/hostility toward new members, how CLPs should be the pinnacle of party democracy, how regional officials were there to look after the MPs and were largely uninterested in councillors, let alone ordinary party members, and how we engage new members. Some of these involved relatively small things (an annual physical letter to members, an effort to speak to new members at meetings), to what's being done at higher levels. Chris Williamson, for example, noted a special counsel had been brought in by the party to look at the rules.
Summing up, Chris said the party's ongoing Democracy Review shouldn't be seen as a one-off but rather the beginning of a process, a first step. Again, finishing with a nice line, he said a "new world isn't just possible, it is in touching distance." Indeed it is. While there was nothing at all controversial said by Chris, Chris and Heather, a few years ago such a criticism of how the party is organised wouldn't be heard at any but the rarest of left wing CLPs, and certainly not in the WestMids region. To feel the rumblings of democracy throughout the party, to have people running scared of a bit more democracy here, a bit more accountability there is a very useful pointer to those on board with the wider project, and those who are not. Of course, more democracy doesn't mean the end of Labour's broad church - but it does number the days of privilege and unaccountable power. No wonder the old guard are running scared.