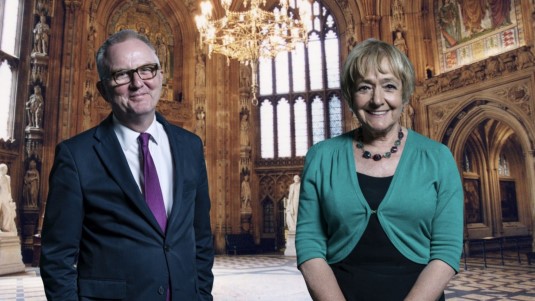 Here are three scenarios. These all actually happened.
1. At a party conference not too long ago, Nora Mulready, an activist and Progress supporter spotted Seumas Milne in the lobby of the hotel. She strode up to him and started ranting, peppering her invective with a few choice words that would overfill a swear jar.
2. After a Parliamentary session, behind the speaker's chair Margaret Hodge button holed Jeremy Corbyn and let her frustrations be known. As has been reported she called him a "fucking anti-semite and a racist".
3. In the lobby, Ian Austin squared up against Ian Lavery in front of the chief whip and several other witnesses. On this occasion, fruity language was exchanged as well.
Complaints were made against all three of these most august of personages. Nora Mulready, who was better known for choosing Haringey's gentrification as her hill to die on, was investigated and was due to appear before a hearing which, no doubt, would have seen her kicked out of the party. Being the principled sort, she did a Woodcock before Woodcock did a Woodcock and quit the day before she was due to meet with party officials. Nevertheless, process was observed. By way of contrast, witness the attempts of Margaret Hodge and Ian Austin to avoid the same. What was good enough for a Blairite footsoldier clearly shouldn't apply to them.
There is some division at the top of the party about this issue, and that was before Tom Watson reminded us of his existence today. To try and smooth things over, even John McDonnell has tried to get the complaints cleared up without a full disciplinary. I can understand his desire to. After all, he's in the thick of it and the rest of us are bystanders. But it would be wrong to do so, because what is at stake here is the kind of relationship Labour MPs should have with the Labour Party that put them there.
What this comes down to are the privileges of the Parliamentary Labour Party. This partly arises out of the tension between their being members and candidates of a party, but also (formally) the representative of all the constituents in their seat, regardless of political loyalties. Constitutionally speaking, the latter role takes precedence though in substance the constituency party remains key. It is they who decide the candidate, after all. Some try and deny it and cretinously pretend their first responsibility is to their constituents, but the zeal with which they fight mandatory reselection shows they know it to be true. Nevertheless, the traditional approach of managing this contradiction was to elevate the PLP. The leaders of the party are drawn from its ranks, deselection was made a complex, messy business, they have de facto operational autonomy from the party and, from Blair to the Miliband years, the rest of the party was subordinate to them to a degree not seen before. Rules really are only for members, and policies arrived at by conference can be ignored by the cabinet/shadow cabinet if they wish without sanction.
The democratisation of Labour is inseparable from knocking the PLP off its pedestal. As we've seen plenty of times here, Labour can only win if it is animated by and articulates the new class politics. This requires party democracy, and you can't have that if there is one rule for the likes of you and me and another for a parliamentary elite. Struggling for compulsory reselection and removing the veto the PLP has over leadership candidates is part of this fight. But so is the formal subordination of MPs to the rules that govern everyone else. Hodge and Austin don't want to be held to the same standard as ordinary members, and believe they don't deserve to be either.
For her part, Hodge is making a show of standing up to a witch-hunt, which is a ridiculous way of describing receiving a letter saying that a complaint has been made against her. But she is in a weak position. Readers will recall the no confidence votes passed against Kate Hoey and Frank Field by their respective CLPs, and the possibility other constituency activists might instigate votes of their own. You might also note the number of MPs said to be interested in the phantom party exercising centrist imaginations keeps diminishing every time the rumour makes the press. A couple of years ago we were talking three figures. Then 50. Then 20-30. Now 10-20 MPs. How low can the figure go? The damage a Hodge resignation would make is negligible, even if others quit along with her. And as for Ian Austin who, despite his putrid politics, has the same dogged attachment to Labour as his Labour First comrades he, well, doesn't even have that. Now is not the time for magnanimity, it is time the collective will of Labour asserted its primacy. No one is above the party.
A split is going to come sooner or later, and the choice is between the left forcing the issue by insisting Labour's Parliamentarians abide by the same procedures as the rest of us, or letting the wrecking crew carry on so they get to choose the moment of exit most advantageous to them, and most damaging to the party. There can be no dropping of the cases against Hodge and Austin. The rules need to be seen to apply.