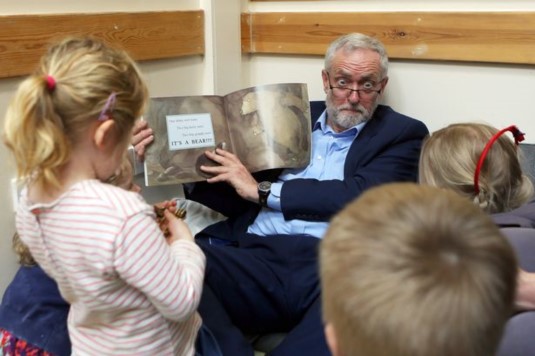 I see John Rentoul has peered into the crystal ball and has predicted that a Jeremy Corbyn-led Labour Party would not do as well in the next election compared to 2017. Does he have a point or will his forecasts, just like those for last year's general election, prove as useless as Mystic Meg's? Let's examine his reasoning.
There are three strings to John's bow. In reverse order, the Tories will not be led by Theresa May, the press are going to subject Labour's manifesto to greater scrutiny, but most importantly - and the main angle of the piece - Corbyn isn't the "magic grandpa" we thought him to be. John concedes that Labour ran a brilliant campaign and what the Blairites thought was an albatross (i.e. Corbyn) turned out to be a secret weapon. His affable, friendly, no-frills style encouraged voters to take another look and that's what they saw. The terrorist-loving ogre of Tory propaganda fame was nowhere to be seen. He was refreshing. However, the surprise factor won't be there next time. Jeremy Corbyn's presence is familiar, he's not the great unknown. And most damaging, at least according to John, is that Corbyn has become tetchy. The Labour leader is no longer endearing. More roll eye interviews, more visible shows of annoyance and his personality will sink Labour's campaign before it has started.
Now, looking ahead to the next election is interesting. Things will be different and worth considering in more depth in due course. But please. Is John's take what passes for cutting analysis in bourgeois politics? Evgeny Lebedev actually pays for these banalities? I mean, even if you think about it in the ridiculous terms John sets himself his argument falls apart. If Corbyn is more sour puss than Bagpuss, that's not going to change the minds of those who aren't going to vote Labour. And for those who are it's more evidence of the appalling treatment he gets from the media. This is something even floating voters of the self-defined centre have woken up to, at least if the theatrics of the Follow Back Pro Europe folks on Twitter are anything to go by. In short, people outside the hallowed halls of Westminster aren't thick and they are media savvy, and are increasingly so as older people pass on and younger, heavily mediatised folks enter the electoral fray. Indeed, you might say they have more of a clue than those who use the papers and the TV studios to push their politics. Including well remunerated, professional commentators.
Many things will impact on the result of the next election, but Corbyn getting short with a reporter for asking another stupid question won't be one of them.