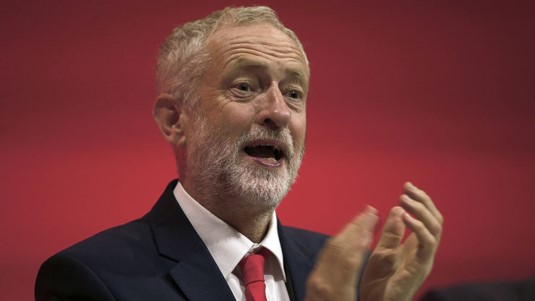 As the dust settles after another episode in Labour's interminable anti-semitism wars, one in which we're told there's a "fine line" between opposing Israel's oppression of Palestinians and anti-Jewish racism, it seems even the most gutter attacks will do as long as it's seen to damage Jeremy Corbyn and the Labour Party.
Yet let's step back and assess the factional battlefield. It does look like the party will adopt the contested IHRA definition and its woolly examples. And the anti-Corbyn group in the party have successfully worked to ensure anti-semitism allegations have dominated the summer's headlines and news bulletins, crowding out even egregious and deliberate displays of Tory racism. This flashy show of apparent strength, however, papers over real weakness and retreat. Yes, despite the likes of Hodge, Umunna, Austin and others dragging the party's name through the mud without comeback or consequence they are still losing.
Consider the bunkum about Labour's institutionalised anti-semitism. For those gullible enough to swallow the line of the Labour right, a number have foolishly taken them at their word and torn up their party cards. Meanwhile, they are getting replaced by a wider circle of Labour supporters disgusted at the attacks on Corbyn and have joined the party in solidarity. When you're in the numbers game, which among other things factional battles always are, pushing a strategy that builds your opponents' base while shredding your own is stupid.
Not only are the right's shenanigans building up the left, it's firming up and sharpening its attitudes and outlook. Smart centre and right Labour MPs understand this, which is why we see the same old malcontents time and again. Most keep shtum. As they have and continue to behave appallingly, they make their dread nemesis - mandatory reselection - more likely. Consider Unite, would they now be backing it if the right hadn't repeatedly lied about and scabbed on the members these last three years? The leader's office might be minded to compromise, but the bulk of the left are not. Support for reselection is growing among members, which the right can chalk up to their genius moves.
And third, for all the hand-wringing, the theatrics and bad language, what has actually been achieved? There is no appreciable impact on Labour's polling. Indeed, the consensus points to a modest lead. Likewise, ordinary people who don't pay attention to Westminster minutiae are getting sick of hearing about it too. And guess what, they're not blaming Corbyn for the round-the-clock coverage. They see politicians who like the sounds of their own voices attempting to bully someone they might not like but accept is principled and driven by values over self-interest. It's also possible a few more people have started following things in more depth and are getting a crash course in media manipulation and lobby hack cronyism. Well done the Labour right!
What we are seeing is a consequence of an entirely avoidable and self-inflicted factional collapse. But how has it come to this? Where is their self-awareness, their instinct for self-preservation? There are a series of reasons, but chief among them is they're just not good at politics. And as this encompasses many politicians, not just one or two, incompetence has to be more than a coincidence of personal failings: if large numbers consistently make crap calls we're talking about dysfunctional social relationships.
It's widely accepted that the PLP has gentrified. Thanks to the defeat of the labour movement in the 1980s and shutting down the conveyor between the shop floor and Westminster the unions once provided (Angela Rayner proving a rare, recent exception), middle class professionals simply expanded into the vacancies the unions left unfilled. And we have Neil Kinnock and Tony Blair to thank too. Getting more of these sorts in, so went the reasoning, would increase the party's kerb appeal to nice middle class people in the market for an alternative to the Tories. Now, there's never been a golden age of Labour selections without unfair advantages, but as the centre of gravity shifted away from the unions and more to the party leadership and the apparat different skills were demanded of aspirant MPs. Forming alliances with key officials, politicians, people who matter, and factional outfits draws on networking virtuosity, of looking smooth and speaking well, and transferring one's PowerPoint presentation skills to the selection meeting. The stuff of political organising beyond voter ID was obsolete next to the glad handing, back rubbing, and smoke blowing capacities of the determined careerist. Fast forward to 2015 and the return of mass politics, the cadres formerly used to the calm waters of the Blairist paddling pool suddenly find themselves at sea without a compass, a life jacket, and no idea how to swim. They don't know how to fight politically because they've never had to, and they're definitely unused to masses of new members immune to the star power that wowed the sparsely attended CLP meetings of old. Disarmed by upbringing, habit and inclination, the fact their boasts to out-recruit and out-organise Corbynism were always going to prove empty, if not farcical, and so they have.
This brings us back to their counter-productive, self-destructive campaign against the party. They could've eaten a bit of humble pie, learned from Corbynism and developed a skill set appropriate to the political situation. But they didn't. The media is what they know and what they think matters because it did under Saint Tony. Obviously, it does still but its power is hobbled by social media, which circumvents its messaging and reaches beyond the audiences of specialist politics programmes and the papers themselves. And then there is the reach of the party itself. At 550,000 members and another 300,000 affiliates on top almost everyone in Britain now knows a family member or a friend who is a member or a vocal supporter. Remembering these are heavily pro-Corbyn, the left have won the network wars outside of the internet as well. For instance, a non-political mate is more likely to believe my take on what's happening to Labour than any number of talking head personnel managers lining up to attack Corbyn. And there are hundreds of thousands like me. The left have roots, and the right do not. All they have is privileged media access and a mindset that can only comprehend success in media terms - the column inches given over to their positions, the air time, the prominence in the news. Even their own people abandoning the party is seen not as a disaster but proof their strategy is working!
Many folks have noted how much the Labour right shares with their Tory counterparts. The tendency to Parliamentary cretinism and cross-party chumminess immediately come to mind. There is something else they share too: decadence. Their entire trend is zombified and dropping to bits, and yet they mindlessly carry on, uninterested or unable to grasp the character of their predicament. And nothing will change until the much-promised centrist outfit turns up and they disappear into the obscurity of the historical footnote, or party members call time on their undistinguished careers.