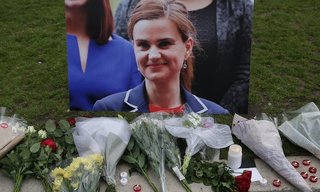 I am heartbroken about Jo Cox. I feel for her kids and family, and share the deep sense of loss that has rocked many of our people to their cores. To have a comrade torn from us who was popular, smart, passionate, and driven to make the lives of our people better is just so wrenching, so shocking. In a world suffused with tragedy and sadness, nothing strikes as deeply when one of our own falls.
For this reason I'm angry. Very angry. Jo was singled out and attacked because she was a Labour person, for the politics she represented and the values she stood on. It was a political assassination during a politically charged referendum by a man who, apparently, shouted a political slogan as he pulled the trigger and is associated with the far right. This cannot be explained away by mental instability, as some are already doing. That's too convenient. It denies agency and scrubs out the political character of the crime. Let's not have any whitewashing: the attack on Jo was an act of political violence.
But you know what the really awful thing about this is? We should have seen it coming a mile off. In most of the advanced Western states, acts of political terror tend to be committed by two creeds of extremist. The Islamist, and the Neo-Nazi. The depths to which the debate around the referendum has plunged has seen Leave, and I'm singling out the Tory right and UKIP in particular, raid the BNP playbook and repeat their attack lines have contributed to a febrile atmosphere where migrants are terrified for their future, and a good many decent people share those fears too. But remember, it's definitely not racist to scaremonger about tens of millions of Turks coming here, about "rapist refugees", about people "with a different culture". This poisonous drivel is all about addressing "the very real concerns people have about immigration", not pandering to racism, whipping up hysteria and hate.
What happened to Jo is a violent culmination of a politics that has played out over decades. The finger should be pointed at every politician who has used immigration and race for their own selfish ends. Farage and Johnson are two well accustomed to the sewer, but all of the Leave campaign have been at it. They more than anyone are responsible for the present climate. But blaming them alone is too easy. The Conservative Party as a whole have played the immigration card repeatedly throughout its history, more recently the PM doing so by portraying Labour as the party of unmitigated immigration and open borders. And idiot Labour politicians calling for restrictions here and peddling stupid pledge mugs there have all done their bit in feeding the drip drip of toxicity. The media as well carry some of the can, especially those regular Daily Mail and Daily Express headlines that scream out as if ripped from Der Stürmer. Their ceaseless diet of Islamophobia and refugee-bashing pollute our politics and ensure its eyes are dragged to the gutter instead of being fixed on the horizon. The press are windows onto the political world for millions of people, and they what they see is tinted with purposive misrepresention and lies. They too are culpable for this mess.
Nor should we forget that women MPs, and Labour MPs in particular routinely receive abuse, rape threats, and death threats and nothing, nothing is done about it. How does that inculcate a sense of respect and mutual recognition? How can it not lead to the conclusion that they are fair game for every sad inadequate, every racist axe grinder and misogynist who wish to do them harm? This is of a wider pattern of generalised dehumanisation, and it's women first who are the main butts of it. Here the finger can be jabbed at venal politicians cavalier with promises and duplicitous with the truth, a media that pulls the seemingly impossible trick of not holding them to account and encouraging cynicism toward them, and at social media companies indifferent to how their platforms are used to stalk, harass, and threaten.
Ultimately, our politics have become so poisonous because it has alienated and excluded ordinary folk. From the brutal crushing of working class politics in the 1980s to last year's ejection of the poor from the electoral rolls for narrow Tory party advantage, we have seen growing distances between representative and represented. And as that gap has widened, so the political vacuum has sucked in the hate and the swill that should otherwise be abhorred. Changing political culture is more than a job of condemning its most egregious abusers, but the difficult job of reversing the trends that have brought us where we are.
What is sad, so unutterably awful is that it's taken the death of a fine public servant and labour movement advocate for these sorts of question to be taken up beyond a narrow audience. If the memory of Jo is to mean anything beyond her tragedy, let it be a legacy of cleaned-up politics.