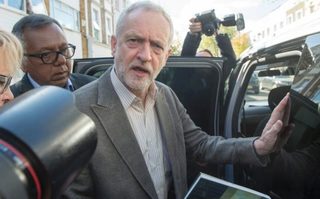 It was the worst of times, it was the worst of times. The United Kingdom stands on the precipice, politics is thrown into turmoil, and the inevitable coup against Jeremy Corbyn is under way. This is a mistake. A very grave mistake, and I'm going to explain why.
There are plenty of things to criticise Jeremy's leadership for, and as a left Corbyn sceptic who didn't vote for him, I've shared a few on this very blog. And I can understand the position of the coup plotters too. While most of them have never reconciled themselves to Jeremy's politics, they want a "credible" leader who can unite the party, offer a compelling vision, and scoop up enough swing voters to carry us into government. After all, winning elections and winning power is what Labour's about, right? That's the most important thing, the only thing, surely?
Actually, there is something more important than the leadership and winning a general election in the Autumn (which may never happen - a coalition/national government is another option, as will be fleshed out in a future post). And that is the continued existence of the Labour Party. I'm afraid to say, a contest - which is happening now - imperils it. Splitting and disintegration is now a very real possibility.
The first thing to point out is despite our membership being the largest since Tony Blair was at the peak of his powers and winning the largest political party in Britain trophy by a country mile, the party's roots are shallower than they once were. This isn't because it's gone middle class or some such nonsense. Partly it has to do with long-term economic and cultural changes that are eating away at the social groups that previously and unquestioningly lent their votes to Labour by the tonnage. Unfortunately, Labour under Blair and Brown pushed policies that broke up our party's constituency even further. It's worth noting you never see the Tories set about punishing their own people. As a result of this erosion, in constituency after constituency outside London the views of (pro-Remain) Labour MPs amounted to very little. There's little mileage in blaming them for not carrying their constituencies and/or mobilising the Labour vote in greater numbers, just as there is no justification in blaming Jeremy for not making inroads into the stubbornly eurosceptic one-third of our vote. Our voice, our authority counts for very little. On non-party political questions, far fewer look to the Labour Party for leadership than was once the case.
The second point is Labour are not going to be able to reconnect with a leader who is less radical than Jeremy, and is willing to pander to anti-immigrant and welfare scrounger sentiment. "I understand people's very real concerns about immigration" smacks of insincerity and a desperate attempt at fishing for votes, and is a line that won't be bitten as other parties can bash immigrants without the fluffy caveats a centre left party must festoon its position with. But not just because of this. As Liz Kendall demonstrated in her campaign last year, she and the majority of the PLP have no conception or understanding of the crisis afflicting our support and what can be done to turn it around. They think - ironically like the Trots they despise - that the correct leadership will short circuit all the problems and land us in a better place. It won't.
The third point is the trade unions. Too many in the PLP see them as a cash dispenser they'd rather do without. They prefer unions that stump up the readies come what may without any expectations or returns. Yet, and it's a good job I never tire of saying this, unions are organisations of working people. That's all they are. They're not perfect but they remain the largest, most democratic, and potentially the most powerful collectives in civil society. So if anyone in Labour, anyone has little or no time for trade unions, then effectively they have no time for the aspirations of our people. It's as simple as that. But we've gone beyond that now. 12 union general secretaries have signed a letter in support of Jeremy Corbyn, and this worries me. I'm worried because the removal of Jeremy puts into question their backing for the party. Think about it. A Labour leader with policies and values largely aligned to those favoured by most unions is ousted by a coterie of MPs who, when in power, at best ignored and at worst attacked workers; why should a union carry on giving money and logistical support to a party where such a thing can happen? The nightmare of a split forever locking the labour movement out of power thanks to the electoral system is a possibility. I won't walk if Jeremy goes, but I and the bulk of the Labour Party would if the unions decided to start again.
Of course, there is another possibility of a split and potential extinction, and that's what happens when the coup against Jeremy fails. Despite some conveniently leaked claims, last I heard the party membership today are pretty much the same party membership of a week ago. As Jeremy's opponents haven't spent the last nine months recruiting "moderate" voters to counter the surge for Corbynism, how then do they expect to win a leadership contest? Some might have been disappointed by Jeremy during the EU campaign (though, it should be noted, a number of PLP folks urged him to take a backseat - people now criticising him for not leading from the front), but I would wager these numbers would be swamped by party members who weren't and aren't Jez fans disgusted at their attempt to turn over a democratic election after months of constant sniping and destabilisation. And deep down the coup plotters know this, which is why no one is rushing to identify themselves as the anti-Jeremy. So what happens when they lose and Jeremy is returned as leader? A retread to attacking him for every fart and grocer's apostrophe? Shut up and bide their time while facing a hostile membership and deselections? Or form a breakaway party?
And so, this is where we are. The annoying thing about all this is while there was little movement in the polls, the work the party needs to do to strengthen itself and rebuild our position among our support was starting to happen. The Fire Brigades Union reaffiliated. For the first time, the PCS are considering it. The British Medical Association has moved closer to the labour movement. There is some evidence that Labour were slowly but surely eating into UKIP's support in local by-elections. And considering the move from three to four-party politics since 2012, the party held its position. The process of recomposition was under way, and the response to Thursday's defeat should be reaching out to the remain voters and going out on the doorsteps to listen to what our people are saying. I plan on doing that regardless, but for the party's leading lights they have abandoned what needs to be done. It's down to the members who are more interested in facing outwards to take leadership and speak to our people than MPs threatening to rip the party apart and bury it.
The choice forced on us is this. We must choose between a Labour Party led by Jeremy Corbyn, warts and all, and disintegration under someone else. I know what I'm going to vote for.