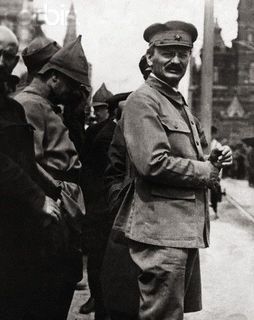 What would Leon Trotsky, architect of the Russian Revolution and founder of the Red Army, think about Britain's referendum on the European Union? You don't have to idle away in speculation. He wrote on this very topic. Well, sort of. In his article, The Programme of Peace from May 1917, Trotsky muses over the war aims of the contending great powers and is quite clear that one of its drivers was economic development, and how it is frustrated in Europe by border posts and tariffs. If Imperial Germany was to be the victor, it would see the imposition of a continent-wide customs union under its hegemony that would allow for greater development, and more profits for German industry. He elaborates on this point of view further in his better known The United States of Europe? from June 1923.
In both pieces, Trotsky is crystal: the slogan 'For a United States of Europe' is part and parcel of a programme for socialist revolution for the continent as a whole. No ifs, no buts. Needless to say his vision was far removed from the present European Union. But then, buried in an aside is this little gem that has - mysteriously - been passed over by nearly every group claiming fealty to Trotsky's approach. He writes:
If the capitalist states of Europe succeeded in merging into an imperialist trust, this would be a step forward as compared with the existing situation, for it would first of all create a unified, all-European material base for the working class movement. The proletariat would in this case have to fight not for the return to "autonomous" national states, but for the conversion of the imperialist state trust into a European Republican Federation.
What we have in the EU is Trotsky's "imperialist trust". The member states have not yet merged into one, but the existence of the single market is gradually tying all the economies of the continent more tightly together, for good and for ill. Turning the clock back, as the left-wing excuse for exit would have it, is from Trotsky's standpoint a retrograde step. It would put a barrier up against the development of a Europe-wide proletarian politics and, it should really go without saying, politically strengthen racism, xenophobia, anti-immigration rhetoric, insularity, and nationalism.
Unfortunately, too many comrades laying claim to Marxism have long given up using it to try and make sense of the world. One of these is socialist hero and scourge of governments past, Arthur Scargill. At a recent Socialist Labour Party rally in front of a thimble full of supporters, Arthur tore into the EU as if it was responsible for the cuts programme gleefully implemented by the Conservatives, and underlined his opposition to the free movement of capital and labour. As something of a Stalin nostalgic, I'm not at all surprised his position hasn't moved on since the 1970s - nor the rhetoric, it seems. But it gets worse. According to someone who was there, Scargill went on to describe working with UKIP as a tactical necessity, much in the same manner as the Molotov/Ribbentrop pact. According to the Stalinist fantasy, this was a move so the USSR could re-arm and crush the fascists later, and so for Arthur his idiot allusion is that after UKIP and the Tory right win, they're actually paving the way for their own defeat. Incredible.
Of course, not all lexit people are as daft as Scargill. But anyone who thinks voting out is a vote against neoliberalism, or would split the Tories, or would objectively strengthen anti-austerity forces and working class politics are kidding themselves. Trotsky's view in 1917 was right then, and 99 years on it's right now. Remaining is preferable to leaving.