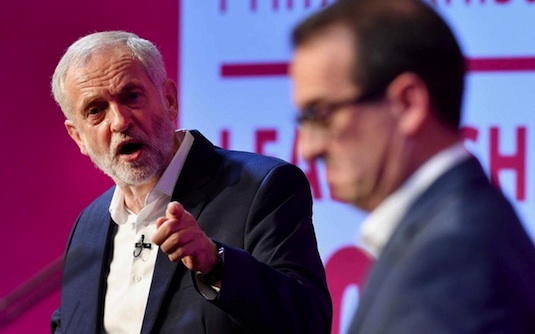 "A vindictive response from the leadership" opines Angela Smith. "This is a terrible Stalinist purge!" says Peter Hain. Anyone would think it's the 1930s and the NKVD are dragging old Bolsheviks from their beds. But no, it's 2018 and just another round of bellyaching, this time greeting the sacking of Owen Smith. How do we know this is the usual griping instead of a principled defence led by Labour politicians speaking their mind? You apply the Chris Williamson measure.
As comrades know, Chris Williamson was "let go" from his shadow fire role in January this year for ranging rather too freely from his brief. The occasion of his departure were comments about doubling Council Tax for the very wealthiest while freezing it for everyone else. Back on the, um, back benches, he now has freedom to roam. A Corbynist outrider, if you will. Readers might recall at the time your Streetings, Gapes and Coopers likening his sacking to the blackest episodes of Soviet history. Jeremy's Westminster office the Lubyanka, and Chris the poor innocent dragged in for judgement on the basis of a frame up.
Oh, you don't remember this happening? That's right, because it didn't. Our fearless defenders of principle couldn't give a monkey's. In fact, I'm sure some had a right good chuckle when, at about around the same time of Chris's departure, a smattering of core group hostile met up with a recently late Labour member of the House for his anniversary "liberation dinner" (their title, not mine). You can go back a little further to the time before Jeremy, to when Ed Miliband was at the helm. Back in October 2013 he sacked Diane Abbott for going off message. It has to be said that the Blairites and the Brownites weren't effusive in their criticisms then, either.
It is convention in Westminster that while parties are more or less open, and members and elected representatives can (within limits) say and do what they want, that is not so with cabinet and shadow cabinet positions. As the leading body of political parties, it is convention in British politics that they operate on the basis of collective responsibility. The position of the government/opposition is arrived at through discussion in cabinet meetings, and it's then everyone's job to go and stick by it. If they don't like it, the minister/shadow minister can resign. If they go off piste, sacking is well understood and accepted as the appropriate response.
Recent years have experienced significant deviations from this ideal type. In Margaret Thatcher's time, the cabinet was less a decision-making body and more a sounding board for her. This was a situation that bred sycophancy and not what the political scientists would call "good government". Authoritarianism of a cuddlier kind prevailed under His Blairness with so-called "sofa government". Blair would invite a minister in for a chat, often he'd tell the underling how it's going to be and voila, a new policy gets announced at cabinet with a minimum of discussion, let alone dissent. Things took a slightly unusual turn under Dave when the Tories were in coalition with the Liberal Democrats, but the novelty confined itself to being a government of two parties. When it came to the key issues - taking an axe to public services, cutting social security for the vulnerable, putting the brakes on Britain's economic recovery, they were more disciplined and cohesive than most single party governments.
In the present we see an interesting movement. The cabinet under Theresa May looked set on replicating the Thatcher approach to government. Then the election happened, and all of a sudden May was an authoritarian without authority. Now we see cabinet government again in the sense of collective government, but with all of the key players doing their own thing. A chaotic affair to be sure in which unity is maintained by the awkward balance of power in the parliamentary party as a whole - no faction has the power or the numbers to dominate totally, and so May carries on as the eternal stop gap. The reverse has happened in the Labour Party. In an attempt to make a virtue out of necessity, Jeremy Corbyn had to suspend collective responsibility upon his assumption of the party's leadership. Of course, those hostile to his leadership used their positions to make hay, and then to try and force him out. Another leadership contest and a general election later, the right have been forced from key positions on the NEC and the party apparatus. Corbyn is unassailable and is determined, Trotsky-style, to render his revolution permanent. That leeway of two-and-a-half years ago, of a concession offered to and abused by a recalcitrant PLP, has long been withdrawn.
I don't dislike Owen, but his leadership challenge was a weird affair, alternating between Corbynism-without-Corbyn, Walter Mitty moments, and nob gags. His call for a referendum on whatever dog's Brexit May serves up is an argument not without merit, but was the worst kind of megaphone diplomacy. If he wanted that debate there was ample space in shadow cabinet to argue for it. Owen is not a stupid man, he does know this. But, unfortunately, I fear his brief spot in the limelight has gone t

o

his head and he's come to fancy himself a red giant in the Corbyn Labour firmament. Unfortunately for Owen's career, no one's bigger than the transformation of Labour into a party fit for the 21st century.
And there we have it. The so-called traditional party of government, the one that l

i

ves and breathes parliamentary tradition is falling to bits a

n

d in so doing routinely violat

es

one of its most treasured conventions. Meanwhile the rise of Corbynism, a left wing Labour Party that has broken all the rules finds itself condemned for upholding collective responsibility. If you didn't know the cut and thrust of politics better, you'd think it's a funny old world.