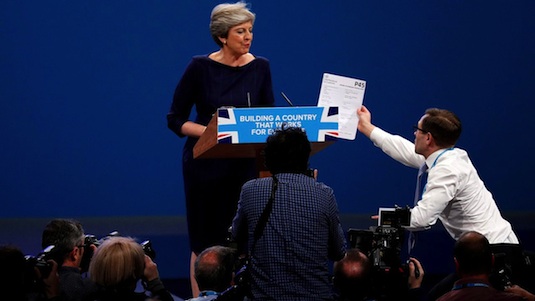 Talking about research projects, one of my colleagues pointed out to me the Conservatives and Conservatism group of the Political Studies Association are having a two-day workshop this summer, and have issued a call for papers. And so I've submitted this abstract to help focus the mind and encourage me to get a wriggle on.
Toward a Sociology of Conservative Crisis
Despite winning the largest number of seats and 42% of the popular vote at the 2017 general election, the Conservative Party is in crisis. Rather than relying on explanations emphasising a catalogue of missteps by the party leadership to the exclusion of all else, this paper argues the election result and divisions over Brexit negotiations has brought to a head a number of long running tensions symptomatic of the party's long-term decline. These are expressed in diminishing party organisation, the reliance on a declining voter base and media support, and its retreat from a party of business-in-general to an increasingly sectional party. The opposite but complementary process to the growth and recomposition of Labour under Jeremy Corbyn, this working paper draws on the cognitive capitalism approach of Hardt and Negri (2000, 2004, 2009) and others to explain the trajectory of the Conservatives, how it lost "natural" seats but gained "traditional" Labour seats at last year's election, the delicate balance of power at the top of the party, and the low chances of it being able to reinvent itself sufficiently to overcome these structural difficulties in the short to medium term.