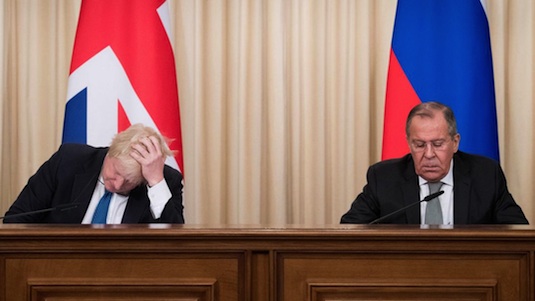 Ian Austin. Now there's a Labour MP no one will ever remember in a hurry. Nor does he deserve to be recalled by future political historians, save as a 21st century exemplar of a place seeker and non-entity. Oh, and for helping out Boris Johnson. Yes, helping. As readers know the foreign secretary got himself a few headlines this evening for repeating the line fed to him by Austin, that this year's World Cup in Russia will prove comparable to the 1936 Nazi Olympics. The government have subsequently confirmed that Johnson was speaking in an official capacity and on their behalf.
Needless to say this is grotesquely offensive. Is Putin looking to use the World Cup to show Russia off and, crucially, do a good PR job for his government? Yes. Does he have a record for doing so? Yes - see the 2014 Winter Olympics in Sochi. On the other hand, inviting comparisons of Putin's gangsterism with the 20th century's most notorious and disgusting regime is stupid, not least because of the scale of the crimes separating them, but for the small matter of Operation Barbarossa, Nazi Germany's invasion of the USSR. Around 26 million Soviet citizens perished in the largest and bloodiest conflict the world has ever seen, and this remains within living memory. When Johnson says Britain has "no quarrel" with the Russian people, likening their government - as corrupt, brutal, decaying, and criminal it is - to the Nazis is a funny way of showing it.
So too is the Tory response to the poisoning of Sergei and Yulia Skripal. Talking tough is one thing, but being all mouth and no trousers is quite another. We've had the tit-for-tat expulsion of diplomats from the missions in London and Moscow, and the rhetoric. But, here's the funny thing, despite the best efforts of the Tories, their friends in the press and their enablers on the Labour benches, they find themselves catching up with Jeremy Corbyn both in terms of the formal identification of the nerve agent used, and importing America's Magnitsky Act and cracking down on the use of London by Russian officialdom to wash its dirty money. For a party with financial links aplenty to Russian oligarchs, pro and anti-Putin, this is not a painless matter.
And yet, if they were so minded, there's even more the Tories can do. According to Foreign Direct Investment figures for Russia in 2015, the UK has some leverage. While only accounting for 2.9% of FDI, the crown dependencies of the British Virgin Islands and Bermuda have 3.8% and 4.3% shares respectively. Add in the semi-detached Bahamas at 6.9%, the UK "family" of investors were, three years ago, responsible for almost a fifth of all inward investment into Russia. Who knows how much more was channelled through Ireland (7.7%) and Luxembourg (11.5%)? Seems business isn't that put off by Putin's adventures in Ukraine and the annexation of Crimea.
If the government was serious about pressure instead of grandstanding for favourable editorials, FDI is a lever it could threaten to pull. But it doesn't. The Tories haven't even mentioned it. And that in itself raises a whole load of other questions.