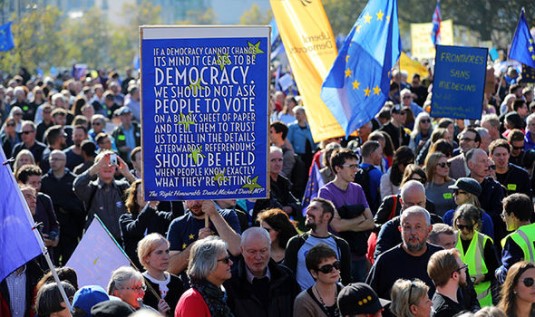 The post on the class politics of the People's Vote march has elicited a good response, but also some confusion as well. So to clear some matters up ...
1. A bourgeois social movement doesn't mean everyone who participates in it is bourgeois. That shouldn't really need saying, but it does. Take it from someone hailing from a Tory working class background. My parents and grandparents were manual working class, and yet throughout their voting lives they supported the Tories and, in the case of my parents, UKIP. Does that mean they were anything but horny-handed sons and daughters of toil? No. Does that mean the Tories and the kippers aren't parties of fractions of the ruling class? No.
2. Many different people attended the anti-Brexit march on Saturday. Some were well heeled, others were less so, as we have noted before. One of the reasons why I supported remain because the rising class of networked and socialised workers tended to do so - as part of this class myself, I've got a sense where its - our - interests lie. Staying in the EU would not have materially benefited us in and of itself; for a vision of Britain after a remain victory, see how politics-as-usual trundled on after the Scottish independence vote returned a no verdict. It would, however, mean the serious dislocations and threat we're looking at now would have been avoided. For the Brexit elite the working people should cough up the costs of leaving the EU, and their plans for a bonfire of rights underlines this.
3. However, if you are a socialist democracy matters more. There was a campaign, there was a vote, and by a narrow margin the electorate voted to leave the EU. Socialists aren't in the business of ignoring votes, nor continually rerunning them until the right results are achieved. Even when an election is gamed and flawed, as they always are in the political set ups of capitalist societies. And treating democracy as an optional extra does not have a happy history. Our job, which Labour has tried to do and remains committed to doing, is to shape Brexit. Damage is inevitable. It's not inevitable that our class should have to pay for it.
4. There is a momentary coincidence between the economic interests of immaterial labour and those of the fractions of capital putting money into the anti-Brexit campaign. But it is nothing more than a coincidence. These are the very same people who've profited from low business taxes, feeble protections for workers, and the withering of collective bargaining. By their chosen representatives - centrist Tories, the LibDems, and the Blairist Labour right - we see politicians who use and have used their time in power in the service of these moneyed interests.
5. Describing this section of capital as the most internationalised and forward thinking fractions of the ruling class wasn't a complement, but a characterisation of their orientation. "Forward thinking" doesn't mean they're wise or, worse, "progressive". It's that they're more clear-sighted about their interests than those who back the Moggites. As they're "new capital" clustered around tech, advanced manufacturing (with some exceptions), and the creative industries they are more alive to the opportunities and conditions of what are competitive and still-growing markets. Similarly, they are internationalised but not internationalist. When we talk about British capital, we are talking about capital based in and operates out of the territory of the UK - it has multiple nationalities.
6. Capital is far from united. In 2018 it's probably the most fractious it's been since Thatcher came to power and mobilised the power of the state to not only smash the labour movement, but also forcibly liquidate whole sections of manufacturing capital that supported the old nationalised industries. Some of the world's most advanced mining technique was simply written off, for example. This disunity can partly be laid at Thatcher's door, but also as capital has globalised so has the mobility of our ruling class and its hired hands. In his Reckless Opportunists: Elites at the End of the Establishment, Aeron Davis argues that elites more or less freely circulate around a series of elite positions. The constant shuffling of top management in all firms, all public sector organisations, is coincident with and not entirely unrelated to capital's internationalisation, the short-termism of shareholder value and fluctuating stock prices, and the widely diffused culture of "innovation" and "leadership". They are disembedded from and only have a semi-detached relationship to the world outside their gilded international circuits. Small wonder their political representatives on Earth haven't got the foggiest.
7. It's these people who are at the head of the anti-Brexit movement. In his contribution to the comments on yesterday's piece, Darren notes the campaign is a coalition. Yes, it is. But who decides the campaigns, who calls the demonstrations, who decides the demands, the speakers' roster, and the spox who do their bit in the media? Not the folks who piled on the coaches. Not the people shuffling along The Embankment. Those decisions are made behind closed doors in the offices of professional lobbyists with close input from well known centrist MPs and, yes, New Labour figures from yesteryear. As far as the organisers are concerned the demonstrators literally do have a walk-on part because there's no other means of participating, apart from writing to your local MP. They're expected to turn up on cue, and go back to their lives when they're not needed. An almost perfect replication of voting in social movement form, you might say.
8. As such bits of the organised left are involved. Progress had a wee contingent. The AWL were on the march. And there were plenty of other Labour people as well. They were nevertheless politically marginalised, were not given the opportunity to make a left case for a second vote, and are airily ignored by the movement's elite organising nucleus. Those bits of the left who marched, for whatever reason, are effectively hangers on on a movement they have no input into or hope of influencing. When your literature is basically "Brexit is bad and we need to pressure Jeremy Corbyn into a second referendum", that's not about to contest the leadership of your Chukas and your Woke Soubz. Again, this isn't to say a left wing position on a second vote is impossible, but that whatever it can say is smothered by the simple and straightforward demand of the movement's leadership.
9. What is the trajectory of the anti-Brexit campaign? Well, it's not about to stop Brexit. It can't hurt the Tories electorally as nearly all the people on the march and those supportive at home are baked into the anti-Tory bloc, as far as CCHQ calculations are concerned. But certainly the anti-Corbyn tone of the campaign, which isn't paranoia but a demonstrable feature of its social media operation and the posturing of the movement's leading figures, cannot but have consequences for the Labour vote. The more Corbyn is dressed up as a secret Brexiteer, the more the illusion is sown that it is in Labour's gift to press the stop button on Brexit, the more it becomes obvious it is being used as a wedge issue. I know this, and those behind the campaign know this. People in and around Westminster are paid to cook up strategies this cynical.
10. To reiterate, a social movement is always an assemblage of different actors. But not all actors are equal, especially in movements organised and owned by sections of capital and their representatives. Nor are all movements capable of being blown open and taken off in new directions. As a case study of a mass mobilisation under bourgeois leadership, the People's Vote is almost text book. Its nearest correlate in (relatively) recent years was the Countryside Alliance march/movement of almost 20 years ago. The politics are very different, but the same strict control of the message and the organisation is replicated, despite drawing in a range of concerns from fox hunting toffs to rural workers worried about their jobs. What counts, what always counts are the politics being peddled, who benefits, who is in control, and the direction the movement is heading in. From that wisdom will flow.