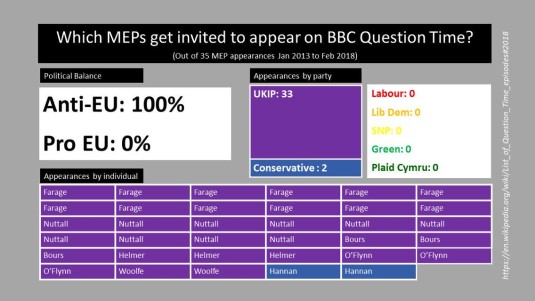 The BBC is biased toward establishment politics. As Tom Mills points out in his excellent BBC Myth of a Public Service, it has always protected establishment interests and is now a thoroughly neoliberal institution to boot. That doesn't mean, however, the political leanings and assumptions underpinning the culture of BBC journalism are on show at all times. Part of the corporation's professional ethos is a standard of impartiality and balance, and while it often falls short I've met enough BBC journalists to know this is taken seriously by thousands of its employees. For those of us interested in reforming and remaking the BBC along more democratic lines, critique of the BBC has to be tempered by efforts at winning over those who work there as well as the millions who think public service broadcasting is, in principle, something worth defending.
Therefore something like the table above is unhelpful as well as being a load of rubbish. As someone who has more of a familiarity with Question Time than most (scholarly papers on the demographics and political balance of the show coming soon), as an attempt to portray bias on the programme this is almost as crude as over enthusiastic Labour people moaning about the odd Tory councillor who turns up in the audience as evidence of plants. For folks' information, Tories on social media act in exactly the same way when they turn up a Labour activist in the assembled. It's pretty clear what the author of this chart and those who have shared it are trying to do something similar: that because all MEP guests since 2013 have been anti-EU, Question Time is obviously biased.
Um, no. There are definitely biases in the composition of the show's guests. The progressive and almost total erasure of trade unionists while business's representation is undiminished is a particular bugbear of mine. Women continue to be underrepresented (with only one season, 1995-96 if memory serves, in which they provide more than 50% of total appearances), and not all regions are catered for equally as the show travels around the UK. However, Mentorn - the show's producers - do at least make an effort. The two main parties are more or less equally served when it comes to representation going back to the 1979-80 season, and the LibDems and its forerunners also got an appearance quota roughly consistent with seats/polling. Since their collapse at the 2015 general election and the SNP becoming the third party of British politics, their appearances have increased roughly in line with their parliamentary prominence. In earlier times, other parties like the Greens, Respect, the BNP, and way, way back the old official Communist Party have all contributed guests. Some of them were MEPs, others councillors, and not a few had no elected position at all. The Green Party's Natalie Bennett was no stranger to the panel, for instance, despite her not holding elected office.
And this brings me to UKIP. You might argue they were overexposed, though the producers would counter they have received coverage proportional to the size of their support. And that appears true enough. Yes, that even includes the 29 times Nigel Farage has appeared since his debut 18 years ago. However, what is clear is all those UKIP MEPs featured on the show were there as party representatives, there status as MEPs were not the primary criteria. And we know this because Douglas Carswell also went on as UKIP's rep after he became their (then single) MP. Neil Hamilton has gone on as a member of the Welsh Assembly. Cllr Lisa Duffy represented the party during their leadership contest in October 2016, and last but not least we had the lamentable Henry Bolton. Again, whatever the rights and wrongs of their being given a platform, Question Time applied the same proportional(ish) formula to them as a small party on the rise as they have done with other minor parties.
Of course, what makes the claim of anti-EU bias even more foolish is the no shortage of pro-EU voices. Despite being backbenchers, Chuka Umunna and Anna Soubry are regulars, as are other MPs who advocated a remain vote, as well as other guests - like Alastair Campbell - who are not reconciled to the Brexit vote.
As a measure of bias, this table is junk. It's a piss poor attempt to kick up a stink where none exists. Perhaps the guest range should be broadened to include more politicians from outside of Westminster, including those in local government who do not have a national profile as per Andy Burnham, but this is not the point our meme mongers are trying to make. Question Time accepts whoever the parties put up to represent them. It hasn't and doesn't care whether they're MPs, MEPs, councillors or whatever, it's the label that matters - as the show's records attest.