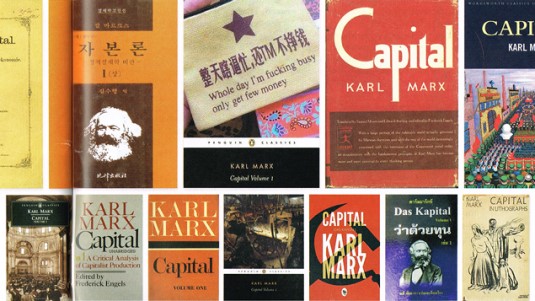 A lot of bollocks has been written about Karl Marx's masterwerk, not least about its alleged difficulties and forbidding reputation. At over a thousand pages in length and on a topic as seemingly arid as the Sahara during a dry spell, Capital's popular reception and perception is in about the same area as War and Peace and Ulysses: a fantastic accomplishment, but more a monument than anything else. This couldn't be further from the truth. Marx may have published the first edition of this book in 1867, but rare are the works of social theory that read fresh and alive after 150 years in circulation.
It has taken me a long time to read Capital. I had a bash at it during my first summer holidays as an undergrad, but got waylaid by Lenin's Selected Works in One Volume. Still, it furnished me with a basic understanding of the labour theory of value, and that made immediate sense to me as a low paid worker for a rob dog "family owned" northern supermarket. And then in the early 00s I had another bash, this time taking very comprehensive and detailed notes. This took me up to chapter eight - Constant and Variable Capital - until distracted by other things again. And there the bookmark remained for 15 years until taking it up again and finishing it over the course of the last month.
One reason it took so long wasn't just the length and the attendant time sink, but because of the literature surrounding it. Having read loads of stuff and commentary on Marx's arguments and on Capital, the various debates had a way of mystifying the book as opposed to opening it up and encouraging others to read it. Althusser, for example, co-wrote Reading Capital arguing that there was a master key to materialist social theory in there but only by wading through his own dense arguments and digressions on Theory, science vs ideology, and what not could we hope to retrieve it. You had the idiots from what was the Revolutionary Communist Party (the boring provocateurs now trading under the Koch Bros-funded Spiked Online, among other guises) arguing that Capital could only be understood in the original German. Even old Lenin was far from helpful when he polemically declared against the official Marxism of the Second International that reading and understanding Hegel's Logic was a precondition for getting to grips with the book. As far as I'm concerned, giving Capital the bible code treatment is not an aid to understanding and is counter productive from the point of view of propagating Marx's ideas.
For readers contemplating the effort, it's worth ignoring the flim-flam and piling straight in. Stylistically, Capital is an excellent read. Unlike Tolstoy's infamous novel, there's no equivalent of a minor Russian princeling popping up several hundred pages after his first introduction. Marx goes through his argument methodically and painstakingly. In places, perhaps he belabours his points too much. But then again, given the level of abstraction and the complex and contradictory ways capital and capitalism works who can blame him? Clarity of exposition is a skill too many latter day thinkers and philosophers have happily abandoned. Sure, sometimes you have to stop and think through the discussion - particularly so with the first part on the commodity (the one Althusser used to get sweaty about), but it's hardly Science of Logic territory. Remember, Capital wasn't written for stuffy academics to build careers out of. Marx's analysis was geared toward a popular readership and, particularly, the very workers at the heart of the book's argument. The only issue I have with the presentation (mine is the 1976 Penguin Classics edition) is the inclusion of The Results of the Immediate Process of Production in the appendix. This is a scrappy collection of drafts and fragments that condenses many of Marx's earlier points about exploitation, the value of labour, the "surplus population" and so on. It's good for the Marxology but going straight into it from reading the book detracts from the coherence and narrative pace.
Writing a review of Capital is a difficult task because there are so many aspects to it. Volume One is, effectively, our The Origin of the Species. The basics are there: the definition and circulation of commodities, the source of profit, class exploitation, the determination of wages, why unemployment is inevitable, the origins of capitalism, the inescapable fact of class struggle. Capital is our way in, it gives us the basics to which we must supply the subsequent detail, such as how exploitation remains with us but is changing. Times have changed but the method remains relevant and the concepts are sound because capitalism in the 21st century is still capitalism.
While reading, I did so with an eye to some of the subsequent debates and trends in Marxism and social theory generally. These included the relationship between the degradation of wage labour and health (including mental health), Althusser's argument that there was an 'epistemological break' between the early, Hegel-influenced Marx and his mature work (unconvincing), whether there is discontinuity between Marx's treatment of machines in The Grundrisse and Capital (no), and Richard Brenner's contention that capitalism originated in the English countryside and not the towns as Marx supposed is challenged by, um, Marx's account that capitalism emerged from the destruction of the English peasantry and the replacement of serfdom by waged labour in the countryside (part eight).
Capital is long, and there are another two volumes to shout about as well. But don't let that put you off. It deserves to be read, demands to be read. Sitting down and patiently making your way through is at odds with our attention economy and the millions of videos, GIFs, tweets, and so much digital babble demanding time. But doing so is rewarding, leaves you wanting to read more, and an appreciation why, despite its age, Marx's Capital remains the utterly indispensable work.