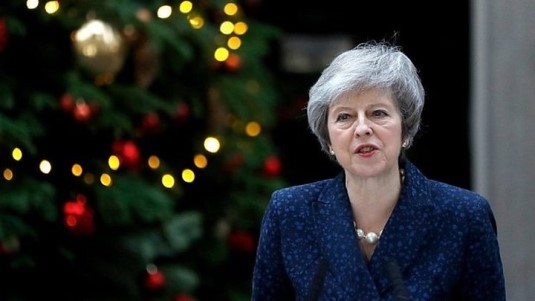 She won her no confidence vote, but 200 votes in favour with 117 against is pretty bad. While Theresa May didn't want the contest, it provided an opportunity for her to crush the demented europhobic wing of her party. "Drive a stake through the heart of the ERG" was some of the visceral language bandied about by the Prime Minister's bullish allies. Far from doing so, 117 no confidence votes are much higher than either the core group hostile of Moggite malcontents, or the numbers who are added to their famous WhatsApp group. As Mogg himself pointed out in the result's immediate aftermath, 140 Tory MPs are on the payroll. Assuming all of them voted loyally in the 1922 Committee's secret ballot, May can rely on fewer than half of her backbenchers. No prizes for guessing that the situation in the wider party is even grimmer.
Will May carry on? Ordinarily, no. With no support outside of parliament and under siege within it, the situation for her is as precarious as it was before pulling the vote on the withdrawal agreement. As anyone writing on politics can't resist repeating, nothing has changed. But because all we have seen is a temporary disturbance in the status quo, Macawber May returns with a vengeance. Tomorrow she nips off to see the European Council for further clarification on the deal, a meeting which is bound to be a complete waste of time because all will be quoted back at her are the very words she must know back to front by now. Still, some Tory expectations are so low that this would have been just enough to win them over.
Also, May announced at this afternoon's 1922 Committee that she wouldn't lead the Tories into another general election. Assuming we take her at face value (and you'd be pretty daft to do so these days), this gives her opponents space to stockpile support and resources ahead of the inevitable leadership contest. It shouldn't shock anyone if we somehow learn that Boris Johnson voted to support May, given that it suits him nicely for he to remain in post to soak up the punishment and the difficulties so he can later swoop in. And if that's the case for Johnson, the quarter century of Tory MPs who think they have what it takes to become leader are likely to have followed their cynical instincts too.
May then has seen off the immediate crisis to attend to the permanent crisis of the Tory party. She is no closer to winning a vote on her withdrawal, and whatever piece of paper she comes back from Brussels with won't change any minds. The only hope of salvaging something from this mess is forcing an election via a no confidence vote, the chances of which succeeding are better now than it was yesterday when the master tacticians of PLP melts, SNP, LibDems, Plaid and Caroline Lucas banded together to call for one. Yet even now, how many of them 117 would vote to bring down their government? Brexit may have driven them mad, its proximity flooding their synapses with deranged lust for their pathetic fantasy, but they are still Conservative politicians and their instincts recoil at the very thought of Jeremy Corbyn in Number 10. Nevertheless, the time is nearing where one cannot be put off for long and if the DUP are not satisfied with the assurances May comes back with, then is the time to strike.