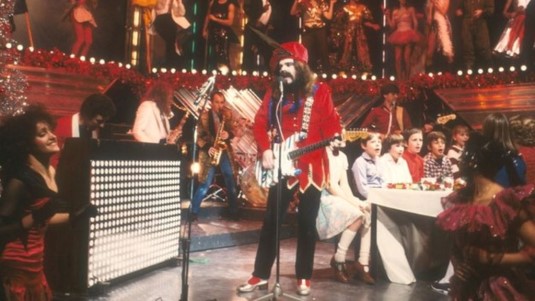 It's the most wonderful time of the year! As the curtains begin drawing on another turbulent 12 months in politics, it's time to pour the mulled wine, help yourself to a crafty mince pie and get down with that other venerable annual tradition: the totting up of who's hot and who's not in the world of political comment. At least where Twitter is concerned.
Every year there might be folks who've never clapped eyes on this time sink before, so let's recap the basics. These are not my top 100 commentators. I repeat, these are not my top 100 commentators. The people listed below are the hundred most followed commentators in the UK Twitterverse. But nothing is ever that simple, oh no. There are some exclusions. Sitting politicians aren't included, so while Nigel Farage, for instance, has his nice LBC gig he won't make his debut on this here list until next year - assuming we survive the chill winds of Brexit - when the European Parliament has dispensed with his services. Likewise, Brits abroad who earn their moolah or infamy commenting primarily on US politics are barred too. In plain English, no Mensch, and no Prison Planet twerp. And the final condition is all of these have to regularly produce comment or analysis outside of Twitter. People who just tweet and nothing else don't make the cut.
If you're wondering why I do this, it originally began as clickbait in the early days of Twitter (ask anyone on this list who were around in the early days of political tweeting and their eyes will grow misty with nostalgia). But as the novelty has worn off I've kept with it because, well, the movements on the list over the years have been plenty interesting. In the beginning one-writer-and-their-blog outfits ruled the roost (even I made the first!), but gradually traditional media power and reach asserted itself and Twitter became a crude measure of the popularity of the people it featured. With very few exceptions, radical, marginalised, and amateur pundits were squeezed out and an establishment, um, established. And this was maintained by Very Important People publicly tweeting and cross promoting the tweets of other Very Important People. There are people on this list who rarely if ever engage with the hoi polloi but are still very happy to promote the works/books/hot takes of their mates, making it very difficult - but not impossible - for outsiders to acquire the sorts of followings amassed here.
Enough of the nonsense, here's this year's list with a brief analysis to follow!
1. (1) Jon Snow (1.33m followers)
2. (2) Robert Peston (938k followers)
3. (4) Laura Kuenssberg (890k followers)
4. (3) Nick Robinson (880k followers)
5. (5) Andrew Neil (834k followers)
6. (6) Owen Jones (760k followers)
7. (7) Paul Mason (602k followers)
8. (8) Krishnan Guru-Murthy (521k followers)
9. (9) Evan Davis (498k followers)
10. (10) Alastair Campbell (445k followers)
11. (11) Kay Burley (409k followers)
12. (12) Andrew Rawnsley (399k followers)
13. (14) James O'Brien (390k followers)
14. (13) George Galloway (301k followers)
15. (16) Faisal Islam (277k followers)
16. (30) Harry's Last Stand (252k followers)
17. (15) Guido Fawkes (248k followers)
18. (20) Jim Waterson (234k followers)
19. (19) George Monbiot (232k followers)
20. (17) George Osborne (229k followers)
21. (22) Maajid Nawaz (223k followers)
22. (NE) Carole Cadwalladr (222k followers)
23. (24) Mary Beard (214k followers)
24. (21) Fraser Nelson (207k followers)
25. (27) Marina Hyde (202k followers)
26. (26) Britain Elects (181k followers)
27. (25) Michael Crick (176k followers)
28. (23) Laurie Penny (176k followers)
29. (28) Cathy Newman (174k followers)
30. (32) Kevin Maguire (166k followers)
31. (39) Hugo Rifkind (164k followers)
32. (31) Mark Steel (163k followers)
33. (40) Jack Monroe (160k followers)
34. (29) Polly Toynbee (160k followers)
35. (42) Douglas Murray (156k followers)
36. (34) Hadley Freeman (148k followers)
37. (33) Tim Montgomerie (145k followers)
38. (38) Isabel Hardman (140k followers)
39. (36) David Allen Green (137k followers)
40. (35) Paul Waugh (133k followers)
41. (54) Julia Hartley-Brewer (132k followers)
42. (37) Adam Boulton (132k followers)
43. (61) Ian Dunt (130k followers)
44. (48) Emily Maitlis (128k followers)
45. (43) Iain Dale (124k followers)
46. (41) David Aaronovitch (123k followers)
47. (50) Andrew Marr (118k followers)
48. (51) Nick Ferrari (117k followers)
49. (47) John Rentoul (113k followers)
50. (49) Dan Hodges (112k followers)
51. (58) Tom Newton Dunn (110k followers)
52. (NE) Ash Sarkar (110k followers)
53. (44) Norman Smith (110k followers)
54. (46) Sophy Ridge (109k followers)
55. (53) Artist Taxi Driver (108k followers)
56. (57) Scientists for EU (107k followers)
57. (56) The Conversation (107k followers)
58. (59) Isabel Oakeshott (106k followers)
59. (64) Helen Lewis (104k followers)
60. (62) Tim Shipman (102k followers)
61. (55) Jonathan Freedland (98.8k followers)
62. (73) Jolyon Maugham (98.6k followers)
63. (60) Nick Cohen (96.8k followers)
64. (52) Will Black (95.2k followers)
65. (79) Sam Coates (90.2k followers)
66. (66) Peter Tatchell (86.6k followers)
67. (74) George Eaton (83.7k followers)
68. (69) Gary Younge (82.1k followers)
69. (67) Harry Cole (81.4k followers)
70. (63) Fleet Street Fox (80.7k followers)
71. (72) Conservative Home (79.5k followers)
72. (70) Sunny Hundal (77.6k followers)
73. (83) Toby Young (76.4k followers)
74. (68) Patrick Wintour (75.5k followers)
75. (99) Chris Mason (75.5k followers)
76. (65) The Media Blog (74k followers)
77. (71) 38 Degrees (73.5k followers)
78. (82) Suzanne Moore (71.4k followers)
79. (87) John Pienaar (71k followers)
80. (85) James Landale (69.3k followers)
81. (NE) The Canary (68.7k followers)
82. (84) British Politics and Policy at LSE (68.4k followers)
83. (77) Andrew Sparrow (68.3k followers)
84. (NE) Stephen Bush (68.3k followers
85. (81) Gideon Rachman (68.2k followers)
86. (94) Open Democracy (67.8k followers)
87. (75) Zoe Williams (67.7k followers)
88. (NE) Dawn Foster (65.7k followers)
89. (NE) Peter Hitchens (65.4k followers)
90. (76) Will Self (64.8k followers)
91. (86) Camilla Long (64.8k followers)
92. (78) Left Foot Forward (64.7k followers)
93. (92) New Economics Foundation (64.4k followers)
94. (100) Lionel Barber (64.2k followers)
95. (NE) Paris Lees (64k followers)
96. (91) Gaby Hinsliff (63.7k followers)
97. (97) Iain Martin (62.9k followers)
98. (96) Janet Street-Porter (62.7k followers)
99. (88) LabourList (62.4k followers)
100. (95) Bonnie Greer (61.7k followers)
Far from knowing nothing, Jon Snow sits atop the pile yet again. But unlike previous years, sudden movements have been few and far between. The top 10 is largely stagnant, with only Laura Kuenssberg (the only woman up there) swapping places with Nick Robinson. Our biggest climber within the chart this year is the late Harry Leslie Smith's account, who remains for the time being. Sam Coates and Chris Mason also put on large numbers of followers, which powered them up the charts too. But this year's biggest new entry - one of only seven(!) is Carole Cadwalladr whose work on Cambridge Analytica and its manipulation of Facebook put rocket boosters under her account, which has always threatened to break through near the bottom. Our other entrants are Novara's Ash Sarkar, who just misses out on a top 50 placing. The Canary finally busted through, after a brief showing last year before dropping out as other more highly placed commentators came to light. Ditto Stephen Bush, who remains one of the few centrist journos worth reading. Dawn Foster and Peter Hitchens also crash in at 88 and 89 respectively, with Paris Lees coming in at 95.
That inevitably meant this year's list saw some folks drop off the bottom. The most dramatic disappearance is Jamie Ross, formerly of Buzzfeed. Last year he was at 18 and this year he's gone. Yikes! Aditya Chakrabortty was enjoying the warm bath of a top 50 position last December, and this year he crashed out the list - it appears Twitter have robbed him of just under half of his followers, putting him before the 61.7k follower floor set here by Bonnie Greer. Also gone are Allegra Stratton, the London Economic, Abi Wilkinson (who's taking a periodic break from Twitter, and who can blame her?), Danny Blanchflower, and the artist known as hrtbps.
Reflections on previous iterations of the list have noted the gender imbalance. How are matters stacking up in 2018? Well, there's been some improvement! Colour me shocked! 25 women, one non-binary person, 12 group efforts, and 62 men. At this rate we should see parity by the end of the century. Totting up folks from BME backgrounds, we have nine - a tiny advance. And for self-identified LGBTQ peoples there are eight. All in all, baby steps in the right direction.
But, overwhelmingly, the establishment are very much in control. Decent leftist commentators comprise about a dozen or so of the list. The rest are the overfamiliar faces of busted liberalism and dying Toryism. It would be nice if, when this is compiled next year, more leftwing and radical voices have built up more of a following and large numbers of the mainstream have melted away. The more the left builds up its own media, the more the privileged position enjoyed by the establishment in the attention economy can be eroded.