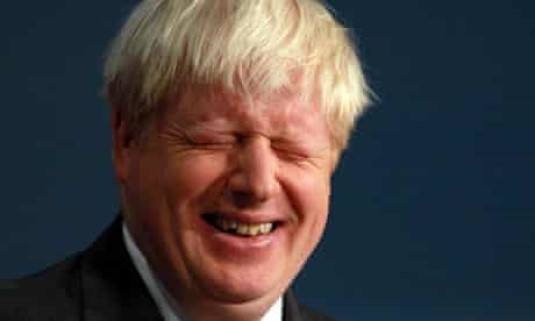 He musses his hair, he fluffs his lines. He presides over a corrupt and ongoing shakedown of government Covid contracts, and is responsible for the mismanagement of a pandemic to have claimed 126,000 lives on his preferred figures. This is Boris Johnson, and none of this,
none of this
has touched him. Routinely poor performances in the Commons don't have an effect, nor do his
innumerable lies
. Of all the politicians to have occupied Number 10, none have proved as untouchable as he. How do we explain this? Preternatural good fortune? Magical powers?
Paul Goodman over at
Conservative Home
, in passing, offers the rudiments of an explanation. And? It's all about the vaccine bounce, apparently. True enough, the Tories have enjoyed an uptick in support but putting it down to this alone is not satisfying. For starters, it's a theory (and a threadbare one at that) doing
a lot of heavy lifting
. Nor does not explain how Johnson and the Tories have maintained their polling position since the election. In other words, the secrets of Johnson's success resides not in the conjunctural but the underlying features of our politics.
Long-time readers know my opinion about
the drivers of Tory support
, but let's try putting it another way. Two important factors assisting the Tories' cruise control of the polls are the approach of the opposition to their management of the Coronavirus crisis, and the institutional power of the legacy media. I'm not going to try readers' patience with a rehash of
recent criticisms
of the Labour leader, but undoubtedly the failure to contest the terms of the government's pandemic strategy has left Keir Starmer with little to say. No wonder the feedback received from the focus groups find them complaining about his "carping criticisms". But it's not all on him.
The broadcast media and the press remain the powers in the land where opinion-forming is concerned, but its strength lies in conditioning and
defining the framing
by which older people - the core Tory vote - see the world. They disproportionately consume the editorialising of the papers, and naively accept the images and statements served up on television. An essential gullibility, incidentally, that is extended to the internet and social media. If it wasn't true, it wouldn't be allowed goes the refrain I've heard many times before. This is not a case of brainwashing or indoctrination, but a consequence of long-term dependence on a small cluster of establishment-friendly news sources about politics and, well, pretty much everything else. Why switch from what you're habituated to? Likewise, why engage the critical filters when most of their audience
already agree
with much of the fare pumped out to begin with? This isn't to say the media, and the right wing press,
aren't
uncritical of the Tories.
The Sun
last week put out a critical editorial having a go at the Tories for their plans to cut troop numbers. But these criticisms are safe because they come from a friendly place. The despicable but common sight of former soldiers sleeping in shop doorways has never caused the currant bun to deviate from its rasping populism and stanning for Tory politicians.
True, the media reinforce Tory support on a daily basis but this is neither foolproof nor completely totalising. For most of the Major years the press were largely on side, despite their delight in dishing the dirt about cabinet-level infidelities. This did not stop Labour from posting double-digit leads, so what's happening now has to be more involved considering the Brexit and Covid calamities besetting the country. Client journalism can only do so much. What matters are
interests
and how they are articulated.
The rich tend to support the Tories because the Tories tend to support the rich. The same applies for the bulk of the Tories' electoral coalition. They are seen as the better option for small business people and landlords, from the petty to the large. They protect asset prices and have shielded pensioners from their post crash programme of public sector cuts. Likewise, they're not going to pony up the costs of Brexit nor suffer the economic shock of the pandemic. The Tories don't speak the same language of class as the left does, but to its voters their rhetoric is perfectly clear. What the left have to grasp is how this appeal is both conscious, and reaches deep into the unthought and the unconscious.
As explained here many times, Tory support among the old isn't just about how they're more likely to own property, have index-inked pensions, and depend on some measure of share ownership, but to be old and retired is a qualitatively different social location from that most spent their working lives in. There's no boss, and their time is their own. The consequences of this is greater freedom, which resolves itself in pursuing one's inclinations, be it voluntary work, the bowling green, or sitting down each day with a copy of the
Daily Mail
and reading it cover to cover. It can also be a privatising and atomising experience with the tendency, in aggregate, for one's social universe to shrink. This constitutes a certain unmooring from responsibilities and with it a narrowing of horizons, but it also comes with a fear. This fear is of the sudden shock, or the slow undermining of their situation. If crisis befalls them, they can't readily re-enter the work force and make good any shortfall. In other words,
despite
being relatively secure and shielded from the world thanks to Tory commitments to maintaining their income (though
not
the services they are more likely to depend on), anxiety is baked into their daily bread. And this anxiety sublimates itself into a preference for authoritarian, nationalist, and often times racist politics.
Consider Brexit, for example. While it represented uncertainty and danger for the majority of the working age population, for many of the (mainly older and retired) people who backed it the terms were reversed. Europe was the source of the UK's troubles. It forced Britain to become the melting pot of languages eavesdropped in the supermarket or while wandering around town. It was coddling the country with its absurd regulations, and it meant "we" were no longer in charge of these islands. For them, Brexit was a leap from uncertainty into certainty, of a rejuvenated Britain who could build afresh and ensure everyone had
and knew
their place. For a substantial proportion of these voters, it promised turning the clock back to a whiter and, for them, a more certain time where one could be unapologetically British and not mind their Ps and Qs on matters of race and ethnicity, on sexism and homophobia. This was where their structurally induced
angst
led them, and Brexit's "successful" resolution has meant Boris Johnson made good his vow to get Brexit done was fulfilled.
And this, ultimately, is why Johnson is impervious to the political consequences of Covid-19. From his declartion of intentions in the 2019 leadership contest and ever since, he consistently
appeared
to subordinate everything to Brexit and ostentatiously demonstrated his seriousness by splitting his own parliamentary party, flirt with breaking the law, running on this at an election and securing the UK's exit. The people who supported Johnson know he's incompetent, an idler, and a knave. They don't care about the he-said she-said of Westminster, breaking manifesto promises,
crapping on the poor
and, sad to say, his responsibility for Covid's terrifying death toll. They
identified
Brexit with their interests, he proved himself by sorting it out
to their satisfaction
, and are happy to carry on backing him.
And he's delivered another promise. Who cares about the billions frittered away on procurement and test and trace? Johnson has always said the vaccines are the way out of the crisis, the the NHS's speedy roll out of the jabs are, again, proof positive of his seriousness. Experience is worth a tonne of theory, noted a grey beard in a very different context, and Johnson has, for them, delivered big on two occasions. As he talks about levelling up Britain, why would his solid bloc of 40% or so of confirmed voters doubt him? This is why "exposures" and gotchas, forensic scrutiny and point scoring, nor angry denunciation, name-calling, and lecturing Tory supporters are not going to work
in and of themselves
. The only strategy that can work, and 2017 showed the potential of, is building an opposition large enough to outflank, go around, and overwhelm what Johnson can put together. Criticise Johnson by all means - there's plenty of that here, for instance. But do not be puzzled,
nor disheartened
by the failure of them and his utterly ruinous record to connect with the millions who back him.