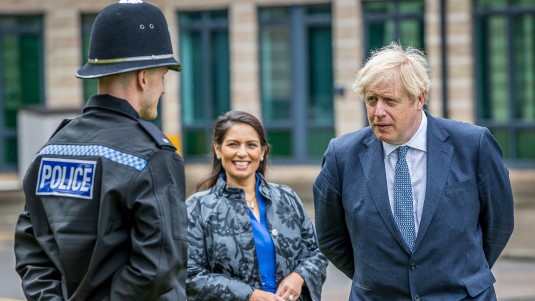 Within hours of
writing on
institutionalised sexism and misogyny in the police, the Met proved the thesis by piling in and attacking women at Saturday night's Clapham Common vigil for Sarah Everard. As plenty have pointed out, the old bill are all kid gloves when it comes to footy fans and anti-mask whingers, but women are fair game. For the Tories, however, the Met's violent outburst was not the most convenient of timings. On Monday, the
Police, Crime, Sentencing, and Courts Bill
comes before the Commons for its second reading. The proposed legislation is classic
tough-on-crime populism
. Longer sentences, stronger protections for emergency workers (above all, the police), new rules on electronic surveillance, and much else besides. Guaranteed to go down well with the yellowing grass roots, the core support, and the editorial offices then. However, what might have expected to sail through without much opposition save from the usual suspects on Labour's benches (the party was set to abstain, until this morning), the LibDems, Caroline Lucas and one or two Tories, and some criticisms from the liberal press, the Met's riot has drawn attention to the draconian and authoritarian provisions of the bill.
The bill wants to give police powers to restrict a protest if ... it's overly noisy, and might therefore "disturb" passersby or organisations going about their work. For example, tonight's demonstration outside Scotland Yard could, under these powers, fall into this category if the coppers inside deemed the chanting and shouting was stopping them from pushing papers or whatever. Hence the possibility of disrupting an organisation is now reason enough for the police to break up a protest or a demonstration which, when you consider it, is the whole point of a protest in the first place. Likewise as picket lines tend to be quite an annoyance to the employer concerned, you can see the potential for mission creep away from street activity to any form of protest at all. Recalling the smallest march I've ever been on - a mobilisation of some 16 people in solidarity with striking civil servants - if the police believed it might inconvenience or upset
anyone at all
, they could have clamped down on it. Thought the Tories were against snowflake culture? Well, no. In fact, anyone charged under these laws can face a maximum tariff of 10 years in prison,
and
the burden falls on the defendant to provide a "reasonable excuse" for causing "serious annoyance."
A dog's breakfast of a bill then, and one left
purposely vague
to allow for maximum application where and when the police see fit. It basically
gives them what they want
. But why, though? The labour movement remains relatively quiescent, and the street movements of the last couple of years -
Extinction Rebellion
and
Black Lives Matter
- hardly pose Tory political dominance, let alone their state a threat to warrant such a blunt instrument. Constructing a coherent account has to proceed at three overlapping levels. At the most abstract is a generalised authoritarian turn among most states. This has been the case in Britain for the last 40 years, but few are the liberal democracies to have relinquished powers. This has to do with the evolution of state institutions and the difficulties governments have governing
increasingly complex societies
. The second is Tory statecraft itself, or its
habit of governing
: centralising the powers of the state and concentrating them in the executive is the same project Thatcher embarked on in 1979, and has been vigorously pursued by Tory Prime Ministers ever since. But here we're going to focus on the day-to-day politics of Johnsonism in government.
Understanding the new restrictions on the right to protest goes to the heart of the (Tory) politics of their electoral coalition. As discussed here more times than I care to remember, the typical Conservative voter is older, retired, and are owner occupiers of their home. They are also relatively secure: a mix of the state and occupational/private pensions are enough to keep the wolf from their door,
and
their incomes are protected from the Tories'
ongoing
cuts programme. A significant minority enjoy income boosts from modest levels of share ownership, and rent payments from second or third properties. Yet, the absurd flipside of their security is experiencing it as
profound insecurity
. As older people who are either retired or don't have much time left in work, making good any personal disasters through earnings is difficult: they know how fixed their income is. Second, particularly among retired people, being outside of the workplace removes the element of compulsion from their lives. No bosses to answer to means they are free to follow their inclinations as much as their resources allow. Retirement then individuates everyday life, albeit with a tendency toward atomisation and social distancing between them and their former life. And with property ownership, this individuation is consolidated as one frets about property values, the behaviour of tenants, and returns on stocks and shares. This is productive of a subjectivity and outlook not dissimilar to that of the small business person: a terrifying world in which fate could strike one down at any moment.
Why does this tend toward Tory support? Because they promise security while stoking their
angst
. From Marx onwards, political sociology has noted how the petit bourgeois gravitates toward authoritarian politics and traditional institutions. This is because they provide (illusory) certainty. The world might be rough, but the monarchy endures. Threats rise around me all the time, but strong government will put them in their place. I don't recognise the country any more, so let's go back to the tried and tested truths of a better past. In short their becoming is stunted, and this being conditions consciousness. With the adjaceny to small, petty capital, the ontology of the older/retired worker has resulted in millions becoming receptive to a politics that appeals to and deepens petit bourgeois habits of mind among them. Sticking on topic, the appeal of smiting criminals depends on the Tories and their press talking up fear of crime. Likewise, pushing uncertainty (something plenty of its politicians and thinkers
feel keenly
) can attach itself to scapegoats who condense their fears for a future in which they are left behind. Hence, traditionally, the potency of anti-immigrant populism has proven a favourite. But other groups do just as well. The
undeserving poor
are harbingers of a Britain that will be on its arse, unless they show the pluck and determination of better Britons (i.e. (formerly) hardworking Tory voters). Black Lives Matter distills yet more fears, particularly of a Britain that isn't Britain any more, the prospect of a country forgetting its glorious martial past, of when it used to stride the world as top dog and therefore when things were better. Brexit was for millions of these people a rebellion against the course of history and the kind of terrifying - for them - destination BLM points toward. The Tories know this, which is why this legislation is aimed at hammering a group of people it has designated as undesirable. Seeing BLM activists, or young people generally getting carted off in police vans is a projection of their felt impotence, a cathartic and mediated lashing out at their imagined enemies. It confers a flash of satisfaction, but it's not long before the ontological itch demands scratching again. And for as long as these conditions of social life persist for their supporters, the happier the Tories are dishing them out.
This is why appeals to the Tory politicians' conscience, or persisting in the naive belief that they're merely mistaken or wrong are doomed to fail. As are, sadly, appeals to Tory voters' better nature, or liberal stat-splaining of the follies of their choices. Shaming has zero effect. Knowing the Tories is one thing, but coming up with an effective counter-strategy to disorganise and loosen their hold on millions is quite another. But what is certain, pandering to these concerns can never win them over
because the Tories do it so much better
. You cant beat them by effectively joining them, but going around them by mobilising a coalition in opposition and having modest strategies aimed at chipping some of their coalition away. When
politics is polarised
, and the Tory strategy amounts to keeping it this way, the option is limited to one: this.
Image Credit