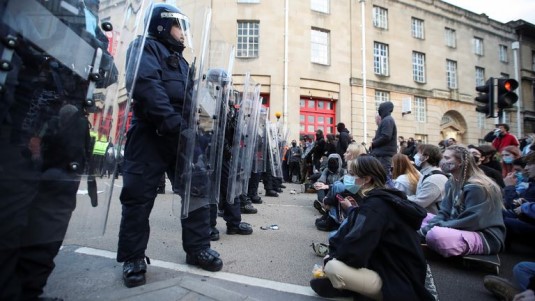 Performative condemnation is everywhere. The Tories, the Labour front bench, the line is singular and uniform. It's claimed peaceful protest is sacrosanct, from a government
determined to outlaw it
. We see Labour politicians
clapping on
rioting coppers battering sit-down protesters. And, naturally, centrist Twitter pretending to have a stake in an issue they've shown scant interest in, save for likes and retweets. It's a pathetic spectacle in which oh-so principled political differences melt away and all are starkly revealed as outright apologists for state violence.
Pretty much the only sensible Westminster comment about Sunday's protest in Bristol comes from
Nadia Whittome
, but her nuanced and moderate take is a stand out. Nowhere do we find the establishment defenders of civil liberties. Freedom and the right to assembly must be respected. Peaceful protest is an inalienable right. That is up until the moment coppers raise their batons in anger. No quibbling, no questioning, the so-called liberal establishment gather up their condemnation and hurl it onto the bodies of protesters. They happily nod to the rhythm of every punch and every kick as the riot squad dish out the punishment to the despised outgroups, particularly the left, they'd dearly wish to rough up themselves.
The nauseating display comes after a brief period of discombobulation. Black Lives Matter have turned the spotlight on police racism in this country, and the disgusting murder
of Sarah Everard
brought to the fore the force's institutionalised misogyny. A point spectacularly reinforced by the police assault on her vigil just over a week ago. For the briefest of moments inbetween the Met's attack and the Tories passing the second reading of the police powers bill, cop legitimacy was openly interrogated and awkward questions were asked in polite circles. Labour were
forced to do some opposition
, and centrism had to pay lip service to the evidence of their senses. Bristol's police riot was their opportunity to clamp down on the uncertainty and unease, put away the second thoughts and resume enthusiastic cheerleading for the thin blue line again.
We're going to be seeing a lot of this over the coming years, if not later this summer. Mainstream politics is entering a strange kind of stasis. The Tories have their coalition of voters sewn up tight, and Keir Starmer's Labour are determined to
demobilise and demotivate
its support. The result is political marginalisation. Locking out the class interests of younger workers while both parties define and pander to the petit bourgeois horizons of elderly home owners is not without consequence. Before 2015, this manifested as an alienated abstention from mainstream politics - something politicians affected to care about. Once large numbers
rudely intruded
onto their turf they systematically drove them out again. With legitimate channels closed, the streets are open. Thanks to the Tories' efforts at criminalising mobilisation, what we are likely to see, much to the horror of current and future pearl clutchers, is a wider
and deeper
spread of radicalisation.
This is going to suit establishment politics for the time being. More police attacks spun as protester violence, and the vulcanism of frustrated disorder erupting against repeated provocations suits the Tories very nicely. Thanks to their cultivated generational war, they'll have little trouble convincing the support that their children and grandchildren need the smack of firm government to sort then out. But when their numbers start to dwindle, what then? Prediction is a mug's game, but it's doubtful tens of millions who've had their lives blighted by the Tory, Liberal, and Labour establishments are going to award them with a bouquet of thanks.
Image Credit